As an organic vegetable gardener, with growing permaculture tendencies, I have let many vegetables that over-wintered, go to seed this spring. My old habit would have been to pluck out the spent growth, add compost, and immediately sow new seeds or plant a young seedling. This year I've taken a new approach for some good reasons.
I think most importantly, it was to support our bees and pollinators. The more flower food that is available to them early in the season, the better chance they have of thriving throughout the year.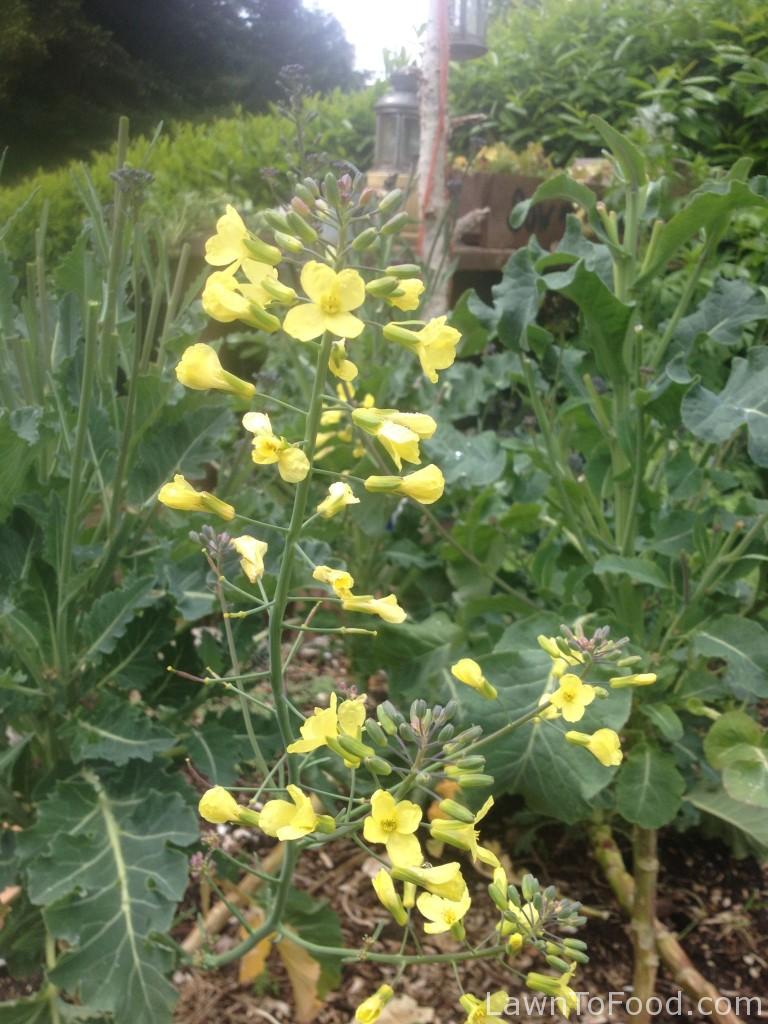 Above is a picture of our Purple Sprouting Broccoli that has been feeding us since January, after being planted in the fall. I will save the 1000's of seeds, that each plant will produce, and use them for sprouts, microgreens and of course, some new purple broccoli plants for next winter.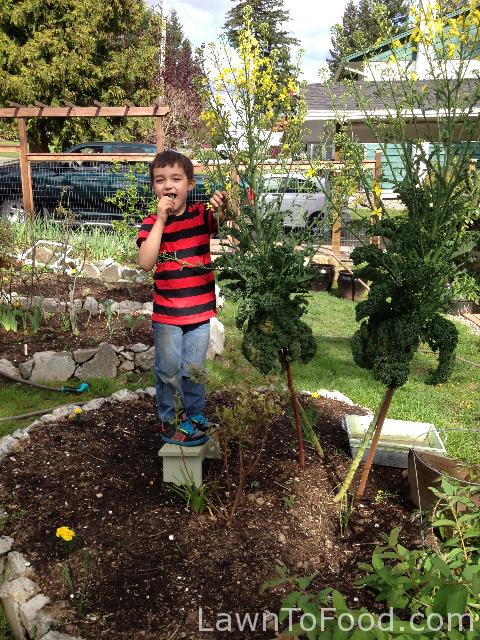 This is Winterbor Kale from April last year, that we let go to seed. Our grandson thought that the pre-flower florets tasted better than broccoli! Hence, there were a few less flowers for the bees, but still 1000's of seeds for microgreens.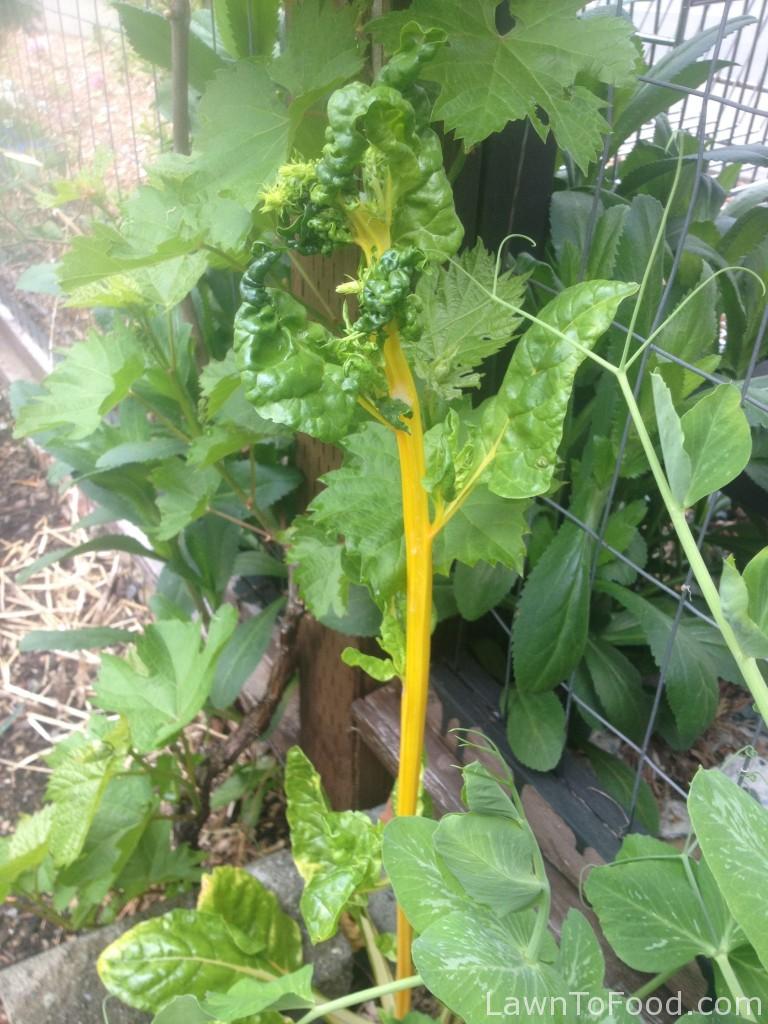 This one Yellow Swiss Chard plant will produce enough seed for me to plant in July and harvest through to November. It's not taking up much space between a grape-vine and the Green Arrow shelling peas, so why not leave it alone to finish its life cycle?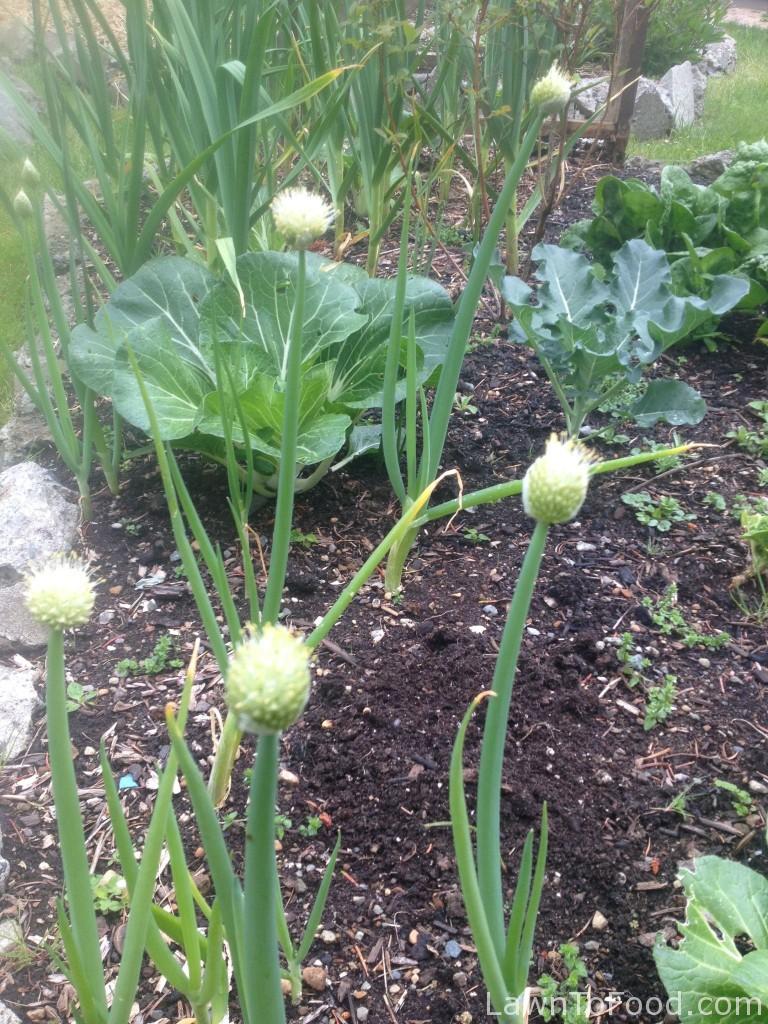 These white flower puffs are the remainder of our winter green onion supply. After the pollinators are done with them, I will collect the seed to sow this fall. I've just harvested a spring Bok Choy from between the green onion stalks (loose dark dirt area). I believe the green onions helped hide the young seedling, and deter insects from eating holes in the Bok Choy leaves, which is another reason to leave some vegetables growing to the seeds stage.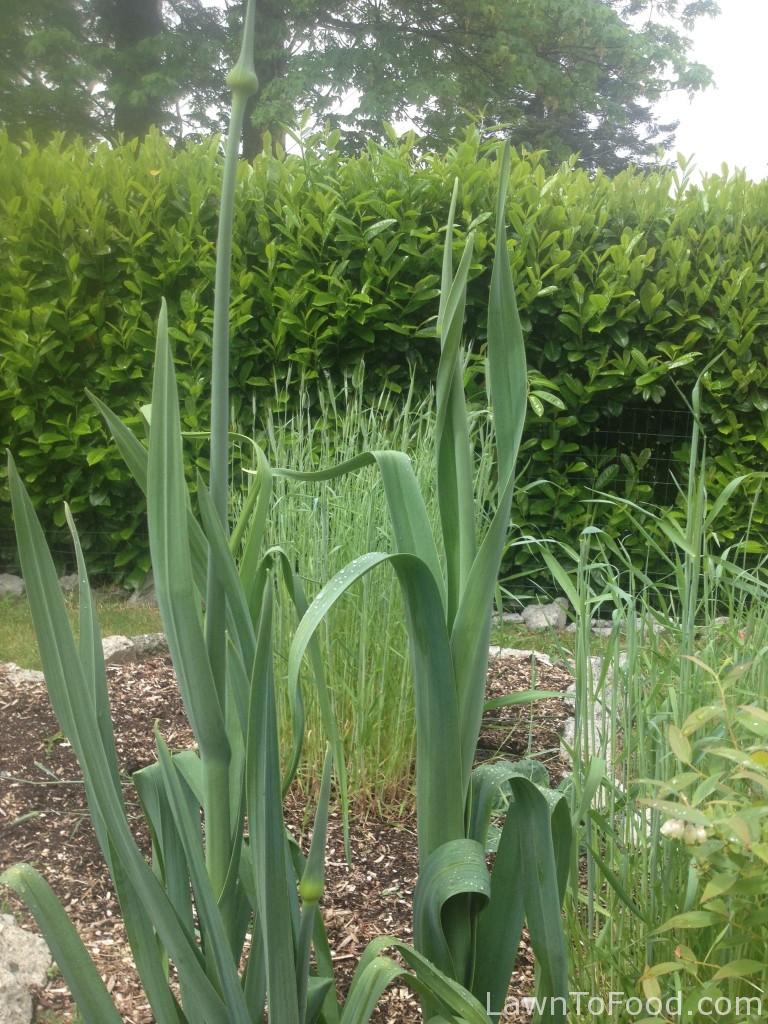 I saved four leeks for the sake of seeds. These leeks scapes will produce a lot of seeds that I will plant in the spring of 2016. I have already started this season's leeks. They are presently 10″ tall and we will harvest them from August 2015 right thru until March 2016.
Behind the leeks are two clumps of Winter rye grass that is going to seed. I sow Winter rye each fall on bare garden beds, to add tilthe to the soil and protect it from erosion during the wet, rainy months. This year I have left some clumps to go to seed, so A) I can collect seed to sow on the winter garden, and B) to use the dry brown rye grass stalks in fall decorations 🙂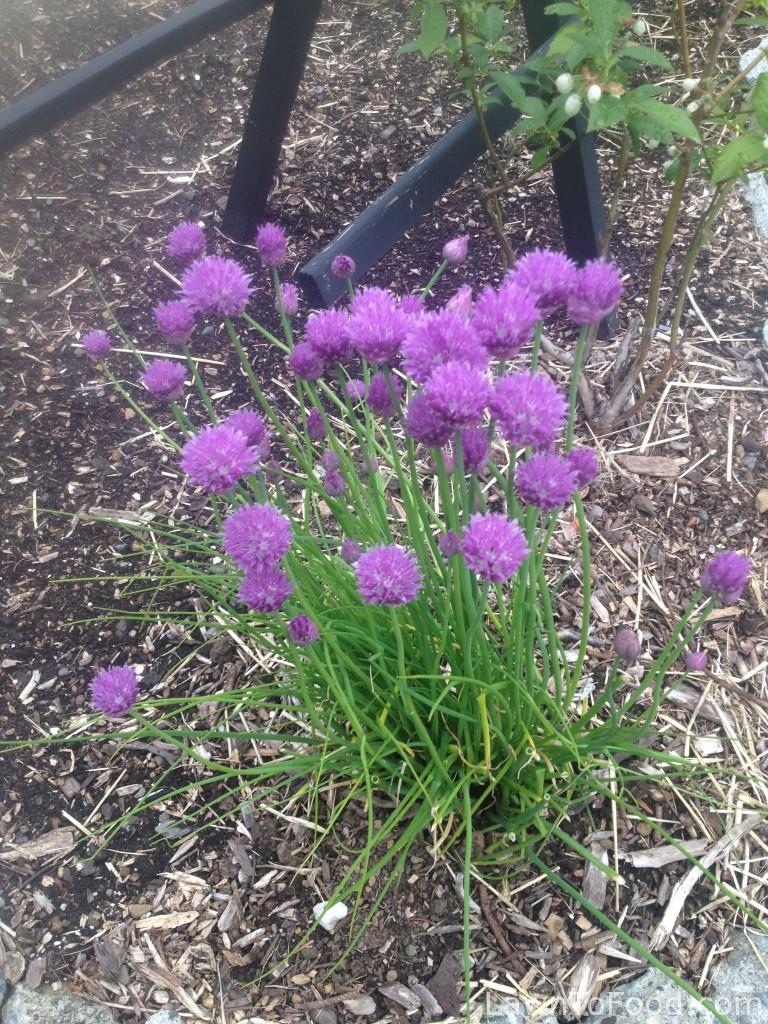 Of course, chives are beautiful when they go to seed. Some plants from our garden went to seed without me even noticing last summer (like the chives).
Consequently this spring, I have found cilantro, parsley, cosmos flowers, sunflowers, sweet peas and dill sprouting from seeds that were dropped throughout out the garden last fall. Yah! Cross those items off of my "need to purchase" list for this season 🙂
I tend to tweak these fabulous finds (because of my OCD) by gently digging up the young sprouts, and moving them to spaces that are more conducive to their growing needs (or perhaps its my need for a certain amount of order??).
Leave'em be, let them go to seed 🙂