I admit it … I went a little crazy when ordering vegetable seeds in January. Over 30 glorious packages arrived from West Coast Seeds in early February (adding to my seed hoarding habit). Since we haven't got a greenhouse built yet, I tried to be very selective when picking seeds to start on the kitchen window sill. With limited space, I chose only 6 "Gold Nugget" Cherry Tomato seeds, a container of "Super Gourmet" mixed greens, 6 "Latcino" Kale and 6 "Vancouver" Spinach. Within the last 4 weeks, those have all flourished but they did get a bit "leggy" due to lack of light. I transferred them outside into the cold frame for a week then planted them into the garden, except the tomatoes are still on the window sill.
This little cold frame box was easy and cheap to make.  I found an old window and removed the part that slides, from the heavy frame. It's big enough to cover my containers of seedlings but small enough so that I can handle it easily.  I purchased two 1×6 cedar fence boards at Home Depot for under $5 (you could use free pallet wood) and then cut each board to make a 1 long and 1 short side. A few screws later, I had a rectangle box that held up the window, producing a warmer environment for my seed starts.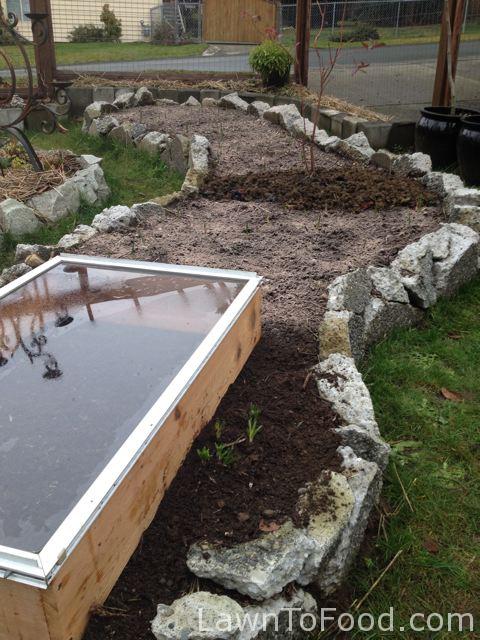 Yesterday, I started a round 2 of seed sprouting. I gathered about 15 seed packages and all the toilet paper rolls, clear containers and egg cartons that I had been saving. Even though I covered my kitchen counter with newspaper, I recommend doing this job outside to prevent the mess it will make. I cut the toilet paper rolls in half and set them up in those clear plastic containers, that once held nuts, greens and fruit from the grocery store.
I filled the half toilet rolls with a potting mix that is specially formulated for seed starting. This particular potting mix is organic, and has a very fine texture, to make it easy for young roots to spread out and grow. Once all the pods were full of soil, I began adding the seeds.
Broccoli, 4 different Kale, Lettuce, several different Tomatoes, Purple & Green Cabbage, Onions, Swiss Chard, Collards, Bok Choy and colored Cauilflower. Surprisingly, I actually practiced some restraint in the "amount" of seed I planted. Typically, I end up with 57 spindly Cauliflower starts or clumps of Lettuce that are so tightly grown together, I can't get them separated to plant in the garden.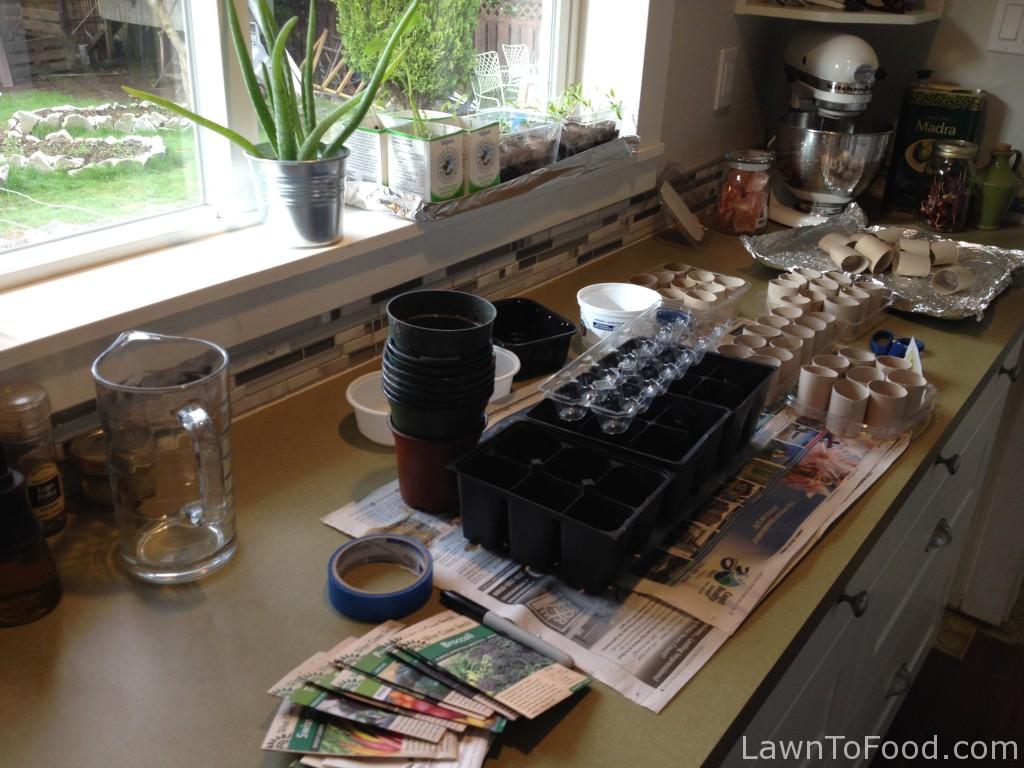 This year will be different.  I only started what I have room to plant, and was conscious of the amount we will actually eat. For example, Kale is very popular in our household because it is nutritious and we can harvest it 365 days per year. I have about 5 different seed varieties for Kale, so 6 seeds of each variety, is enough for smoothies, salads, steaming and dehydrated chips.
It's the same for Red Cabbage, I only have room to grow about 6 heads for summer salad use, so I only planted 6-8 seeds. Tomatoes need a shelter when planted here on the West Coast, so there will limited space for them. Only 2 plants each, of 5 different Tomato varieties (plus some Cherry types that I will grow without rain protection). Even that small amount, of 10 plants, will produce a ton of Tomatoes for fresh harvest and preserved use.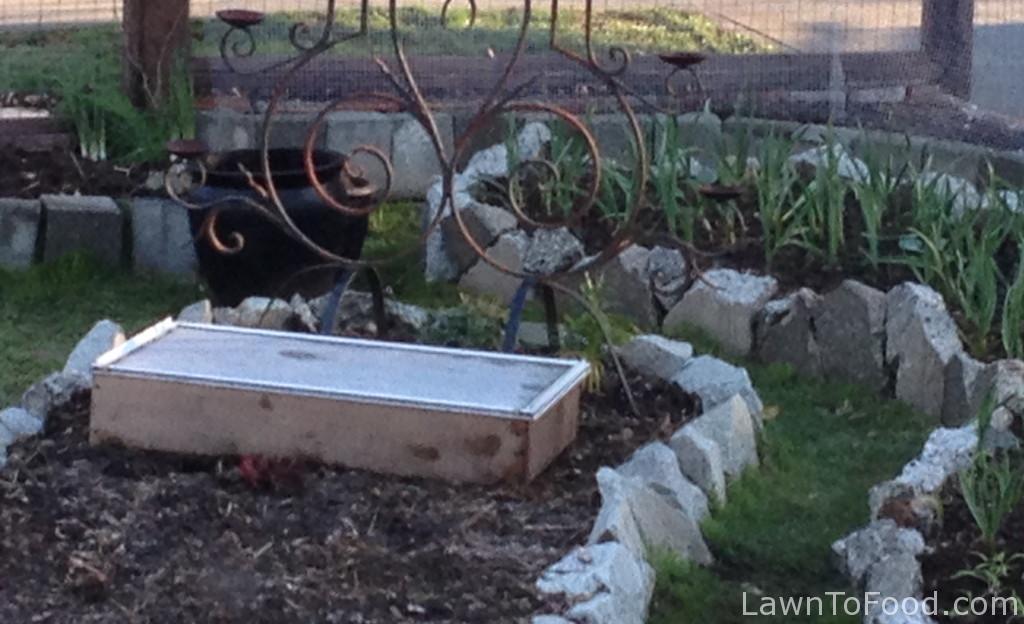 All the newly planted seed containers spent their first night outside in the cold frame. It was 14 C during the day, which I thought would allow the cold frame wood and air to warm for the nighttime temperature drop. Of course this morning, I see FROST!! on the cold frame glass but eventually the weather will warm up enough for the seeds to germinate. I just need a little patience now.