The food that our backyard garden produced was phenominal. I was continually amazed at the amount of vegetables harvested from this small space. Here is a picture of the backyard's southwest corner in 2005 "before".
… and a photo of its first year growth.
I grew potatoes down the middle of the plot because I would be digging them up in June. This opened up more space for other crops to fill in the void. Squash, Brusselsprouts, Broccoli and Sunflowers took over the garden by August, after the lettuce and other greens were eaten.
This lush garden fed more than mouths in our household.  It truly was a sanctuary, where any family member could escape for a few moments of peace. At this time, we shared the home with our youngest son, my mother, and our grandson, who was a frequent visitor. I think it's called the "sandwich" generation (kids aren't all moved out and Mom's moved in). Did that make the grandson mayonaise or mustard?  Anyhow, it was busy, busy to say the least. A stroll outside was always a welcome break, plus the vegetable garden provided an abundance of food that made healthy meals easier to provide for all of our household members.
After one season of backyard gardening, we knew that we loved eating our own fresh vegetables. It's the peace of mind that comes with knowing exactly what has gone into our food. That can't be replaced with anything store-bought. It was time to expand the garden even more by adding a season-lengthening greenhouse. Living on the West Coast of Canada, Zone 8 is very mild considering other parts of the country, so why not help nature out with a bit of frost protection?
To extend the growing season and to further protect our tomatoes against blight, we built an 8 x 12 greenhouse structure. I did not want the structure to impede the view from our sundeck and I preferred a low profile in case our neighbours objected to the building. To accommodate those design elements we would have to grow plants at ground level.
To keep the roof profile low but still accommodate tall tomato plants , we dug a pathway down 2 feet into the greenhouse. As an added perk, the sunken path made working on the plants much easier on our backs. From an aesthetics point, I wanted the greenhouse to have some cottage-barn-like characteristics with some cedar shakes that would gray in the weather to match Dave's graying hair. It needed to be tidy and quaint-looking, adding bit of country charm to our outdoor living space. With the design drawings in place we were ready to get started!
It was important to us, for both budget and ecological reasons, to use recycled materials on the greenhouse. Nearby, construction on the Golden Ears Bridge was nearing completition. While riding our bikes under the new 6 lane bridge we noticed dumpsters full of discarded wood and timbers. Bingo! We found a free source of wood to construct our greenhouse project!  We peddled home, jumped into our truck and started the dumpster-diving expedition.
At first we covered the Greenhouse with thick poly plastic. When the budget warranted, we purchased some clear wavy-plastic board to seal the walls and hold in more warmth.  Dave made wavy plastic "storm" window for the door. This allowed the greenhouse to be sealed up in winter, and when the storm window as removed, the air could flow in the warmer months.
The next step in our "self-suffiecent-urban-adventure" was to add some protein to our home-made diet. We aquired 4 hens to daily lay fresh eggs for the family. The City Chicks were prompty named BBQ, Fried, Teriaki & Butter Chicken. I did this just in case one landed in the stew pot, then I wouldn't have to lie to the children.
"Mom, what's for supper?" … "Tonight we are having Teriaki Chicken."
The eggs were an amazing addition to our garden yard. The chickens ate weeds and vegetable scraps, then promptly turned them into valuable manure, which went straight back into the garden. Somewhere along the line, I added Curry & Almond Chicken to the flock. Those 2 girls produced lovely olive-green and turquoise colored eggs.
Their chicken coop was built between the fence and the Greenhouse. This was a very shady area, so we might as well get something producing in it. The City Chick's loved the sheltered feeling of their narrow home. We built them a large branched perch where they'd sun themselves every evening.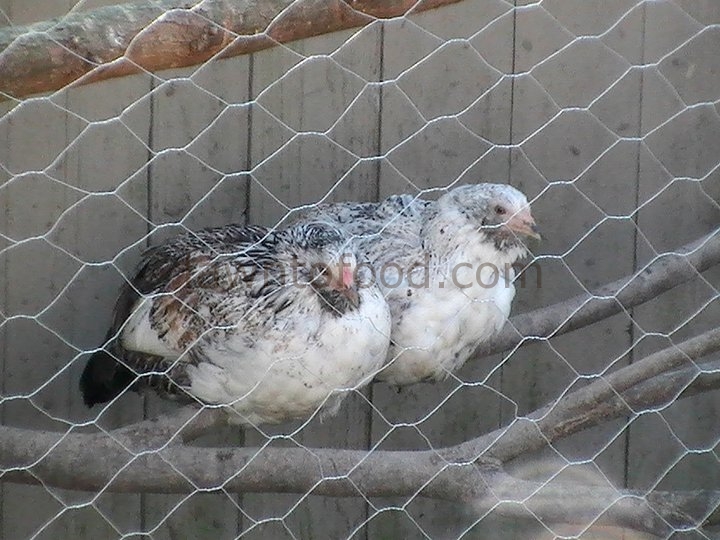 Almond Chicken and Curried Chicken were Ameracauna crossses.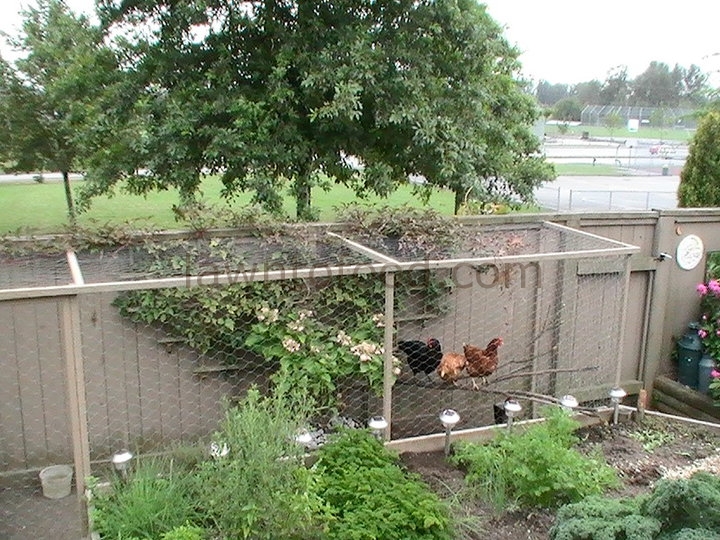 This is the "after" snapshot of the garden southwest corner. We created this Pitt Meadows property over 7 years, then decided to move on to something new. We are so grateful for the great memories and experiences. They will stay with us forever.