I am very grateful for the recent storm, which brought much needed rain to the Comox Valley. A bit of wind played havoc in my front garden. However, everything that was slightly damaged, or fell off its branch, I was able to salvage and make into meals.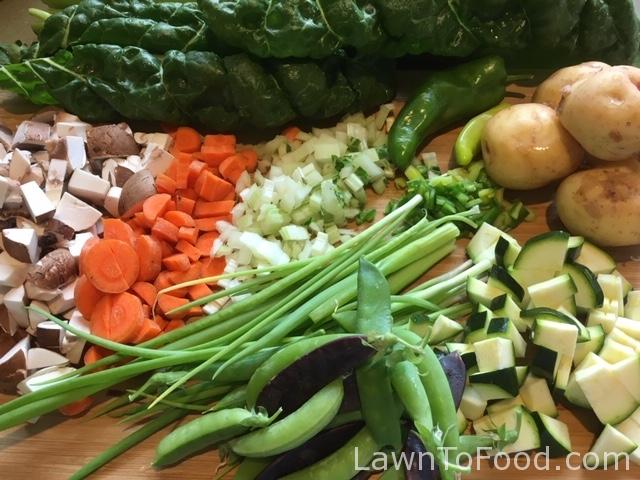 I started off my garden-produce freezer-meal rescue project with a mega-pack of organically-grown chicken thighs. I love the value savings that these large packages provide, but freezing the whole thing can be overwhelming when it comes time to use it all. So, instead of freezing the whole package, I've learned to divide and conquer it.
The package that I had to use, contained 25 boneless skinless thighs. I know that we can use up 8 pieces of chicken for one cooking session. Typically, the two of us would have 3 or 4 pieces for supper, then have some on our lunch salad the following day, and maybe even a piece or two chopped up for fried rice or burritos the following evening. Knowing that, I decided to separated the package into three groups of 8(9).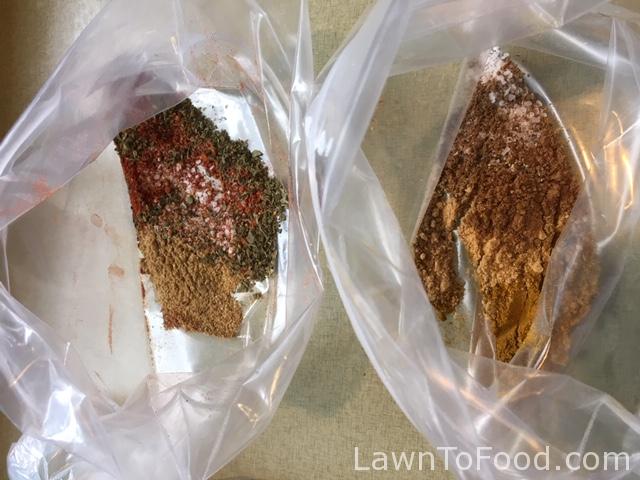 One freezer baggie was filled with Indian inspired spice blends and labelled Curried Chicken June 2019. Curry, coriander, garlic, salt, pepper, garam marsala, a pinch of cardamon, turmeric and cumin. I rolled the ziplock closure inside-out to avoid getting any raw chicken on that part of the bag. Using tongs, I placed 8 pieces of chicken in the bag and then tossed it like shake'n'bake. Sometimes a splash of quality vegetable oil helps disperse the spices all over the chicken.
My second freezer bag contained a variety of bbq spices that I had on hand, so I labelled it BBQ Chicken June 2019. Some smoked paprika, coriander, garlic, chilli, cayenne, oregano, cumin, lime juice, salt and pepper then I loaded the bag with chicken. You could just use a taco seasoning package, or a generous amount of Montreal Steak spice, for a quick seasoning before freezing. After squeezing the air out of the bag, and arranging the seasoned chicken flat, they were ready for the freezer. The flat freezer bags are excellent space savers and they defrost very quickly, when you need to make dinner in a hurry.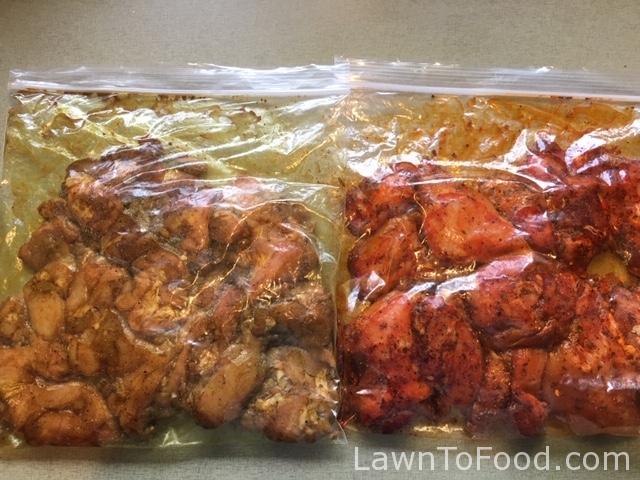 And finally … my third portion of chicken was used with the storm-tossed garden vegetables. I also sifted through my fridge and found mushrooms and carrots to add in. I decided to make chicken pies with these vegetables from the garden. Swiss chard stalks, immature peppers & and a chill, a baby zuchinni, green onions, new potatoes and snap peas.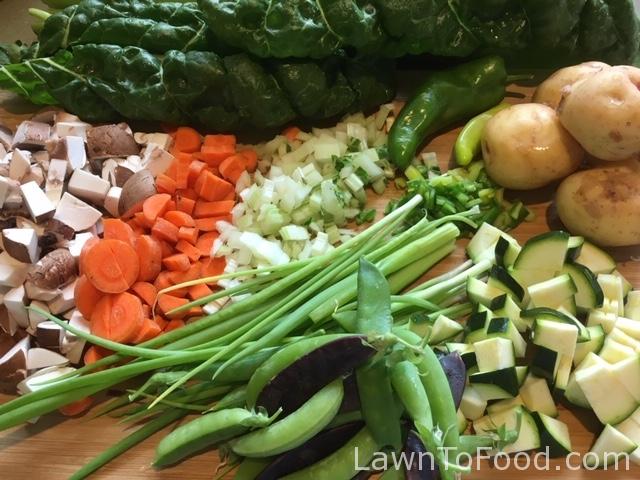 Snap peas have edible pods similar to snow peas. However, sometimes outer edges are tough and chewy. These tough strings are easily removed if you pinch off the end and then carefully peel it back. Here's a picture to show you the process that I use.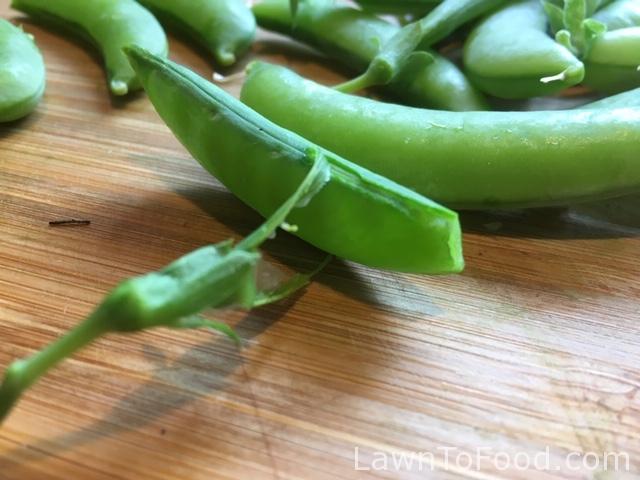 Peeled peas 🙂 and I don't do anything with the blossom tip, its just fine as is.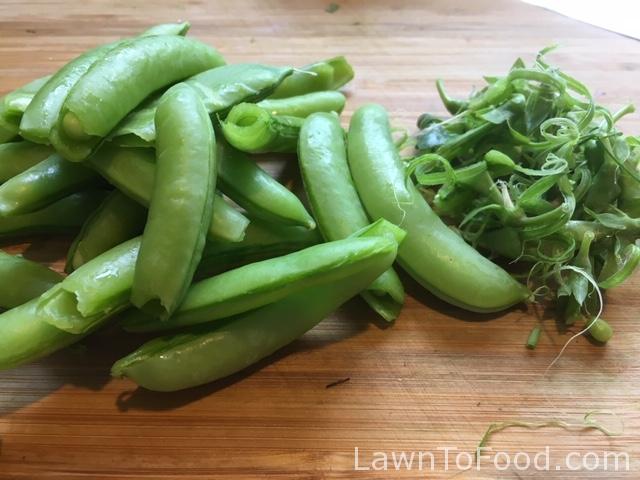 I chopped these snap peas into pieces and then tossed them into my chicken pie mixture.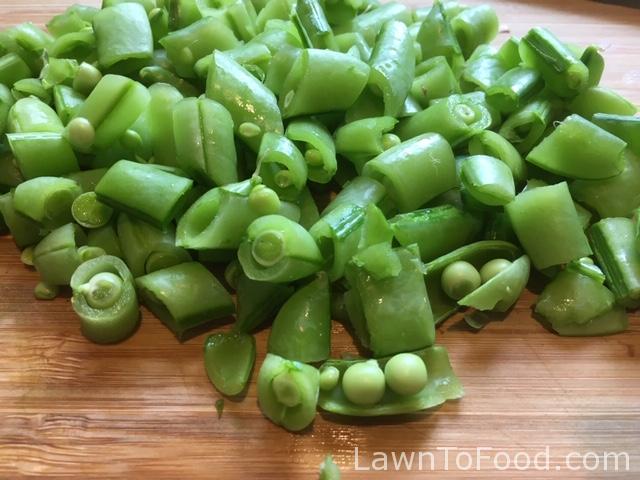 I cooked the chicken in whole pieces in my large pot. Once it was cooked all the way through, I removed each pieced and chopped it on a cutting board into smaller pieces for the pie filling. I dislike cutting raw chicken because it requires an extremely sharp knife to be affective. Raw meat also requires stringent cleaning of all utensils, cutting board and counter tops afterwards to prevent food borne-illnesses. Yes of course, I still have to clean up after cutting cooked chicken, but that process easier and much less hazardous.
To the cooked chicken pieces, I added all the chopped vegetables, salt, pepper, and some poultry-seasoning type herbs. Ground sage, thyme, rosemary and a bit of summer savoury. I deglazed the pot with a glass of white wine, ok maybe two glasses of wine 😉 After it had reduced, I turned the heat off. Once the mixture had cooled for a few minutes, I added about 1/2c of heavy cream and a handful of frozen corn. Both of those items helped cool the filling mixture even further, so that I could get it into the fridge in a timely manner.
I cooked my diced new potatoes separately for this freezer meal, only because I wanted to save some cooked potatoes for hash browns and potato salad. Once they were drained and cool, I mixed about 1 1/2c of potatoes in with the chicken and vegetables.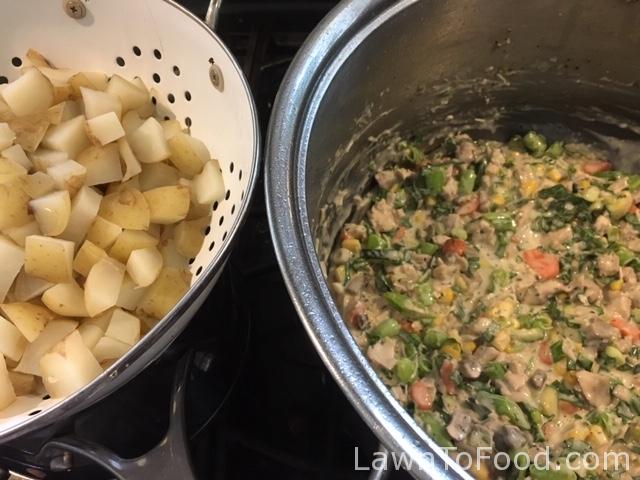 That was the end of my cooking session for one day. I let the chicken pie mixture cool overnight in the fridge. I planned to make pastry the following morning, when I was already scheduled to be in the kitchen.
I've had a love/hate relationship with pastry for most of my life. I love to eat it, but I have never been successful at making it. I was stuck on the phrase "Do not overwork the dough!". So stuck on that phrase that I actually never worked the dough enough … which caused me to make terribly tough crusts … which encouraged me to then work the dough even less … because I though I had overworked it and made it tough!
Thankfully, I have learned how to make great pie crust. Not because of the recipe, but because I now know the proper technique. Each grain of flour needs to be covered in shortening/lard/butter before adding in a slight amount of liquid ingredient. Once the flour & fat & liquid comes together into a ball, that is the time to "not over work the dough!"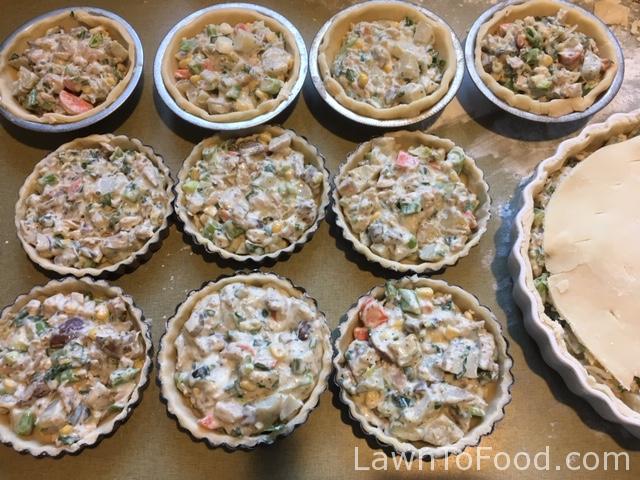 And here is my chicken pie result! Ten individual pies for hubby's lunches, or night shifts, and one larger one for us to share with company. Once these chicken pies are frozen, I can remove them from their pie plates, if I want too. Conveniently for me though, I've collected lots of these little pie shells. I can afford leave them as is, so they are ready to pop from freezer to directly into the oven.
I get lazy with leftover pastry, opting not to re-roll it into circles. Because really, it's pie crust! I'm going to eat it no matter what shape it is in! I'll wrap these finished chicken pies in waxed brown paper, label them and freeze. I don't paint them with an egg wash, or milk, simply because it'll stick to the covering, but it is an option to do just before I put them in the oven to cook.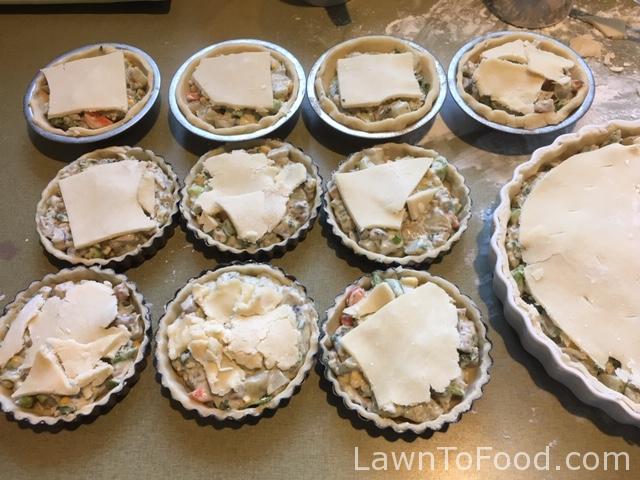 As always, there was a bit of crust and flour on my counter after getting all the pastry rolled. I always save these bits of leftover pastry and use it as a fruit crisp topping. You can freeze it in a baggie for future use, or do as I did, and make an entire crisp to put in the freezer.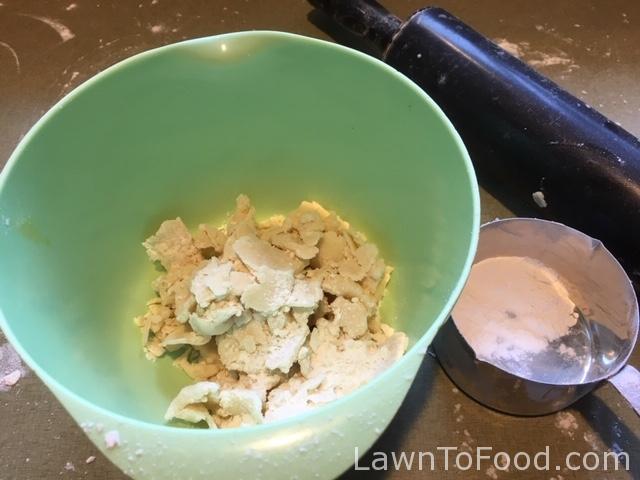 To the bits of leftover pastry, I added 1/2c flour. 1/2c butter, 1/2c brown sugar, 1/2c oatmeal and a 1/4tsp of baking soda.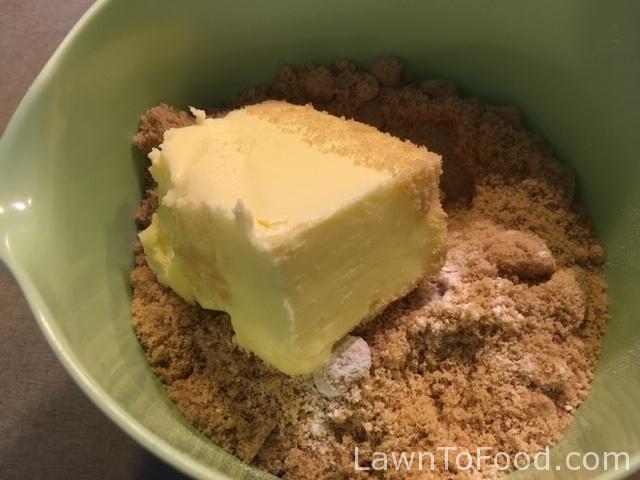 I scrunched that all together and crumbled it over top of this rhubarb (I could use any fruit combination). One was baked at 350F for 30 minutes, and I put the second one into the freezer for future nummies. ❤️
Thanks for reading!
Let me know what foods you'd like to have preserving ideas for 🙂