It's October, so the cool weather and rains are starting to settle in. I thought I had a bowl full of tomatoes and maybe a small box of peppers left to pick in the garden, but instead, I harvested all of this bounty!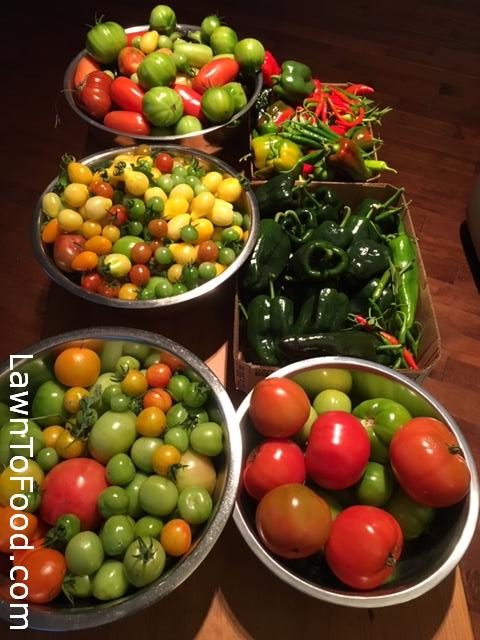 I'm frequently asked what I do with all of my green tomatoes (and red ones) at the years' end. Hopefully, this blog post will help to answer that question.
I start to tackle a harvest like this by sorting and washing the vegetables. I keep the beautiful eating tomatoes (Big Beef) on my window sill to ripen. I also keep a small bowl of cherry tomatoes, that are firm and a bit under ripe, for grazing on.
In seasons past, I've saved large flats of green tomatoes to give them time to ripen. For me, doing that caused far more frustration than satisfaction. I've found that many green tomatoes never ripen properly, they tend to shrivel and can become a breeding ground for fruit flies.
This year, I used up about 75% of my green tomatoes, by I dicing them to make Green Tomato "pickles" (but I'm calling it a chutney). I did make some changes to the linked recipe, such as, I let them sit in the fridge for 24 hours instead of 12 hours. That process draws out a lot of moisture so the green tomatoes stay very crisp and crunchy. I also used green chilies, instead of red ones, for no particular reason and added a touch of turmeric.
With my orange and yellow tomatoes, I made a fabulous Mild Pear Salsa. I made this salsa with my grandchildren in mind, so I didn't add any chilies. I used a lot of lime juice in this recipe to balance out the sweetness of the cherry tomatoes, red bell peppers and ripe pears.
All of the remaining harvested vegetables were diced for my aptly named Summers End Salsa. This batch contained green, yellow, red, orange, black and purple tomatoes along with assorted chilies, poblano and Italian Red peppers. I also included leeks, onions and a large amount of garlic that came from our garden. In addition to cider vinegar, I always add lime juice because love the authentic salsa taste that citrus brings to the finished product. This is my basic salsa recipe from Bernardin and I highly recommend that everyone only use approved recipes while home processing foods.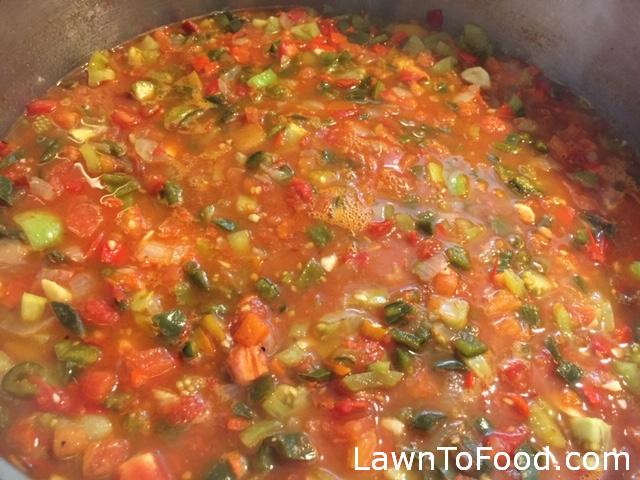 The fourth canned item that I made with the garden bounty was 16 pints of Salsa Beans. My pressure canners holds 16 pints perfectly, so that's why I do 16 at one session. I use salsa beans throughout the year to make almost-instant nacho topping, or taco filling, when added to ground meat or rice.
To make 16 pints of Salsa Beans, used one bag of dried beans. I soaked the beans in cool water for 12 hours until they were rehydrated.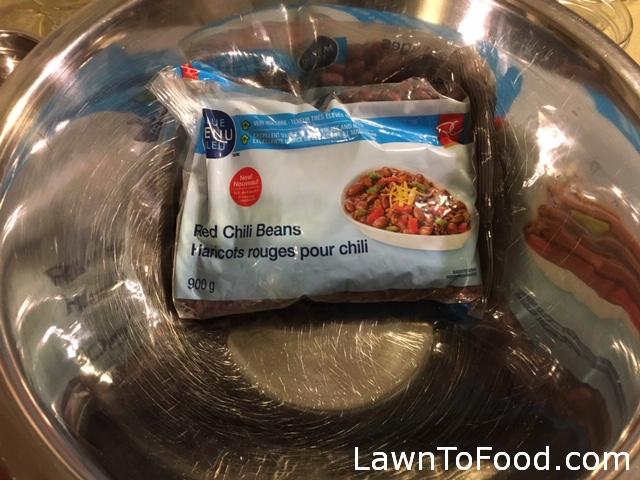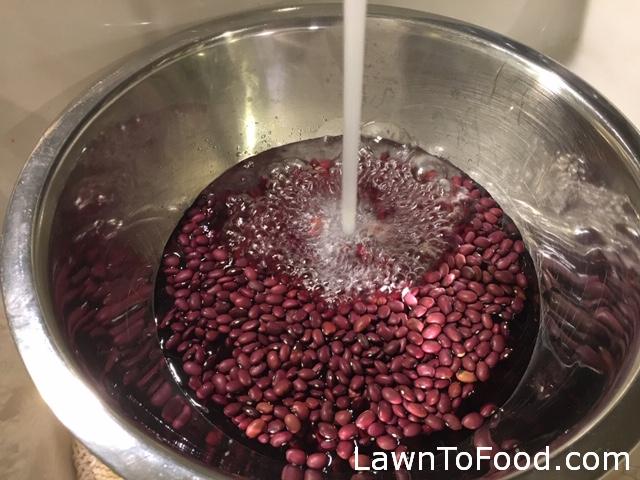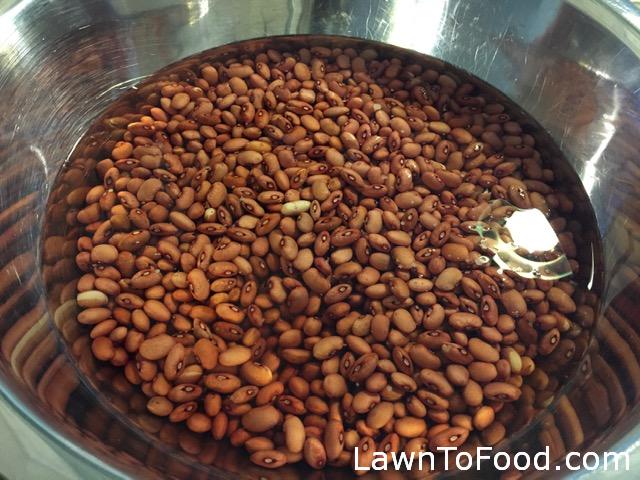 I drained and rinsed the beans, then cooked them for about 30 minutes. Once they were rinsed and drained a second time, I let them cool down. I put a 1/4 scoop of spicy salsa into each of the 16 sterilized pint jars. I also added a clove of garlic and 1/4 tsp of sea salt to each jar.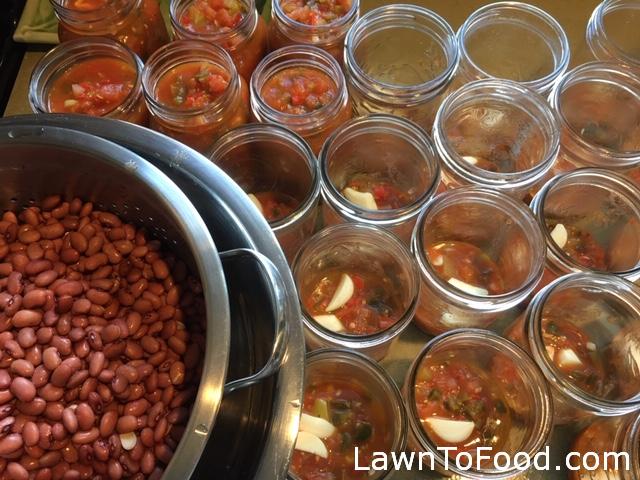 I evenly distributed the cooled, partially cooked beans into the 16 jars. I never fill the jars more than 3/4 full with beans so that there is room for the beans to expand while they are pressure cooking. Once the beans were evenly distributed, I filled the jars with filtered water, leaving 1 inch head space.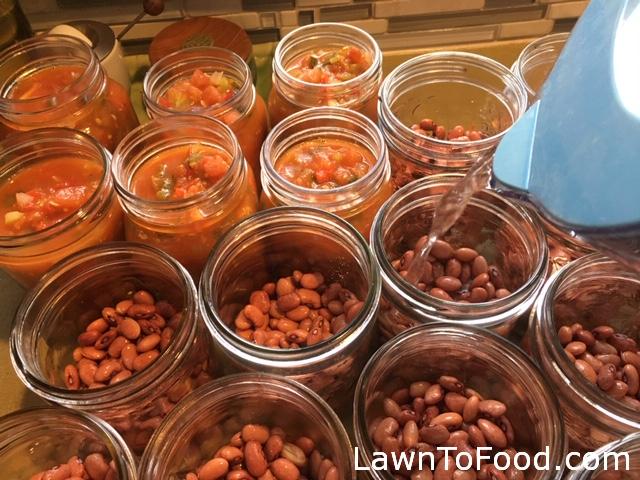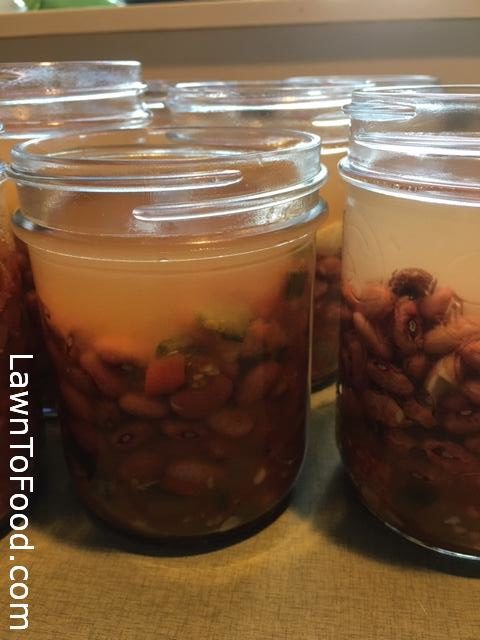 This is the official recipe and directions for canning dried beans. Always add new lids and use screw rings that aren't dented or rusty. **A word of caution, do not add cool jars into boiling hot canner water. The shock of hot water on to the base of cool jars, can cause them to crack and then break during processing.
Once I had the canner loaded with the 16 pints of Salsa Beans, I brought it up to 10 pounds of pressure and started my timer for 75 minutes. It's very important to not leave your pressure canner unattended during a processing session.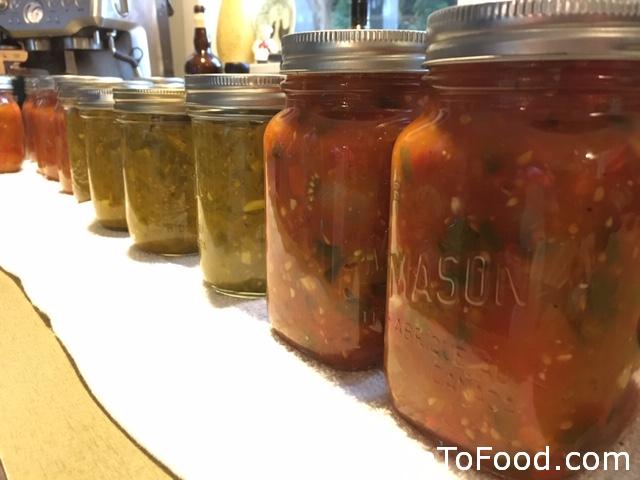 Food in jars. Simple, satisfying and scrumptious!
From this …