Every day is getting warmer and brighter during  this last week of April. Bit by bit my front vegetable garden is sporting less weeds, more seedlings and newly planted seeds. I haven't even thought about the back garden, and won't until I get the front one completed. I do this for two reasons, one it would be overwhelming and scattered to work on both and two, the back garden receives less sun so the soil won't be as warm as it needs to be for seed germination.
One plot that I chose to work on this week, is the second half of a long bed that I grew chillies and peppers in last year. It was covered in all kinds of organic matter over the winter to help improve the soil.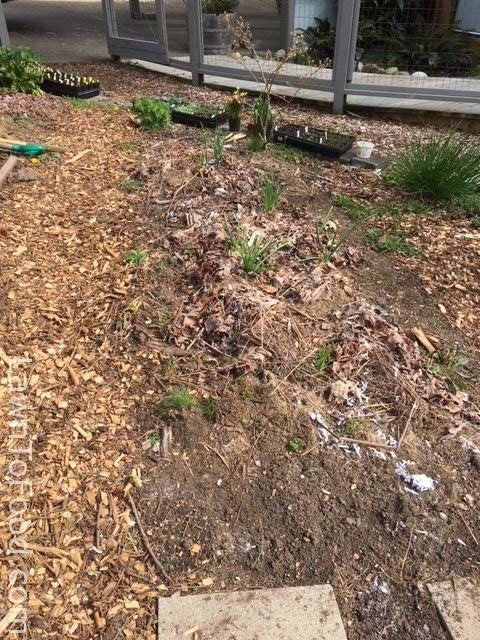 It's difficult to see from the picture but those tuffs of "grass" in the plot turned out to be clumps of garlic. I'm not exactly sure how, or why, garlic is growing in this space but instead of discarding them to the compost pile, I saved the garlic shoots.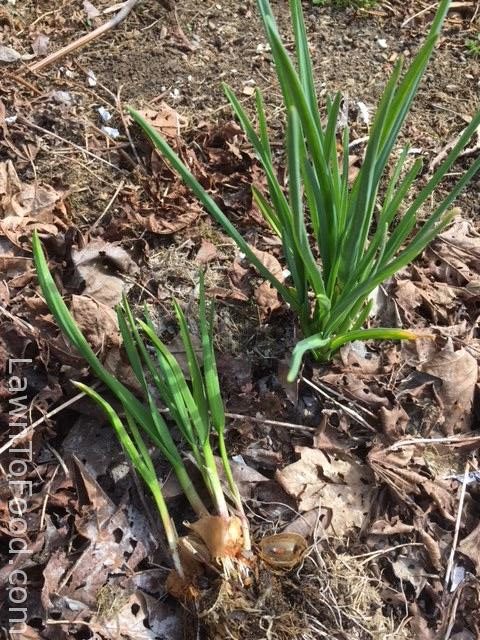 These garlic cloves can be planted, perhaps by someone who didn't get theirs planted last fall, as I already have over 125 garlic growing. If these garlic shoots are planted now, they will produce bulbs in July or August.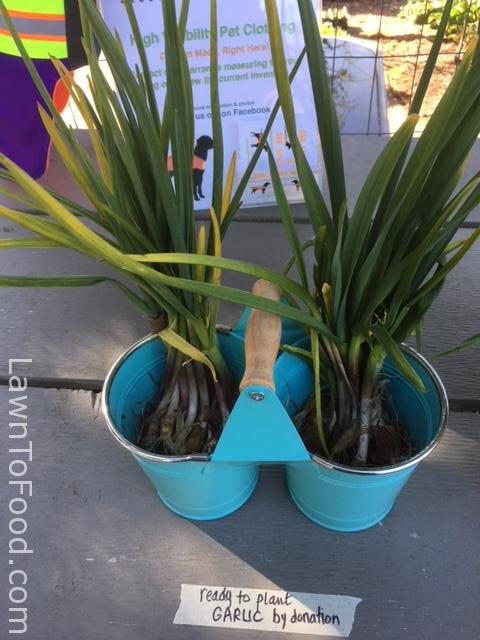 After removing the garlic clumps and weeds, I raked off the leaves and other dried matter and added that surplus as an aerating brown layer to our compost pile.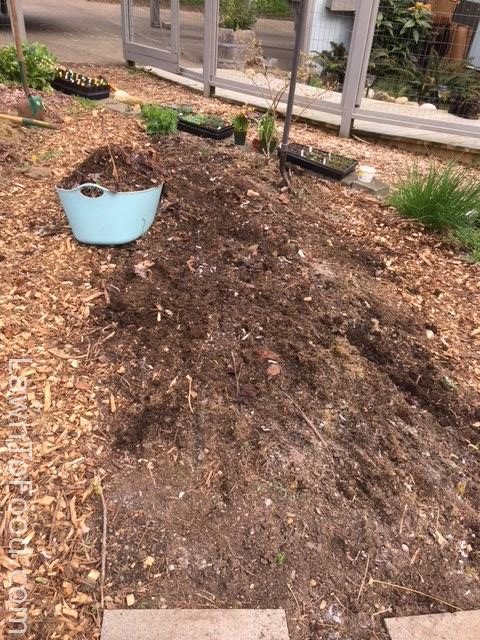 With a cleared area to work on, I amended the soil with a light sprinkling of lime, because we tend to have acidic soil, and a generous amount of Gaia Green organic all-propose fertilizer.  I avoided putting any lime within a 2 foot radius of the blueberry bush because it prefers slightly acidic soil.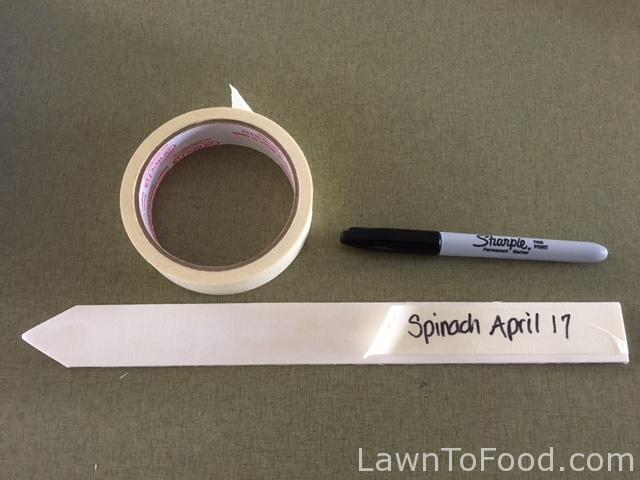 I begun the planting with some Rainbow Swiss chard seedlings, and beside that row I planted 4 rows of assorted Swiss chard seeds. I marked the seeded area with a wooden stick but instead of writing directly on the stick, I used masking tape. The masking tape label might have to be replace once in the summer but it enables me to reuse the compostable wooden stick numerous times over the next few years.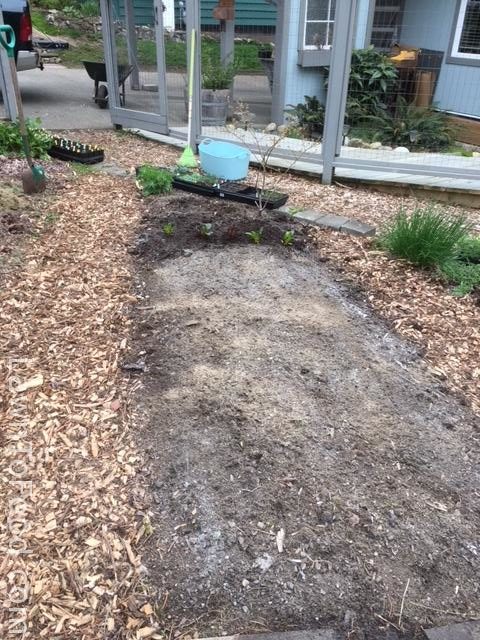 The next crops that I planted in this plot were 6 broccoli seedlings. I gave them a generous area to individually grow in and mulched them with grass clippings. I also snuck in a centre row of sugar snap peas which I will trellis up to grow vertically. The peas will grow rapidly and be finished before the broccoli needs all of its space. Plus the peas will add nitrogen to the soil which is an added benefit for the broccoli.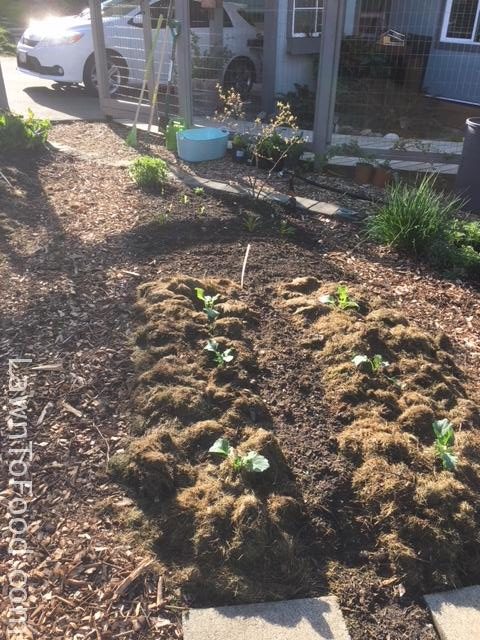 The sunlight in this photo shows off the young blueberry at the top of this plot. To the left of the blueberry is a perennial yellow Lupin and I've  interplanted area with 6 butter lettuce and 20 scallions. I'll keep the area, especially the seeded areas, wet at all times. On a warm sunny day, I will probably spray the hose over newly seeded areas three or four times. Newly emerging sprouts will not last more than a few hours if they dry out completely.
Under Ginja's watchful eyes, I'm moving on to the potato patch !!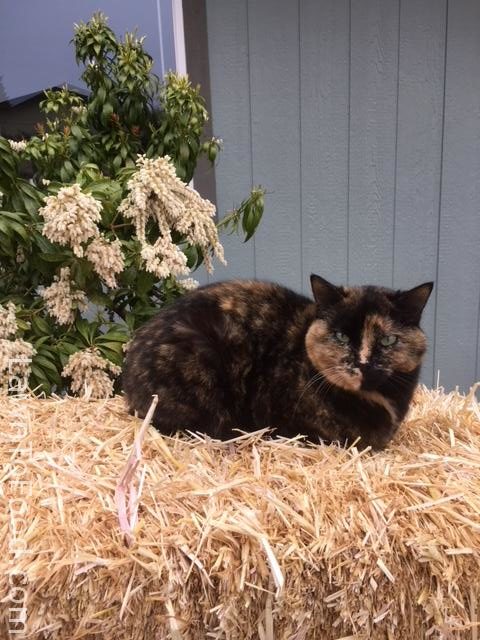 .