I had a fun, but exhausting, day of cooking freezer meals for a client. She wanted a very large pork loin (was cut into 3 pieces and frozen previously) and 2 small roast beefs, made into as many meals as possible for herself and her husband. After a bit of discussion, and suggestions, we settled on 6 different recipes that I would make with the ingredients that she provided. Once the recipes were completed, I was going to portion them into 4 servings per container for freezing and future use.
The 4 different recipes for the pork loin included 1) Sweet & Sour Pork (that can be served with rice), 2) Chinese Pork Noodles (ready to heat and eat), 3) lemon, garlic & oregano marinated Pork Souvlaki (that can be served with lemon herb rice or roasted potatoes) and 4) Pork Chops w/ Mushroom Onion Gravy. For the beef, I simmer one roast with stock vegetables for 3 hours, which transformed into 5 Sheperd's Pie and the second roast was sliced thinly, then simmered in a red wine broth, for Beef Stroganoff.
I started this batch cooking day by portioning the meat into recipe sections. Chunks for the Pork Souvlaki, chops for the Pork Chops w/ Mushroom & Onion Gravy, leftover thin slices and bits were used for the Sweet & Sour Pork as well as the Chinese Pork Noodles.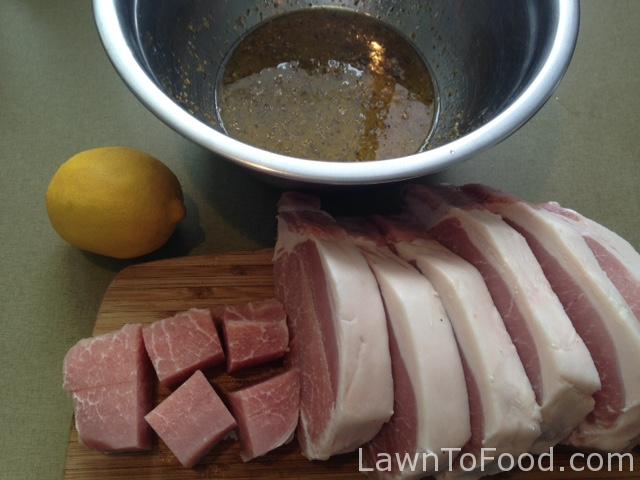 At this time, I also put one whole beef roast into my large stock pot with onions, bay leaves, carrots, the tops from the celery bunch, many cloves of garlic, salt and pepper and let it simmer on the back burner for most of the day.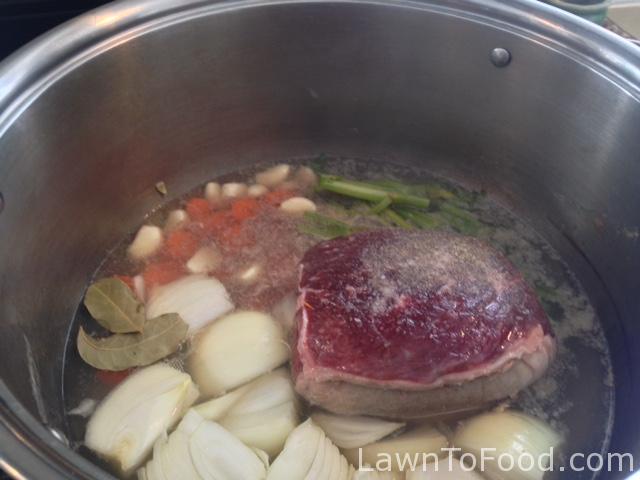 My next step was to wash and prepare all of the vegetables that I was given to use in these recipes. Once I had all of the produce cleaned, I could divide it up for each recipe that I was going to create. I used the multi-coloured peppers for the Sweet & Sour Pork, but saved the red ones of the Beef Stroganoff to give it some colour.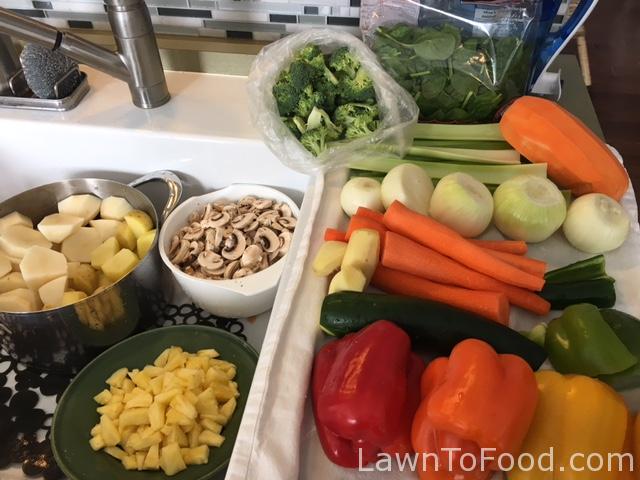 In my third step, I partially cooked the pasta options provided (fetticini noodles for the Chinese Pork and egg noodles for the Beef Stroganoff). Cooking the pasta early would give it some time to cool down, plus I wanted to get it done before all of my pots were filled with different batches of simmering things.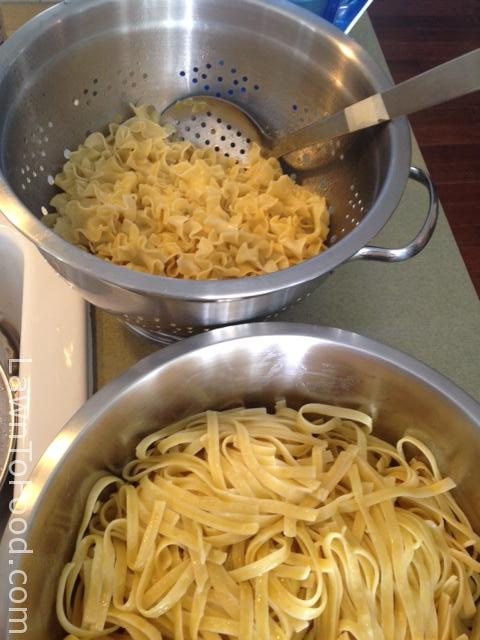 When I started to chop the carrots, I kept in mind that some needed to be diced for the Sheperd's Pie, some sliced into sticks for the Chinese Pork Noodles, and some slivered for the Sweet & Sour Pork.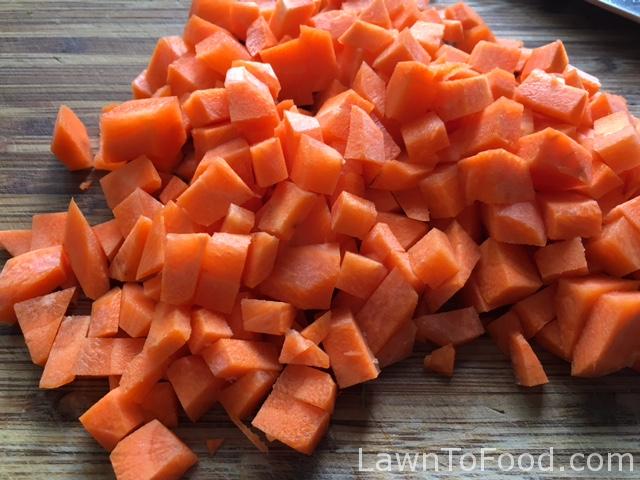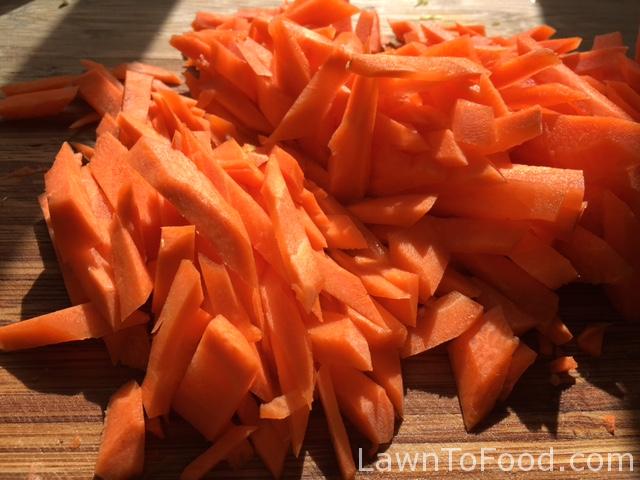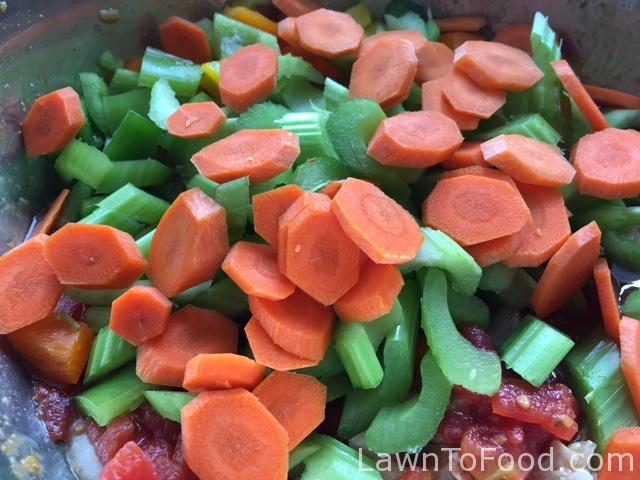 One third of the sliced mushrooms went in the Pork Chops in Mushroom & Onion (celery) Gravy …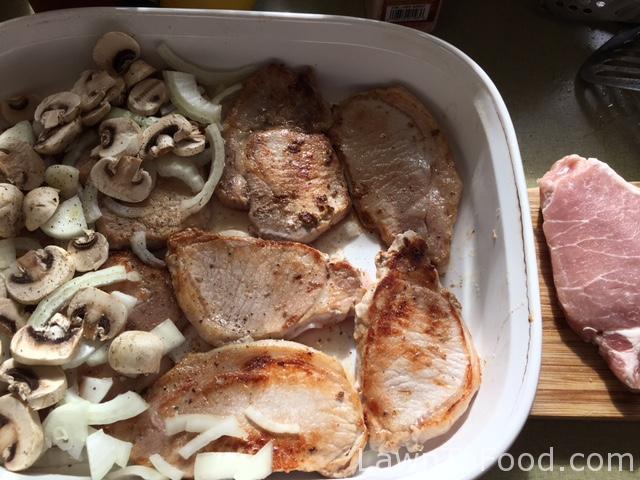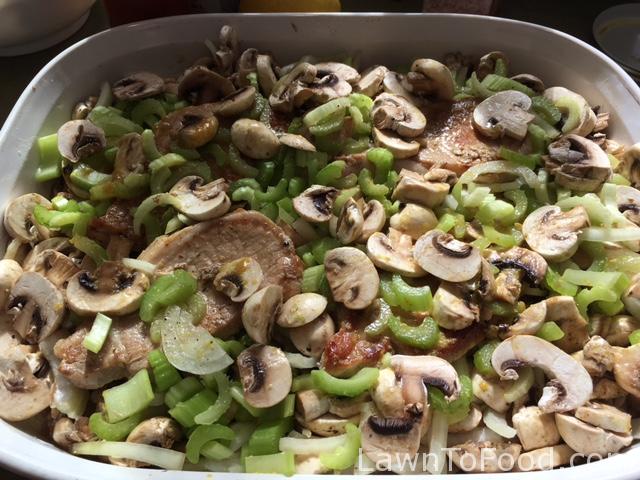 … which I covered with tin foil and baked in the oven for 1 hour. Another third of the sliced mushrooms went into the Beef Stroganoff and the final third into the Sweet & Sour Pork.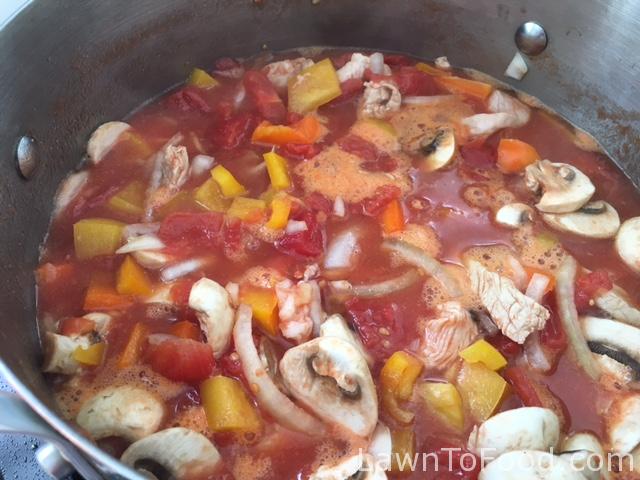 … along with some freshly chopped pineapple.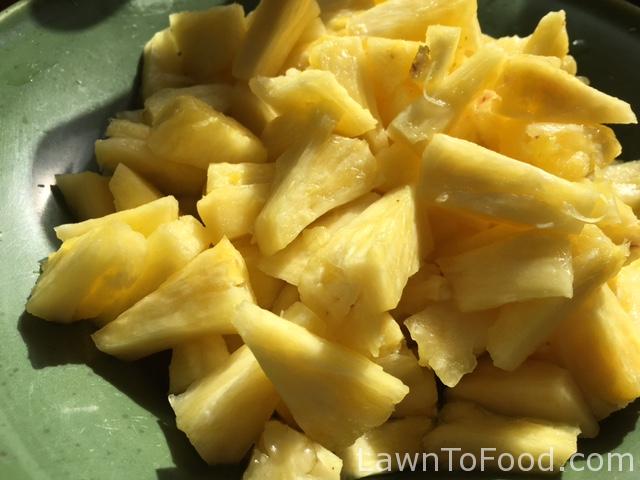 The pork and vegetables for the Chinese Pork Noodles were ready to toss. It smelled delicious after I added soy sauce, chilli flakes, ginger, garlic, rice vinegar, and a bit of honey. I used a large roaster pan to put it all together, and then set it out on our patio table to cool in the snow, before packaging it into portions. To this recipe, I also added the client-supplied, canned baby corn cobs, canned diced tomatoes and fresh broccoli, which blanched with the heat of the sauce.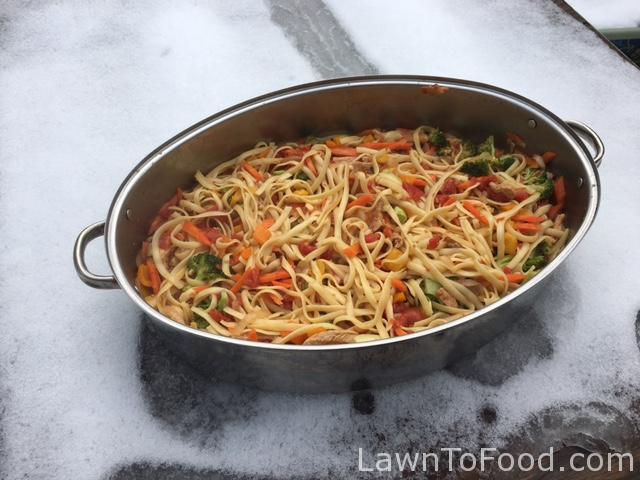 By now, the simmering beef roast, on the back burner, could easily be cut into cubes and returned to the broth. I let it simmer awhile longer until it was ready to  shred for the Shepherd's Pie. When it was done, I removed the chunks of beef for shredding and poured the braising liquid into my Vitamix for blending. All the simmered vegetables, broth and seasonings pureed into a very flavourful gravy base for the Shepherd's Pie.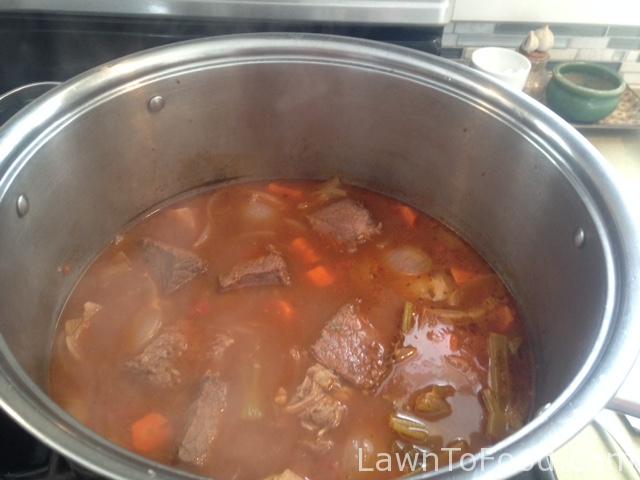 To the shredded beef I added the pureed gravy, a can of corn, 2 cups of frozen peas, diced carrots, celery, and a bit more pepper.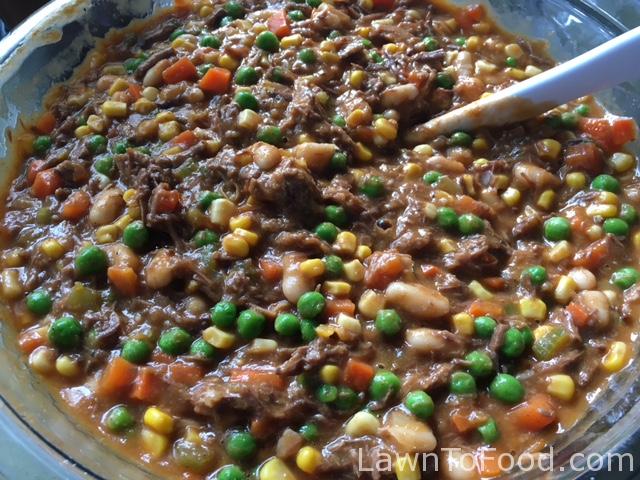 The client brought a bag of new potatoes and one sweet potato from her pantry for me to use up. I cooked and then mashed them all together, including the soft potato skins (less any sun-exposed green parts), with a bit of milk, butter, salt, pepper and garlic to make the fluffy topping. Mashed potato topping crisps up nicely in a 350F oven.
Lastly, I flash fried up the marinated Pork Souvlaki until it was almost done. Once it was cooled, I loaded it into freezer bags where the client can easily take out as many pieces as she wants for a meal.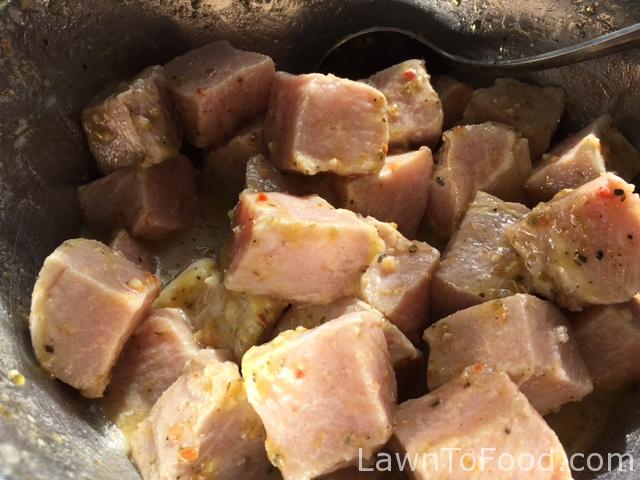 Six hours later, our counter was covered with easy to freeze, ready to eat meals for the up coming month. 5 Shepherd's Pie, 3 large Beef Stroganoff, 3 Pork Chops & Mushrooms with 4 chops each, 5 Chinese Pork Noodles and 3 Sweet & Sour Pork, plus the Pork Souvlaki (not pictured).
What a great day!!
Except for this part …