Is there a better time of year to make Bean and Bacon Soup than in the middle of a snowfall? Winter is a super time of year to get our pressure canners out and fill those pint jars that have become empty in the past few months. Personally, we've used many jars of spicy salsa, tomato sauce, dill pickles, apple butter, spiced peach chutney, and mustard relish, so I might as well preserve some more food to plump up the stores. Plus, having the stove on for a few hours helps heat our homes, which isn't always welcome in the summer.
I have blogged before about canning dried beans for convenience. You can find that blog post here. Recently, I taught a course for Lush Valley Food Action Society on how to can dried beans with a pressure canner (very different from a pressure cooker). We soaked a few varieties of dried beans overnight, and then pressure canned pints (500mls)  at 11 pounds of pressure for 75 minutes in salted, filtered water.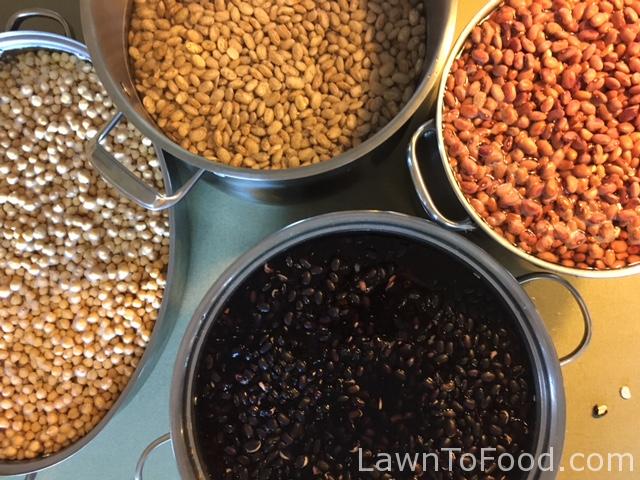 Recently, I found a bag of carrots growing hairy in my second fridge. They were harvested 6 months ago, so I can't really blame them for wanting to set roots and burst into seed flowers. A carrot peeler made haste with their fringed edges and then I chopped them finely for my soon-to-be-canned Bean and Bacon Soup.
I soaked 10 cups of dried navy beans in cool water for 4 hours. After draining the soaking liquid, and rinsing the beans, I added 8 diced carrots, 3 large diced onions, about 10 cloves of minced garlic, one package of low-sodium bacon that was fried until tender crisp, 4c. of chicken stock and about 6c. of water that was used to cook sweet potatoes (when making my grand-daughter some baby food) …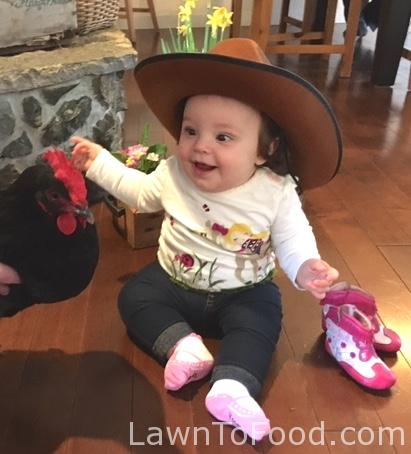 she is SO cute, it's distracting!! … right the recipe … plus 2c. of sweet potato puree, 1TB of Smoked Paprika, 1 TB of ground black pepper and 2 TB of sea salt. I let this mixture sit overnight in the fridge because it was too late in the day to can, and the next morning … WOW! Did it ever smell like raw onions and garlic! That's how I knew, for sure, that this soup was going to taste amazing!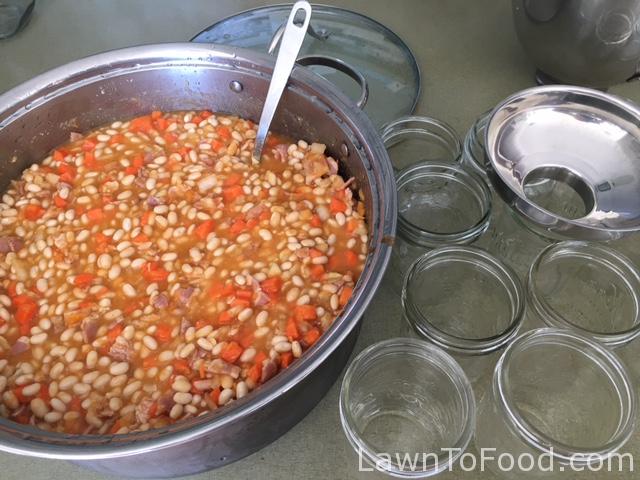 I filled each of 20 pint (wide or narrow mouthed) jars 3/4 full with the bean soup mixture and then topped it up with plain filtered water. This is extremely important step because the beans will absorb a lot of liquid during processing. After wiping the rims of each jar, I screwed on a new lid with ring band. I processed the pints (500mls) at 11 pounds of pressure for 75 minutes. It takes about 45 minutes for the canner to reach the correct pressure point and then at least 60 minutes for the pressure to completely subside, once the stove is turned off, before you can open the pressure canner. Never rush this process by removing the weight before the pin drops. Plan your canning day accordingly.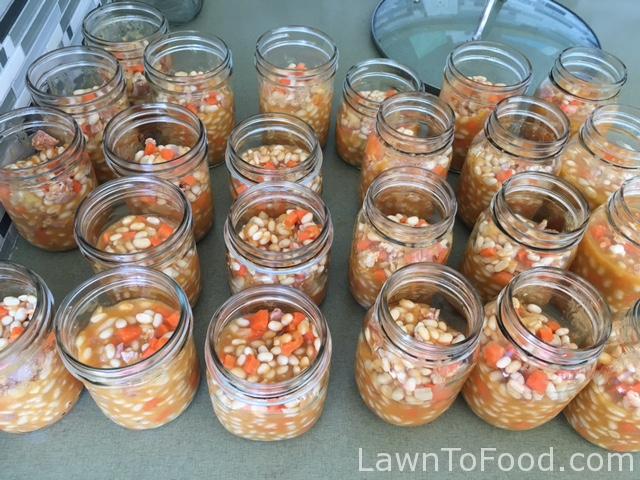 … and that is it. Carefully remove the jars from the canner without tipping them from side to side. Let the jars cool on the counter overnight, remove the rings, wash them and the jars. Some siphoning can occur if the jars held a bit too much liquid, but it is nothing to worry about. If the lids are tightly sealed after 24 hours, then they are safe to label and store. If there are any questionable seals, refrigerate those jars or open them and enjoy! To me, this tastes very similar to the Campbell's Soup version on Bean and Bacon Soup. I added some chipotle hot sauce to my bowl full, but it'll be perfect, as is, for those who do not like spice.
This was a great way to use up some beyond-their-prime carrots and add to our pantry food storage in the middle of winter. These glass jars of soup could easily be sent to work for lunches, as they are simple to heat up in the microwave. If you need a fast and simple dinner item, heat one of these up in a pot with a splash of milk, dash of hot sauce and a crunchy piece of toast on the side. Delicious!