Cucumbers are a versatile vegetable to grow in our home gardens. They taste wonderful sliced on to green salads, diced for a taco condiment, grated into tzatziki, or just fresh off the vine. The small pickling variety of cucumbers are a quick addition to school lunches and an interesting addition to vegetable platters for social gatherings.
If the plants produce a surplus, (which they will!) it's time to start the preserving. Last year, with 8 plants growing in our front garden, I made a batch of dills, or sweet & sour, or relished pickles about once per week during peak production. More on that later in the season, when I'll share my recipes and uses with you. For now, lettuce get growing!
Cucumbers prefer warm weather, in a full sun location with fertile well-drained soil. They are heavy feeders so I enriched the cucumber area with compost and aged manure before planting. I also feed plants about once per week in the summer with compost tea, diluted fish fertilizer or seaweed emulsion. To produce vibrant healthy plants and non-bitter cukes (usually caused by stress), the soil needs to stay consistently moist, so mulching is important.
Even though I mulched my cucumbers with straw last year, some of them succumbed to slugs and other garden pests. Many of the vines grew so long, they ventured out of their patch and intertwined with the carrots and kale. This season, I want to try to prevent both of those issues. With a cucumber trellis, I can keep the cucumbers off of the ground and have a support to wrap wayward vines on.
After chosing an 3 x 9 foot long patch in the garden to plant the cucumbers, I began building a trellis to fit the space.  I used some 2×2 that I cut at a 45 degree angle on each end. The 4 pieces of 2×2 are about 36 inches long. I overlapped the top to form an A-frame shape, and then screwed it securely together.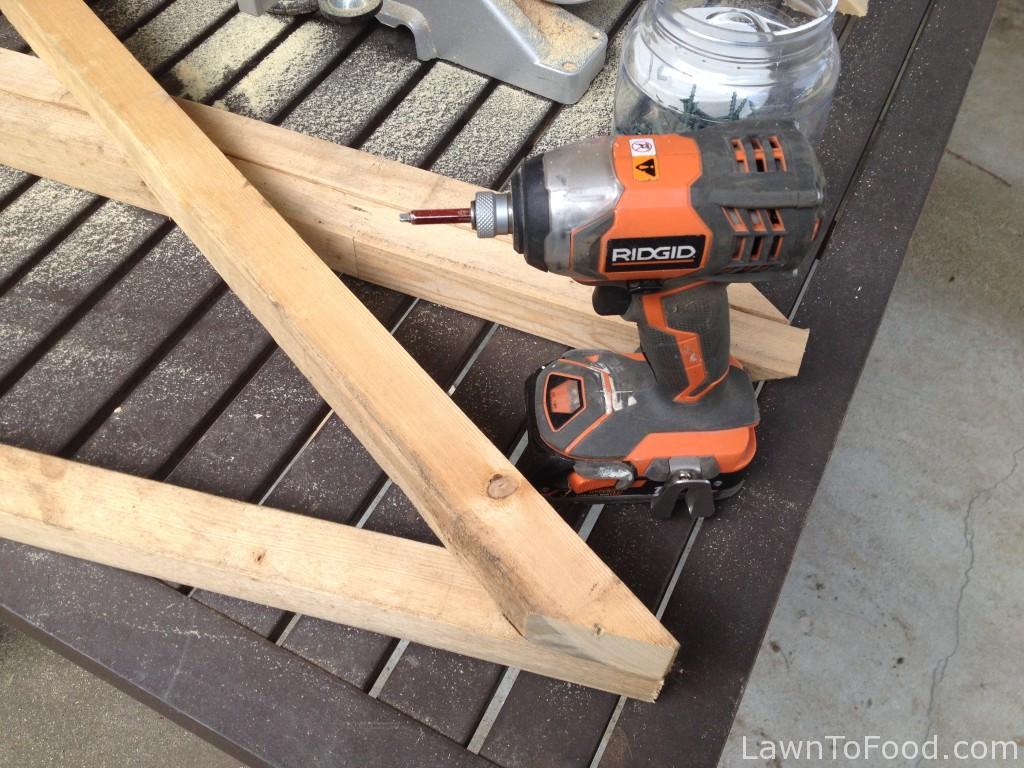 Once I had two A-frames built, I used some 1×1 strapping to secure the frames together. For a stronger trellis, I placed the A-frames in from the ends, to hopefully prevent sagging.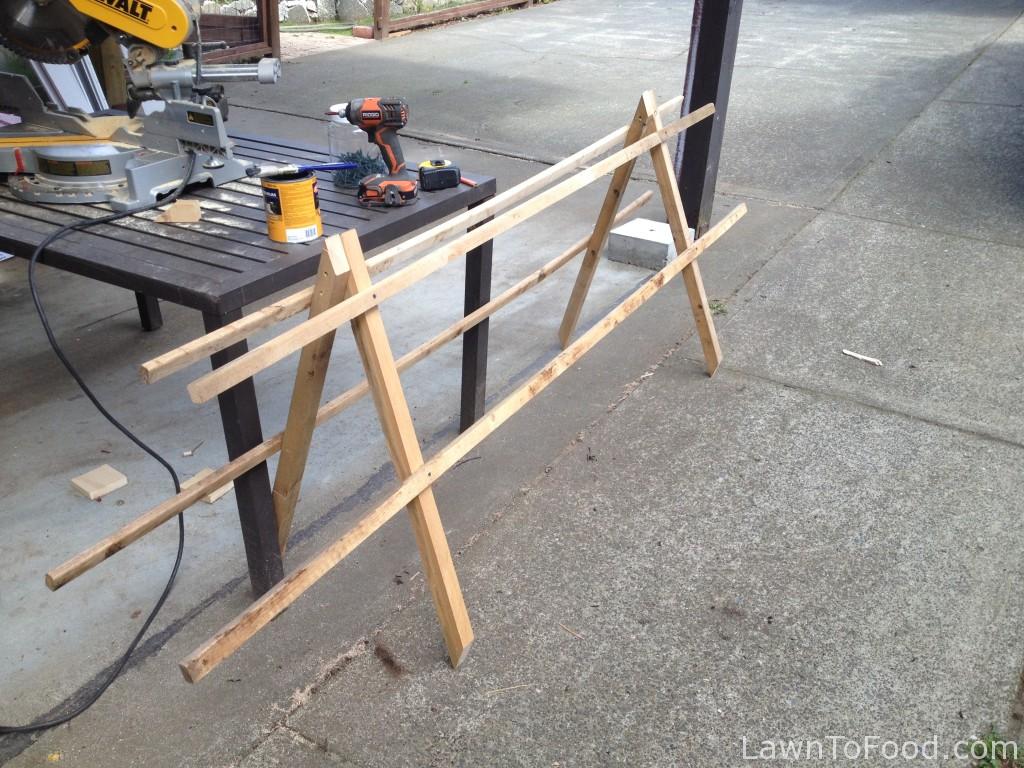 All of our tools were out and ready to use (because I was supposed to be finishing our house renovation, not gardening) so this cucumber trellis only took 15 minutes to complete. I gave it a quick coat of paint and set it up in the garden.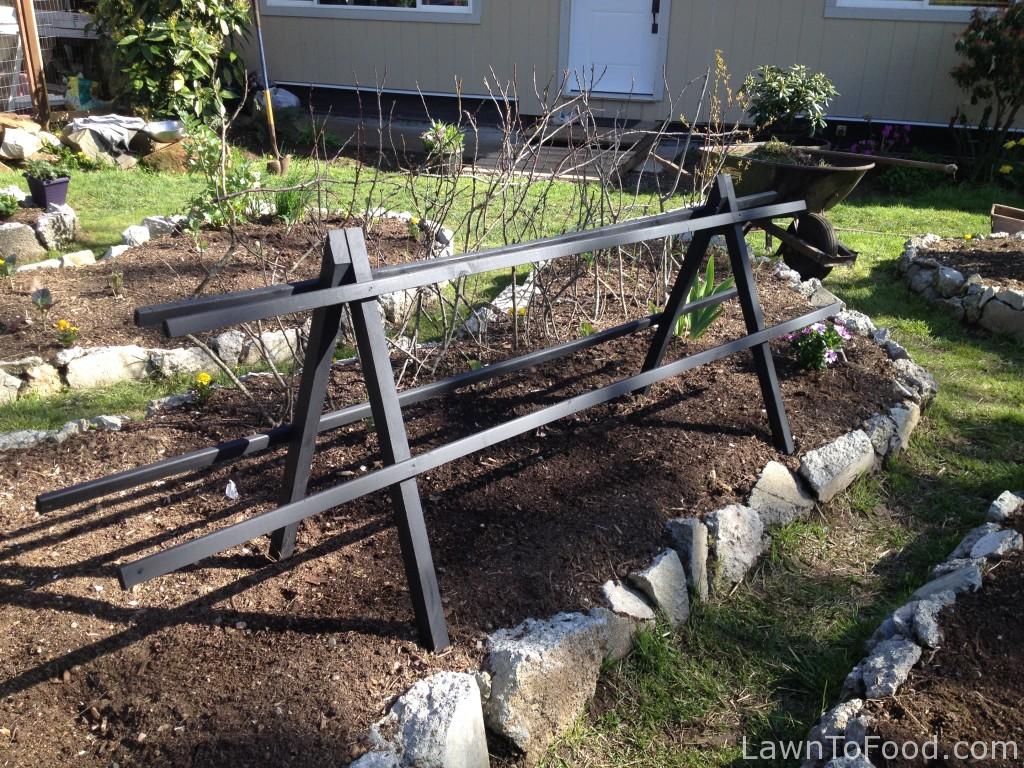 Since the weather has warmed up considerably, (10-15 C daily) I have planted the cucumber seeds below the trellis and am waiting for them to emerge. Once they sprout, I will thin the plants out, letting only 8-10 grow this season, as we had plenty of cucumbers from that amount last year.
Whenever I plant my cucumbers, I also start the dill weed directly in the garden. That way the dill will be ready at the same time as the cukes, for preserving. Just a note about companion planting, cucumbers and dill weed do not like to be planted in close proximity to each other BUT sunflowers do benefit cukes and their stalks can be used a trellis.
~~ Enjoy the spring sun ~~
Updated Photo … the A-frame trellis full of cucumber plants