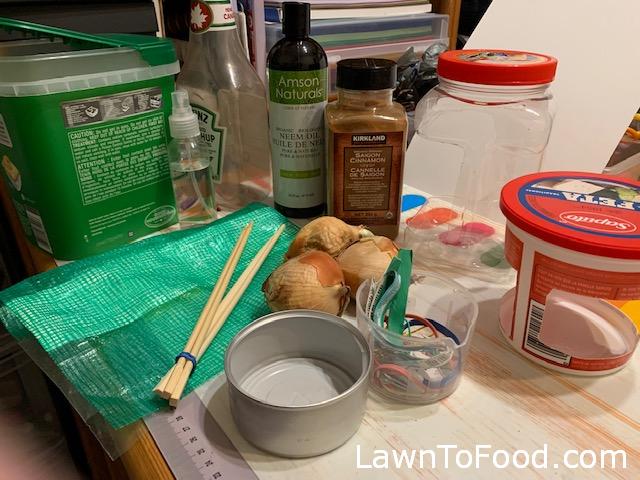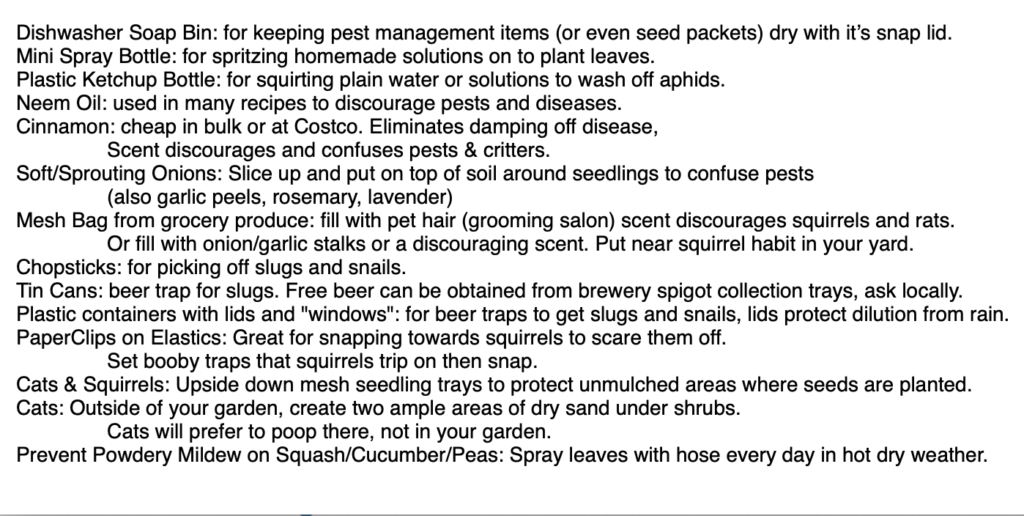 I was schedule to teach an outdoor workshop on vegetable garden pest and disease management. Unfortunately, I had to cancel my appearance due to contracting Covid. As I am writing this blog post, I am still testing positive, but with very mild common symptoms. However, just to be unique, my body has broken out in incredibly itchy hives and a burning red rash as it combats the virus. I actually look like I have the plague!
Even though my in-person workshop will be rescheduled for later this summer, I'd like to share a few tidbits now since I have some props and thoughts assembled.
First and foremost, if you expect to have a lush, bountiful and entirely bug-free organic garden you are going to be disappointed. Each season you will experience new trials and tribulations along with abundance and successes. As you become a seasoned gardener, you will realize that each year is completely different. What grew extremely well last year might fail this year, even if you "did exactly what you did last year". You can't control the miracle of Mother Nature.
You can add nourishment to the soil, plant some seeds, remove some pests and tend the plot but always remember other forces are doing the real work. It's always best to go into growing food with a curious, grateful and positive attitude. I truly believe that our energy (positive or negative) is transferred to the food we'll consume. If growing food causes us some frustration, we'll gain new appreciation for the cost, and for the people who grow the majority of our meals. However, if food growing gets to the point of causing us constant angst and exasperation, it might be time to move on, and let someone else tend to the garden plots.
We all understand that a healthy plant will be less susceptible to devouring pests and diseases. To get healthy plants in our food gardens we must continually feed and support the soil. If you think about it for a moment, how much you remove from the garden each season (weeds, produce, after harvest stalks, raking off mulches to plant seeds) then you'll have an idea of how much you need to add back to the soil so humus health and nutrients don't get depleted. It can add up to wheelbarrow loads of matter that go in, and come out of the garden, each season.
Every pound you take away needs to be replenished … and ideally, even more added to enhance the soil we grow vegetables in. This is not an area to skimp. If in doubt add more compost! I think this mind set is lacking with most home gardeners. We take and take more from the soil, but often only add back a couple inches of compost and maybe some organic powdered fertilizer. It's simply not enough to sustain healthy soil ecosystems that we expect to produce so intensely.
I add organic matter to my gardens all year round. Layer upon layer, many decomposing in place, along with wheelbarrow loads of organic compost. Aged animal manures, buckets of seaweed and sand, fall leaves, garden debris, wood chip pathway mulches, wood ash, lime (because we live with acidic soil), sawdust, straw, vine clippings from grapes, corn husks, etc. The more nourished my soil is, the healthier my plants are, the less I have to contend with pests and diseases. If I do see a plant that is struggling to thrive usually due to a hot or cold snap in the weather or root-boundless before transplanting, I will remove it from the garden so that it will not attract pests that usually do the job of eliminating it.
My "go-to" sources for gardening and pest identification and management are: Linda Gilkeson from Salt Spring Island has written some excellent books on growing food on the West Coast of BC. She also sends out a very informative and timely newsletters 4 or 5 times per year. I recommend that you sign up to receive those. You can also find helpful charts, words of wisdom and her books here.
I also love exploring the articles on the Spruce because they've written great advice with very few of those annoying pop-up windows and advertisements.
Enjoy the journey! Cheers, Lynda