What's for dinner? It is not an easy question to answer, especially if we are tired and unprepared. Not knowing what's for dinner tonight can also be costly, in more ways than one. If you're exhausted at the end of a long work day then it is tempting to grab takeout on the way home, order delivery or purchase something pricey (and at times of questionable quality) to feed your family.
Everyone is leading different lives these days. Some of us are feeding many people, some have dietary restrictions, we work either inside or outside of the home, have a long tasks list to complete and many of us are trying to stick to a food budget. Even though it sounds alarming, I'd like to add an important detail to our daily list.
I want to bring seasonal eating to the forefront our minds. Our environment and the future for ourselves, our children, and grandchildren, is counting on it. Not to mention the very valuable lesson that we will be teaching others through example, by eating seasonally and as locally as possible. A lot of us may be talking the talk about being environmental conscious, but are we walking the walk as much as we could be? The food we feed our families, and personally consume each day, is vital factor to the well-being of our future.
We all have preferences in the foods that we feed our families. I can't possibly address all of the items that you might include in your meals. Consequently, I challenge you to question your food choices and research how the products are grown, how far have they travelled to get here, the processes used to make ready-to-bake meals, and the packaging that is required to bring them to your table. Informed choices is awareness, and will make a substantial difference in our health and the health of the planet.
I do not mean to judge your current choices, nor do I want be judged for my food choices. We are all individuals and have the freedom to decide for ourselves. For example, we personally consume meat, which can be a controversial subject, and I'll probably never abstain from coffee, chocolate or avocados. However, I do ask myself a few questions before purchasing an item at the grocery store, "do I absolutely need it?", "is it organically grown?", "is it in season and where is it from?", "can I grow it myself or use a substitute?", "is the individual packaging worth the damage it does to the planet?","does it contain preservatives, colours, high sugars and other cancer causing agents?" and "will it help or hinder my health (my child's health) and my carbon footprint?"
Our grandchildren visit us from time to time (or used to before Covid) and I would try very hard to always feed them seasonally. Our strawberries are available from June to August. We do not purchase them fresh from a store in December. I only serve frozen strawberries from our garden that I will bake into scones, or they can have Strawberry jam on morning waffles. It's the same for blueberries. Fresh in summer and frozen ones made into ice cream or baked into muffins during other months. Bananas? No, not after researching it. Maybe once in a while as a treat, or from the 50% OFF bin and then made into banana bread so that they don't get trashed.
Citrus fruits are not grown locally (there are a few exception) however we love them. I am especially fond of limes, and lemons are brilliant in my Caesar salad dressing. Citrus fruits are roughly in season from December to March south of our border. That is when I chose to purchase them because they are fresh, abundant and much cheaper. I make our yearly batches of marmalade and freeze lime juice to use when canning my summer salsas. Occasionally, I'll even make a lemon meringue pie! After you try a fresh lemon pie you'll wonder why you ever fed your family the dyed, powdered version 😉
I've been working on some sample winter menus that will be published in my book (eventually) and would like share one of them with you. I think laying out a meal plan will give you an idea about how I incorporate our local, seasonal food with what's growing in our garden and what I have stored in the pantry. Hopefully, you can take the ideas that might work for your family and glaze over the rest.
A key theme that I will try to promote, is a weekly big cook. It is something I'll call "relay" cooking or perhaps I will call it an "anchor" meal. Basically, its a main meal where I cook a lot so that I will have leftovers on purpose. Just like Grandma used to do at Sunday family dinners. She'd cook a large roast, with a lot of vegetables and those leftovers would have been repurposed throughout the week for their meals. I've been roughly following this for about 35 years, and I find it a method of meal planning that is frugal, efficient, seasonal and delicious.
It's January in the Comox Valley of BC. Our seasonal cool weather crops are winter squash, potatoes, apples, celery, cabbage, broccoli, cauliflower, carrots, onions, parsnips, brusselsprouts and lettuce. Some BC Hot Houses are growing other crops (summer cucumbers, tomatoes, zucchini, peppers) but they require a lot of heat and lighting energy, so I do not buy them at this time of year. Besides they are expensive and tasteless imo, I'd rather wait for garden fresh. Winter salads are in the coleslaw type category, or buttermilk broccoli, it's just not the season for Greek Salad. In our garden, I have kale, purple cabbage, chard, green onions, mint, parsley and leeks. From my pantry, for this menu plan I'll be using salsa and dill relish.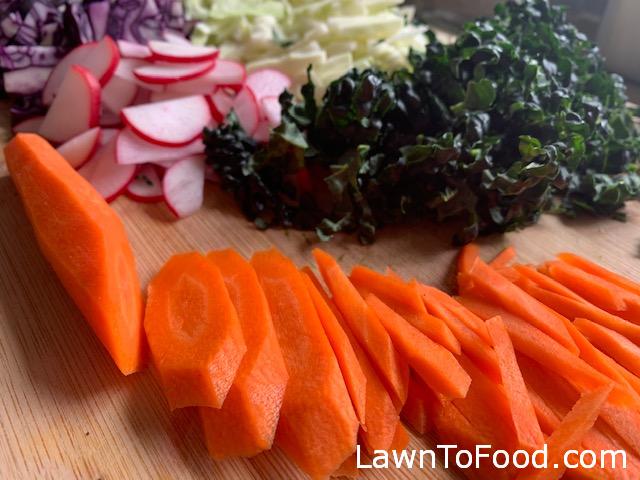 This is a picture of vegetables that I am preparing for several applications. These items (my purple cabbage and kale with store bought cabbage, radish and organic carrots) will go on top of a iceberg lettuce salad, become a coleslaw and also handfuls will be added to an Asian Noodle dish. I've prepped it all at once because I know I'll need it for more meals this week, so that is a time saver. You can buy bags of shredded coleslaw but I can't justify the cost when it is so cheap & easy to make at home. I specifically wanted to showcase the carrot. I slice them diagonally and then hold the slivers down and chop them into sticks. It's a fast and easy way to make julienne strips without using a grater.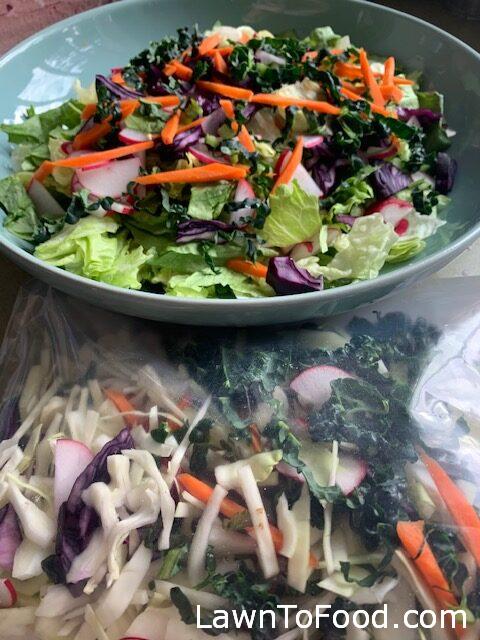 Here's a bowl of salad that will last us two or three days. We eat some kind of raw vegetables at noon and often a side salad in the evenings. I like to add green onions to salads, and the coleslaws, but if I add them to the packaged sliced vegetables (pictured) they become too potent.
Grab a bundle of green onions from your garden (or the store) rinse them off and place in water. I always have a jar or two on my winter window sill because you can snip off what you need and it will regrow for weeks. This pottery hen is my favourite vessel for that purpose.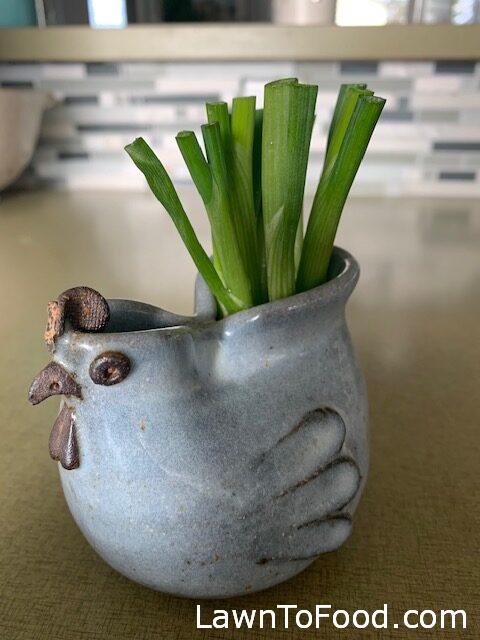 This the menu plan that we are eating our way through currently. I'm trial-running it to see if it is a realistic amount of work. Can I create these daily meals within an hour of enjoyable time in the kitchen (including clean up)? Is there enough meal variety, or is t too repetitive? Those are the questions I want to answer. So far it's going quite well and I will be working my way through several other winter meal plans before approving them for my book. What do you think?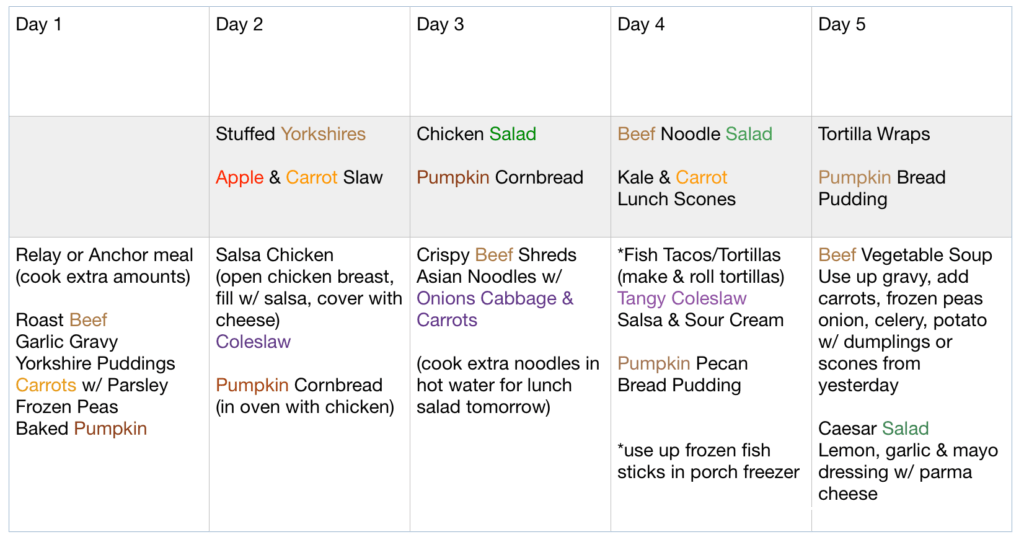 The squash (or pumpkin) is utilized often after the roast dinner, but it has been delicious! That is the key I think, keeping the meals interesting while using similar ingredients during the winter months. Frugal and flavourful! I have some of the cooked pumpkin draining through a cloth and sieve to remove a bit moisture for a pumpkin cookie recipe.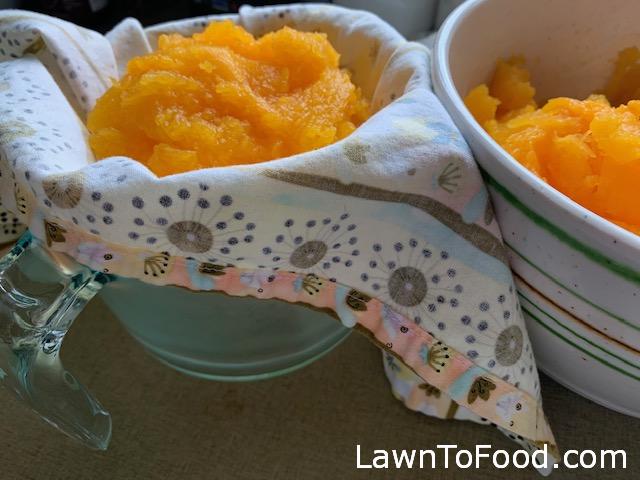 This is the Beef and Noodle salad from Day 4 which included fresh, crunchy vegetables and dill relish from the pantry to perk it up. What kind of seasonal vegetables and/or pantry items are you using at this time of year?
Be sure to leave a comment, or send me your suggestions! Thank you! lynda@lawntofood.com cheers, Lynda