During the fall harvest days, my meal preparation plan is in full swing. Not only do I can many jars of sauce, salsa, jams, relish and chutney I also freeze a lot of food. For time efficiency, my preferred way of freezing food is what I call "ready to go" mode. For example, instead of freezing packages of grated zucchini to make future muffins, I'll actually make the muffins. Instead of freezing tomatoes to make lasagna, I'd rather make the lasagna and freeze it.
My philosophy is, if I don't take time now to fully prepare food, then it'll take more time (and make another mess) when I do it later. Plus, the most important reason to make freezer food now, is that my garden is bursting with delicious, but rapidly ripening, produce.
Life is full. To enjoy it, I try to save steps, use time efficiently and reduce clutter. I deal with what is at hand and then check it off my list. It's like folding laundry when I take it off the line, rather than dumping a basket full on the bed.
Touch it once and tuck it away.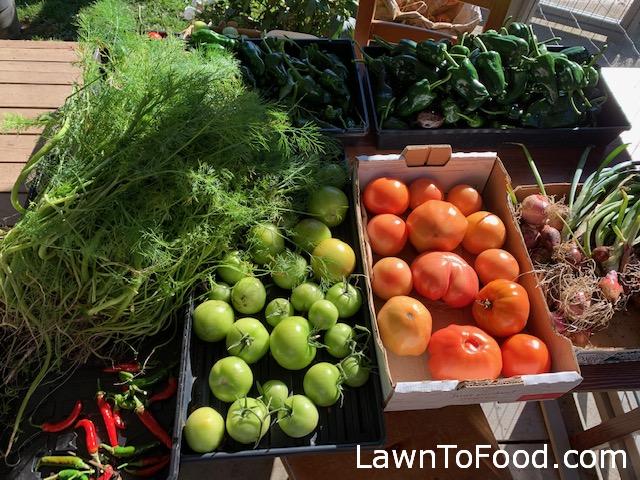 From this harvest, I felt that the delicate dill weed needed immediate attention. I decided to make some dill butter with it and to add flavourful handfuls to fresh fish that I had just purchased.
Herb butters are easy to make and very convenient to use (coconut oil can be a substitute for butter). Not only are they a great way to preserve herbs, but everything is better with a bit of butter 😉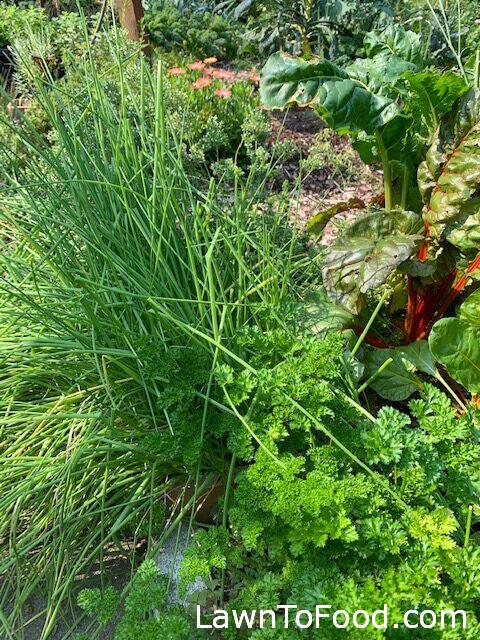 I make herb butters by softening a pound until its pliable. In a mixing bowl, I combine the butter with between 1 and 2 cups of chopped herbs, salt, pepper and occasionally garlic. I divide the mixed herb butter into 4 sections and roll logs with plastic wrap. I refrigerate the logs and then unwrap them for slicing. Often, I wipe and save the plastic wrap for future butter rolling.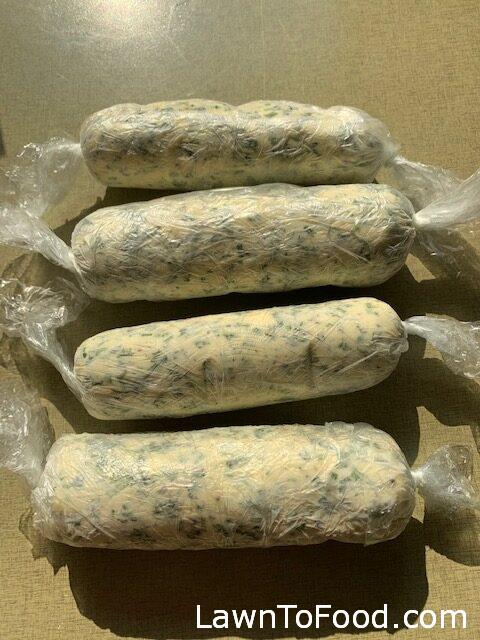 Previously, I have left the herb butters frozen in their wrappers and then sliced off a chunk when I needed it. However, I found that the wrapper is hard to label and eventually lost its ability to stick to itself. Slicing them into a container for freezing is tidy and convenient. I can grab a disk of herb butter to sauté vegetables, cook scrambled eggs or melt on cooked potatoes or squash. I've even tucked slices under poultry skin before roasting.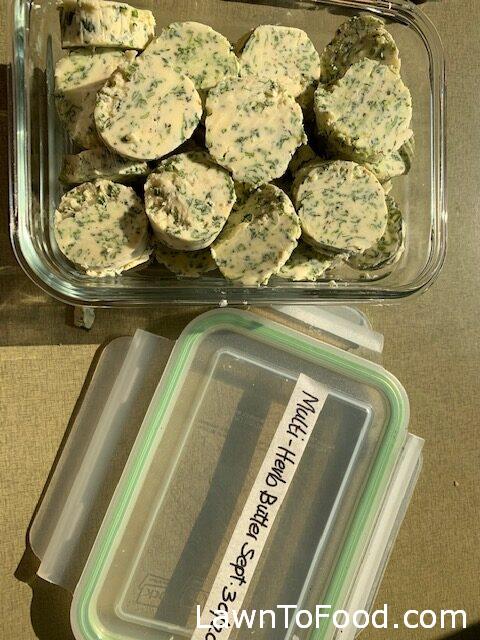 I also used a bunch of my harvested dill to prepared fish bundles. I had purchased a package of Red Snapper which contained over ten fillets. Rather than freeze the large amount into a solid brick (which is difficult to deal with later) I separated the fillets into portion sizes that suit our family. I salt and peppered the fillets, added a dollop of butter, sliced of lime, a few onions and a handful of dill.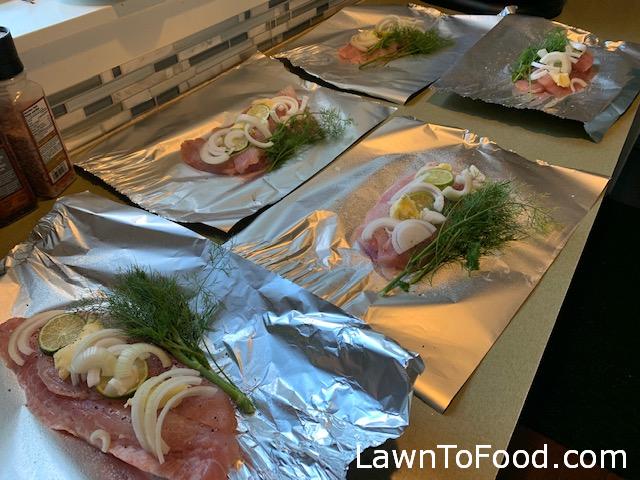 I carefully wrapped the fish packet so that I didn't tear a hole in the tinfoil. Once these are labelled with a permanent marker, I'll freeze them. When labelling I write what it is, date that it was made and cooking instructions (from freezer to oven, 350F for 25-30 minutes). Four of these packages headed to the freezer and I cooked one for our evening meal. That keeps with the motto of, "One for dinner, Some for later".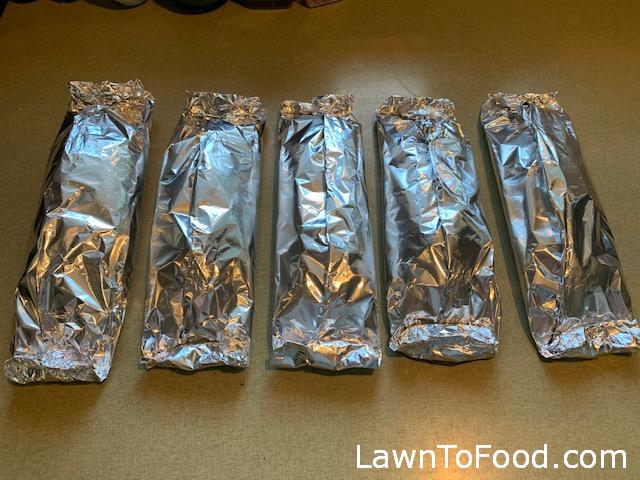 Since I was going to turn the oven on to cook the fish packet, I opted to also roast some red potatoes and one of our small squash. I tossed them in a bit of olive oil, salt & pepper and let them cook for 15 minutes including the oven pre-heat time.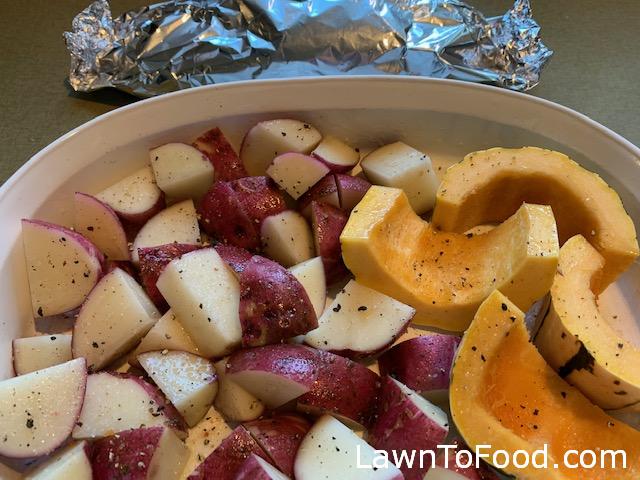 Once the vegetables were roasted for 15 minutes, I placed the fish packet on top for another 15-20 minutes of baking, until the fish was steamed and delicious.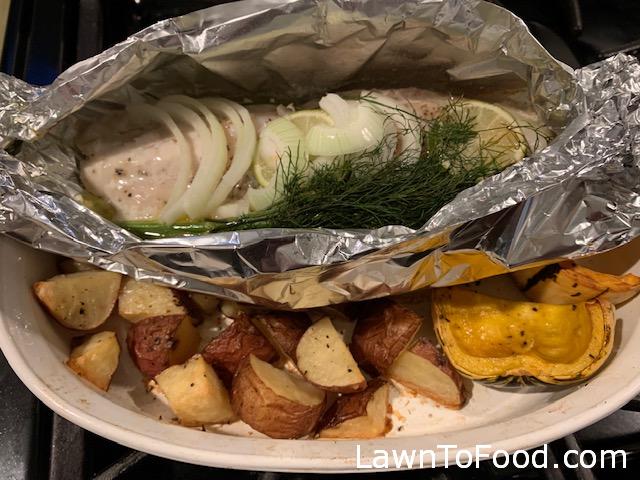 Another trick that I often use is to freeze extra cookie dough balls. It always seems like I have a leftover dough from my cookie batches, that don't quite fit on my large sheet pans. Rather than take the time and oven energy to bake a partially full sheet, I freeze them. I put those extra dough balls into a freezer baggie that has an assortment of cookie dough in it.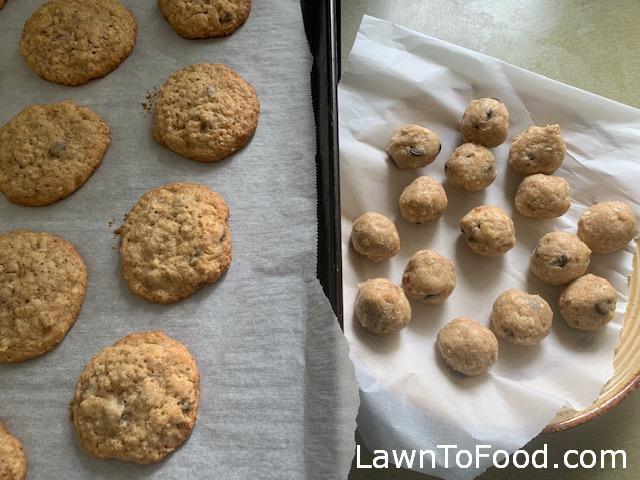 I popped a handful of those frozen cookie dough balls on a small sheet, and into the oven, just before dinner was finished roasting. I might as well utilize the oven while its on, right?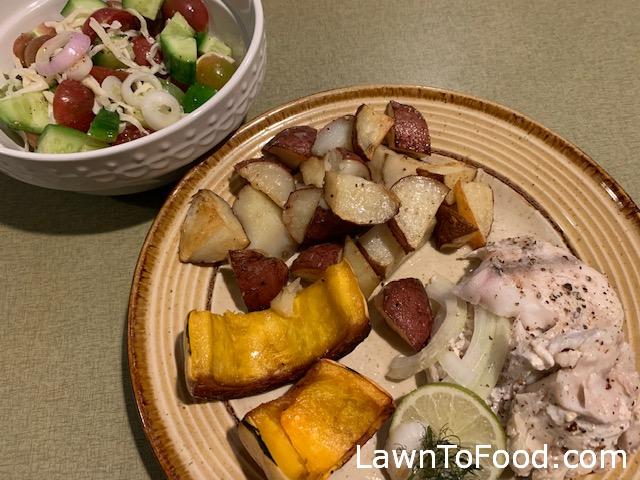 Our seasonal garden-inspired meal included dill and onions on the fish, roasted potatoes and squash plus a cucumber and cherry tomato salad which were all home-grown. A lovely meal was capped off with a cup of mint tea and warm chocolate chip cookies. Now that's my idea of a perfect ending to a lovely autumn day.