Every fall we have an abundance of green tomatoes. While some mature green tomatoes can ripen on my window sill, most are best processed into food that we can use throughout the winter. This year I've already made many preserves with my green tomatoes.
My most recent one is a vegan Mincemeat recipe, for holiday tarts, pies, muffins or to serve on ice cream. Original recipes of mincemeat contained beef, suet and/or lard, but I have omitted those ingredients. I used green tomatoes, apples plus some odds'n'ends of dried fruits, nuts, ginger, spices and fresh citrus.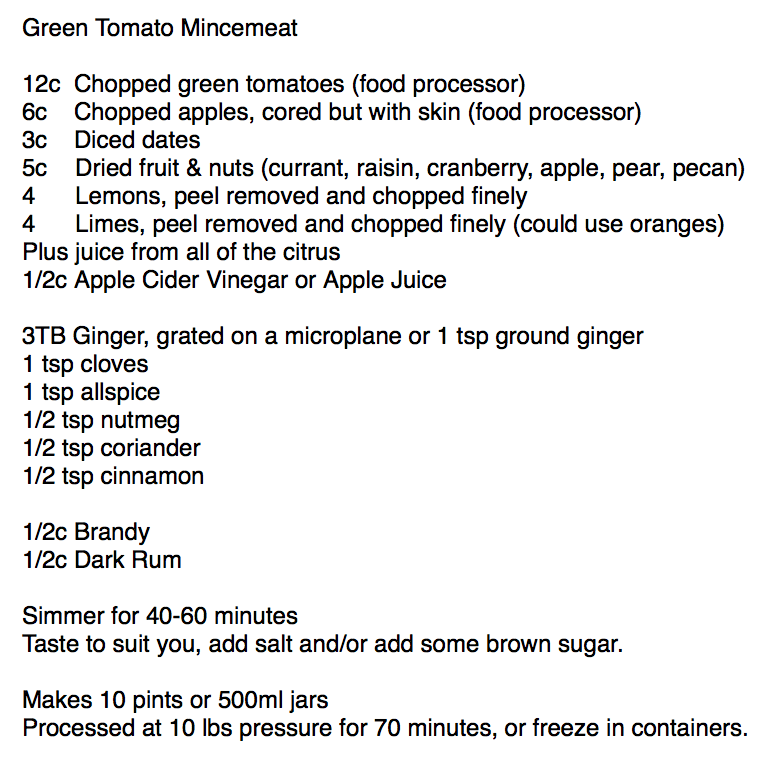 This is my collection of ingredients, which I gathered before starting the recipe. Getting it all together first, ensured that I had everything that I'd need on hand, and also that I wouldn't forget anything! Purchased dried fruits as well as my own dehydrated apples and pears went into this batch. Last year I used some dehydrated plums and figs so it's a great recipe to use for what you have available. Mincemeat recipes typically use candied ginger and store bought citrus peel. I find both of those items unappealing and costly. Instead, I searched on the discounted produce shelf at my local grocery store for some fresh citrus and ginger.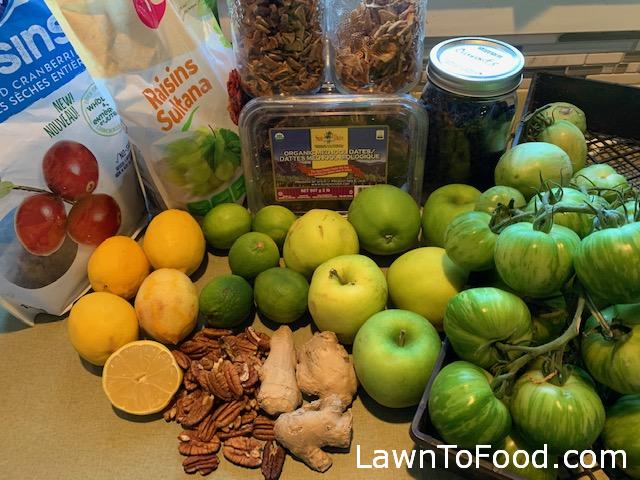 I used a food processor to chop the green tomatoes and apples after I washed and quartered them. I removed the core of the apples before processing. Everything was added into my 15 litre stock pot.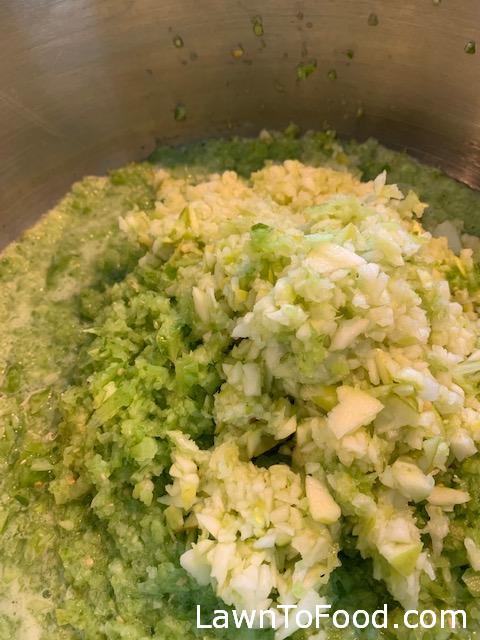 I peeled the citrus with my freshly sharpened knife and then chopped the rind up into small slivers. The citrus pith adds that classic bright, bitter flavour that mincemeat is famous for. Once the peel was ready, I juiced the citrus along with a couple of other lemons that I had to use up. All of the citrus juice, about 1 cup, was added to the stock pot.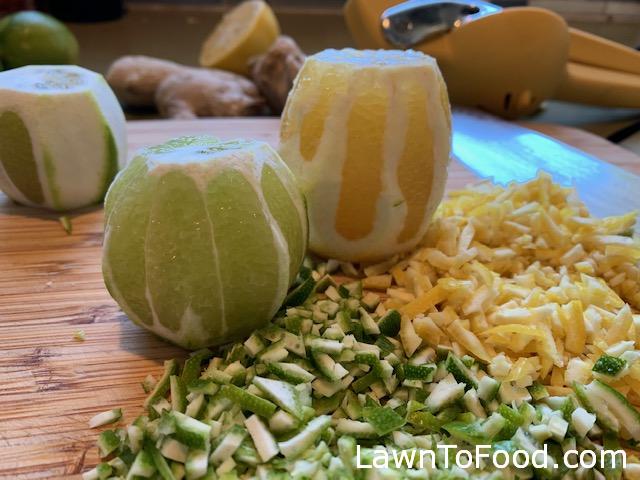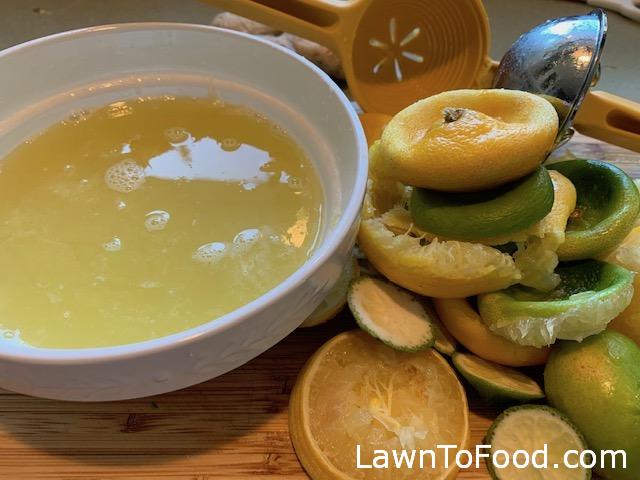 I grated the fresh ginger on a microplane before adding to the stockpot. Some of this ginger was dried and woody, so the microplane ensured that it was palatable.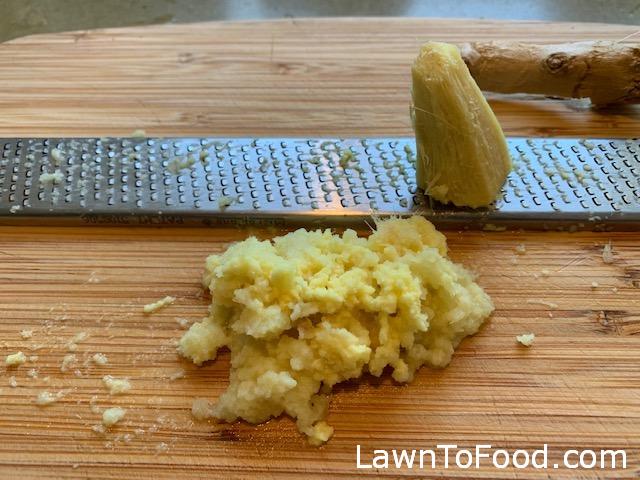 Here is a picture of all the ingredients assembled and ready to simmer in my stock pot.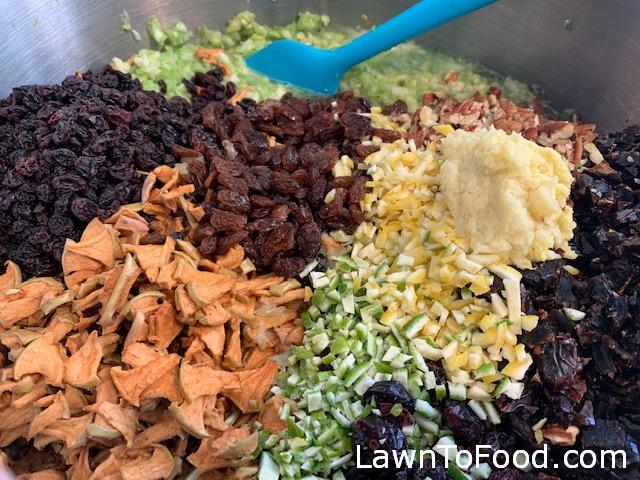 Once it was warmed through and staring to boil, I added the final ingredients of brandy and dark rum. If it gets too thick early in the simmering process, I'll add some water or apple juice.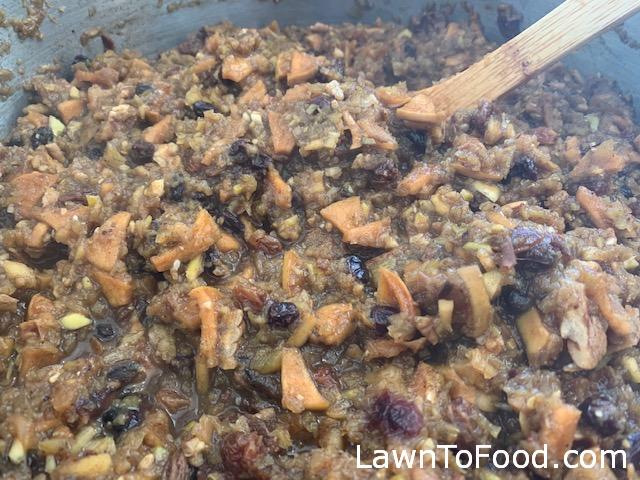 About 40 minutes later, it was thick, rich and tasty. I added salt to this batch but I didn't feel that it needed any sugar. The high quantity of sweet dates seemed to marry perfectly with the bite of the citrus rind. I packed it into hot sterilized jars and began the pressure canning process.