In this post I hope to help, literally not figuratively, lead newbies down the garden path. I've been often asked, by food-growing-wannabes, how to get the whole process of vegetable gardening started. Their eager questions range from "Do I need to start all seeds indoors now?", "How much space do I need to dig up?" and "What does direct sow mean"?
I love to see people get excited about growing food! Along their journey there will be mistakes made, and at least a few disappointments, but the satisfaction of producing their own food will be extremely rewarding.
Here are my top 5 bits of advice for new (or newish) growers.
Find a Mentor (or two) – it's always great to have someone experienced that you can ask for advice and direction. Find a friendly neighbour that grows food, join local garden Facebook group, a horticulture society or garden club where you will find people with experience.
Only Take On What You Can Tend – Gardening can be labour intensive, especially if we take on too much on top of a hectic life. My advice is to start small, and build from there in reasonable chunks.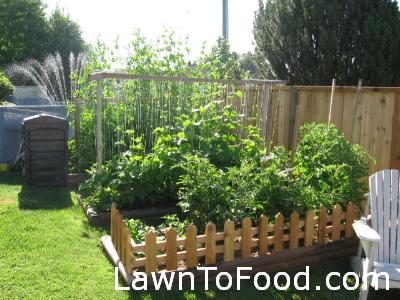 Growing food to nourish ourselves should be a positive, stress-relieving experience not a negative burden. Keep your gardening happy and manageable. If you don't have the time, the space or the inclination to garden extensively, then there are plenty of opportunities to support Farmer's Markets and other local growers for fresh food. Don't sweat it.
Keep It Close – Growing herbs and vegetables is akin to having a toddler or a puppy (however, much less rambunctious) they need consistent protection, food, and water. The easiest way to ensure that we care for our growing plants is to have them close by. If I start my first garden in the far back corner of a large yard, I may not go out and tend to it as often as I should. Conversely, containers on my back patio and a garden close to the kitchen are in my daily view and that will trigger me to care for them more often.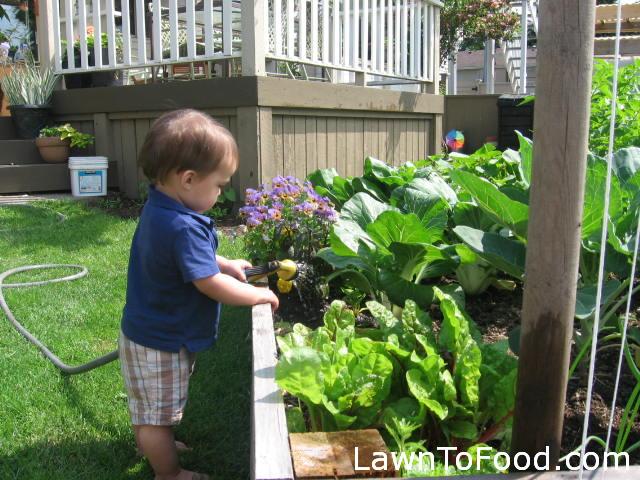 Plant What You'll Eat – This is my list of easy to grow vegetables for the Pacific Northwest, chose what you and your family are likely to consume.
March Planting – I don't recommend planting in March. A lot of people do plant early, but I think March soil is too cold and wet. I use this time for garden planning, building raised beds and filling containers with soil.
April & May Planting – Peas, Swiss Chard, Radish, Lettuce, Spinach, Bok Choy, Onion Sets, Parsley, Cilantro and if you have extra room then Potatoes & Broccoli are fun and delicious. All of these early (or cool) season crops can be directly sowed into a garden bed anytime from April 1 until May 31. Onion sets are small dried onions that have been partially grown the year before and therefore produce faster than if you plant onion seeds.
June Planting – Finally, the soil and nighttime temperatures will be warm enough for planting Beans, Cucumbers, Tomatoes, Peppers, Basil and if you have extra room Sunflowers, Pumpkin, Zucchini and Corn. Do not try to plant these heat lovers earlier. They may survive, but the cool weather causes them stress and may make them more susceptible to problems. I recommend purchasing Basil, Pepper, Chilies and Tomato seedlings rather than directly sowing them into the ground. Cucumber, Pumpkin and Zucchini seeds can be started on a window sill in pots 2-3 weeks before planting in June, or they can simply be directly sown into warm June garden soil.
July & August Planting – if you wish, you can replant all of the cool season crops at this time for a fall harvest. Peas, Swiss Chard, Radish, Lettuce, Spinach, Bok Choy, Onion Sets, Parsley, Cilantro, Potatoes & Broccoli. Keep in mind though, that the soil can't dry out when you are trying to germinate seeds, so that's a factor to consider in the heat of summer.
October Planting – large garlic cloves can be planted now to produce a crop that will be harvested the following June or July.
Keep It Simple – I recommend not attempting to start any of your own seeds indoors (except cucumber, pumpkin and zucchini on May 15) for your first garden. Growing vegetable plants indoors, over long periods of time, requires proper lighting and cool temperatures for success.
Local Seedy Saturdays are a wealth of information for food growers and offer a variety of seeds that grow well in our local climates. Many plant sales are also held mid May (Mothers Day) and that is a great time to purchase locally grown seedling and starts.
There is a list of vegetables that I have not included above mainly because they take up a lot of space to grow, are heavy feeders or have pest problems. They include cabbage, cauliflower, celery, carrots and corn. I wonder why is it so many C vegetables?
Carrots are something that you can certainly try to grow (I've had great success with them in deep containers) but they are very susceptible to Carrot Rust Fly larva damage. Once you get more adept at growing food there are ways to curb Carrot Rust Fly issues but that's another chapter.
Just a note about Tomatoes & Beans. They both come in Determinate varieties (bushy plants, produce bulk of fruit at same time, Bush Beans) and Indeterminate varieties (continually grow and produce fruit slowly over the summer until frost, need to be staked or grown on a trellis, Pole Beans). The Determinate varieties are well suited to container and small space gardening.
Good Luck on your growing adventure! Feel free to leave a comment or questions here. I will answer every one with the best of my ability 😉