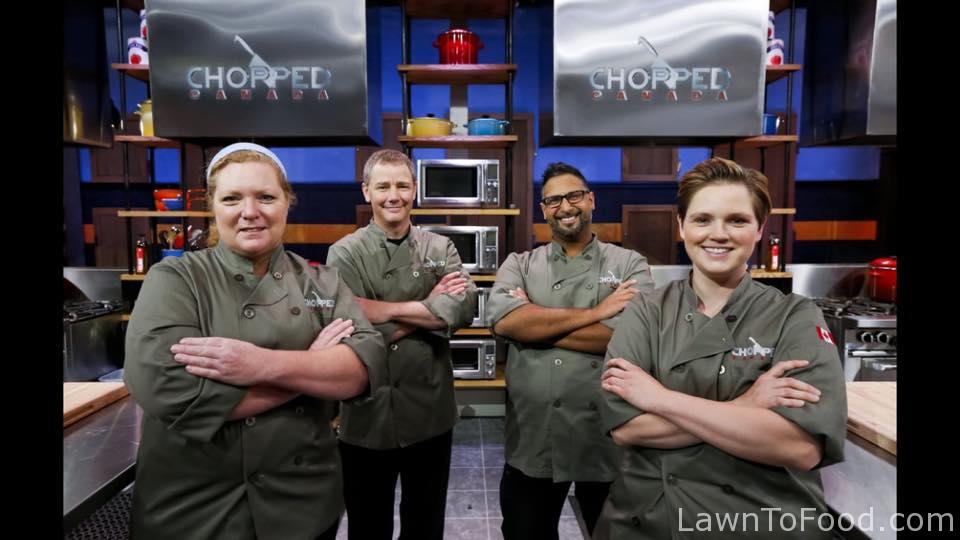 Season 3 Episode 9 "Duelling Over Devilled Eggs" information
Hello Everyone ,
Thank you for sharing this special Chopped Canada event with me.  While I was tabulating the RSVP's from my viewing party invitation list, it occurred to me that a very diverse group of people would gather tonight. My immediate family came to the Island, my husband's paramedic partners, our neighbourhood friends, people who frequent my Lawn To Food Urban Farmstand, military-based martial artists, my webmaster Yoda, fellow equestrians, food gardening comrades, even my mail-delivery lady wanted to get in on the action.  The reason they are all coming together to celebrate, has one common denominator … no, it is not all about me … it is all about food.
Food is something that we will always need to sustain us in this glorious life. Good clean food, that actually nourishes our minds and bodies, is getting harder and harder to obtain. The massive food and diet industry of today, is completely dollar driven. Advertisements are lies, that simply play on your emotional wants, not our health and well-being. Worst of all, they are targeting our children and grandchildren more than ever before.
It is up to us to become aware, and to then take care of ourselves to the best of our ability. Relying on corporate powers to fulfil our basic food needs, gives them power over us. For those reasons, I encourage you to support local, community-based agriculture, grow most of your own food and become more self-reliant in anyway that you can.
In October of 2012, I started to promote an idea that I am very passionate about. How could I help people learn to grow food in the way that Dave and I were doing? How could I inspire others to produce their own food, to take control of their food security, and most importantly, to teach children how fabulous fresh organic food tastes, and for them to learn how it grows.
Lawn to Food was started. I set off to transform Lawn, to Food production everywhere I could. I built raised beds, I planted seeds, shrubs and fruit trees all over our ¼ acre lot and I blogged about our adventures, mishaps and successes. It wasn't long before the nay-sayers piped in, "it's too much work, I don't have enough space, I don't have time to garden" … I wrote rebuttals in my blog, provided solutions and boasted about the unseen benefits of gardening.  Growing vegetables in our front yard and providing fresh food at the Urban Farmstand has been extremely successful in promoting my Lawn to Food message, which is ~ transform Lawn to Food production. Just do it.
Food is the reason that this Chopped Canada ball started rolling for me. Something had to start it because who-in-their-right-mind applies to be a competitor on Chopped Canada? Especially, when they are not technically a Professional Chef. My motive to be on Chopped Canada was to spread the message about transforming Lawn to Food production.
What better way to get the word out than on Canadian national television?  Of course, in the beginning I didn't actually think that I would make it on to the show, but filling out the online application would give me the opportunity to connect with the Food Network, and that was my goal. If I could just talk to one person, and make a lasting impression with that one person, about how important it is for us to grow some of our own food, then I have made my mark.
About a week after I had filled out the online application to compete on Chopped Canada, I received a phone call from them. A young lady informed me that Chopped Canada was very interested in my application, and that they would like to schedule a 1 hour telephone interview with me the following week. I dreamt every night about the upcoming phone conversation, I fine tuned my point of view and was ready to plead my case as to why I would be an awesome competitor on Chopped Canada. The call came in as expected. I rambled on for at least an hour, answering questions, explaining about the days that I cooked in logging camps, and how I now bolster the benefits of growing food.
About 10 days later, I got another call from Chopped Canada and they were wondering if I could get to Vancouver for an on-camera interview in three days!  Hell-ya! I called our daughter, Shannyn, who lives on the mainland, to see if she could join me downtown for overnight, and then send me off to my Chopped Canada on-camera interview in the morning. We walked the city streets on a beautiful April evening. Masses of Canucks fans, in blue jerseys, rushed towards Rogers Arena, as visions of mystery-basket-ingredients swirled through my head. What had I gotten myself into?
The toughest question that Chopped Canada interviewers asked me was, "What do you have to prove?" Sticking with my Lawn to Food message my answer was, "I want to prove that growing your own vegetables is worth so much more, than the energy it requires".  Families out there together, working their property or patios, kids getting dirty in the soil, playing with worms, sticks, mud and bugs, connecting with the earth, then reaping and eating the rewards of their efforts. Gathering and growing food is completely fundamental to human life. We all need to do it, in any capacity that we can. Their answer was, "Yes, but how does being on a competitive cooking show, prove that growing food is great?"
Hummm … Perhaps, I should have applied to a competitive Gardening show?
They thanked me for my time and stated that someone from Chopped Canada would call by April 30 if I had made the cut … "Don't call us, we'll call you"… sort of thing. As I left the on-camera interview, I felt satisfied that I had done my very best to be confident and present my point of view … but most excitingly, I got the distinct feeling that my interviewer was going to go out and plant her very first garden.
April 30 came and passed without a phone call from Chopped Canada. At first, I actually felt a sense of relief. The possibility of being in the competition had consumed my every thought for weeks now. I told myself that I was glad they didn't call back, it was a super experience while it lasted, at least I tried.
The next day, at 9:30am on May 1, 2015, I received that mind-blowing phone call exclaiming that I, Lynda Smith (horse trainer/gardener) had been selected out of 100's applications as 1 of 84 competitors for Season 3 of Chopped Canada. WooHOO OMG!
The next month sped by as Dave and I worked to prepare the house for the Chopped Canada camera crew's visit. In June, they spent many hours interviewing me in the house as I baked pies, cooked a summer chicken meal, foraged for Strawberries in the garden with "Brusselsprout", and then went to the Dog Agility field with Buddy. This huge amount of footage will be edited down to only 30-45 seconds, for my bio that will run at the beginning of the show.
Leading up to my Chopped Canada July taping date, in Toronto, I practiced a minimum of twice per day by studying previous episodes, plus preparing appetizers, main courses and desserts in the specified time limits. I created a thick binder full of recipes, tricks, shortcuts and ideas. Some evenings, random paramedics would drop off a bag of mystery basket ingredients, then run out the door, exclaiming that they'd be back in 20 minutes for dessert!
I had so much fun during this time. The prospects of being on the show gave me the the license to practice like it was my only job. I was determined to enter this competition and absolutely give my very best effort … leave nothing on the table … have no regrets.
I settled into the Toronto hotel a few days early, to get climatized and to eliminate any other life distractions. My taping day started in the lobby very early in the morning. There, I met the other 3 competitors, one fellow from BC and 2 people from Ontario. We were chauffeured to a studio somewhere, hustled into a small room where they labelled and took our personal knives. Then we dressed in the Chef's jackets, were wired with microphones, dabbed with makeup, and only a few moments later we were lead, single file, through the famous Chopped Canada pantry. We were not allowed to touch anything. Kitchen people, in different sections, rambled off where things were, and how appliances worked.
The kitchen introduction lasted what seemed like 30 seconds. I felt like a fish on a mountain top. Soon we were lined up in front of our cooking tables, photographs were taken, I saw that I had the correct knives at my spot, the producer was telling us that once the clock started it would not stop until til time was up, no matter what. It was like walking into a complete stranger's kitchen and being expected to cook something spectacular in 20 minutes. Frantic, panic tried to set in. I was completely overwhelmed. I started to feel flushed and weak. What the hell had I gotten myself into? I had dreamt of this day … but it didn't look anything like this!
Minutes later, they lined us up in order, and sent us down the hallway one at time as host, Brad Smith, introduced each of us. As the last competitor got to his cooking table, the appetizer round started. OMG WHAT? no practice round? 🙂
I opened my mystery ingredient basket and felt very faint. I lifted out the basket ingredients in a different order than Brad was listing them off, which immediately frazzelled me. Then I tried to comprehend what the ingredients actually were. I heard him speak but it didn't register at all, except for the TIME STARTS NOW. My first hint of a thought was, "Show your point of view on the plate! Get some garden vegetables!" … and I was off, running to the pantry …
Somewhere in the middle of the appetizer round chaos, a wave of calm came over me (or perhaps I was going to pass out?).  Deep down, I knew that I had already "won", just by being there, in the Chopped Canada kitchen. Having this huge opportunity to tell, all of Canada and beyond, about my Lawn to Food message was my purpose. I had already achieve my goal. Whatever happened from here, was just going to be icing on the cake. With this bit of pressure relieved, I forged full-steam-ahead to produce my best possible dish for the judges.
What I hoped to accomplish from my Chopped Canada experience, was for more people to get inspired to transform their Lawn to Food production. I feel very confident that I have reach that goal 🙂
Be Fruitful & Mulch Apply …
Much Love,
Lynda