There comes a time every week, when I need to remove all the shrivelled food in the fridge to give it a good cleaning. It's very important to me to not let any food get wasted, but life gets busy, and sometimes things go a bit beyond their prime.  Instead of letting them stay in the fridge, and grow into green fuzz, I put everything on the counter and come up with a plan. For this session, I found some very reasonably priced pork, and decided to use it to as the base for my leftover fridge ingredients.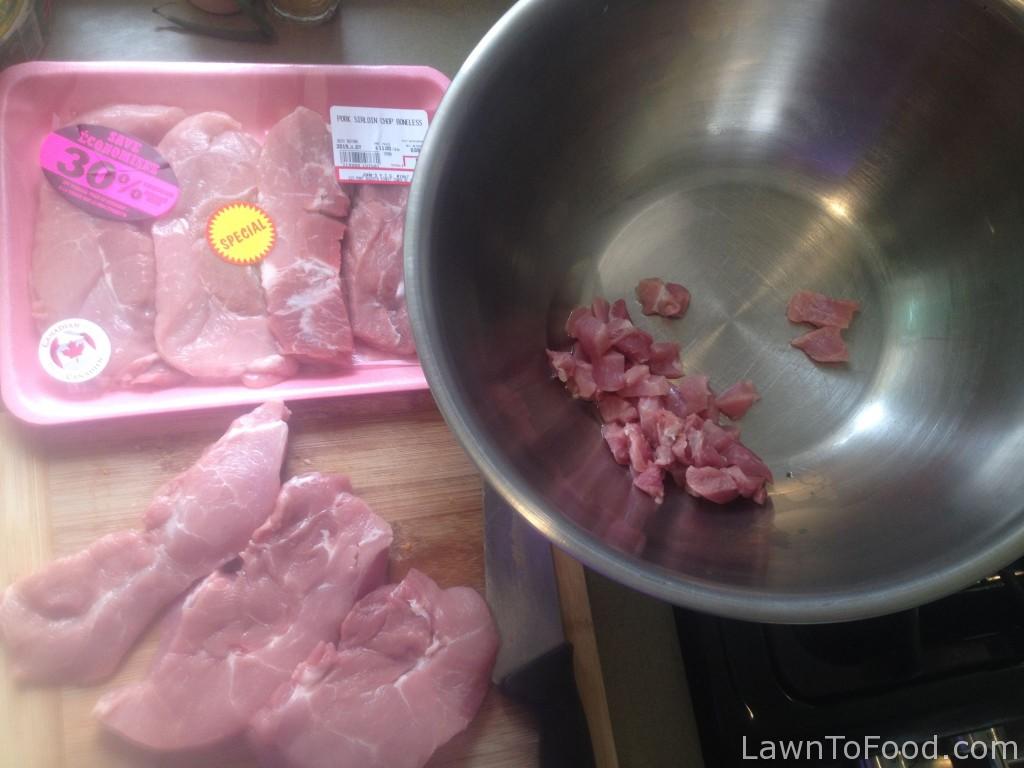 First, I got out my special cutting board, that I only use for raw meat, and cubed up the pork into small, bite sized chunks. After I was finished cutting up all the pork and placing it into a large bowl, I throughly washed my hands, the knife and the cutting board with a disinfectant cleaner. The raw meat packaging went right into an outside garbage bin. (At times, I bag up raw meat packaging and place it in the freezer until trash removal day, especially during the summer heat).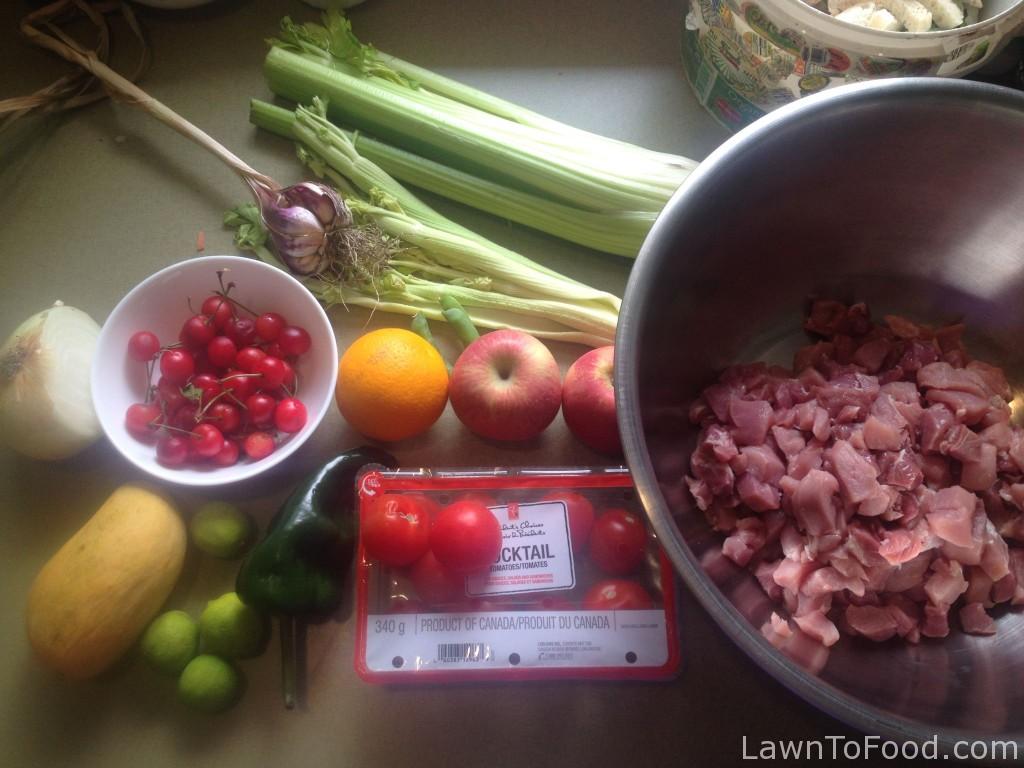 Yum, look at all these interesting ingredients! Our garden garlic, celery, orange, apple, squishy tomatoes, a poblano pepper, key limes, wrinkled mango, sour cherries from our tree and half of an onion. This is going to be one fruity Sweet and Sour Pork!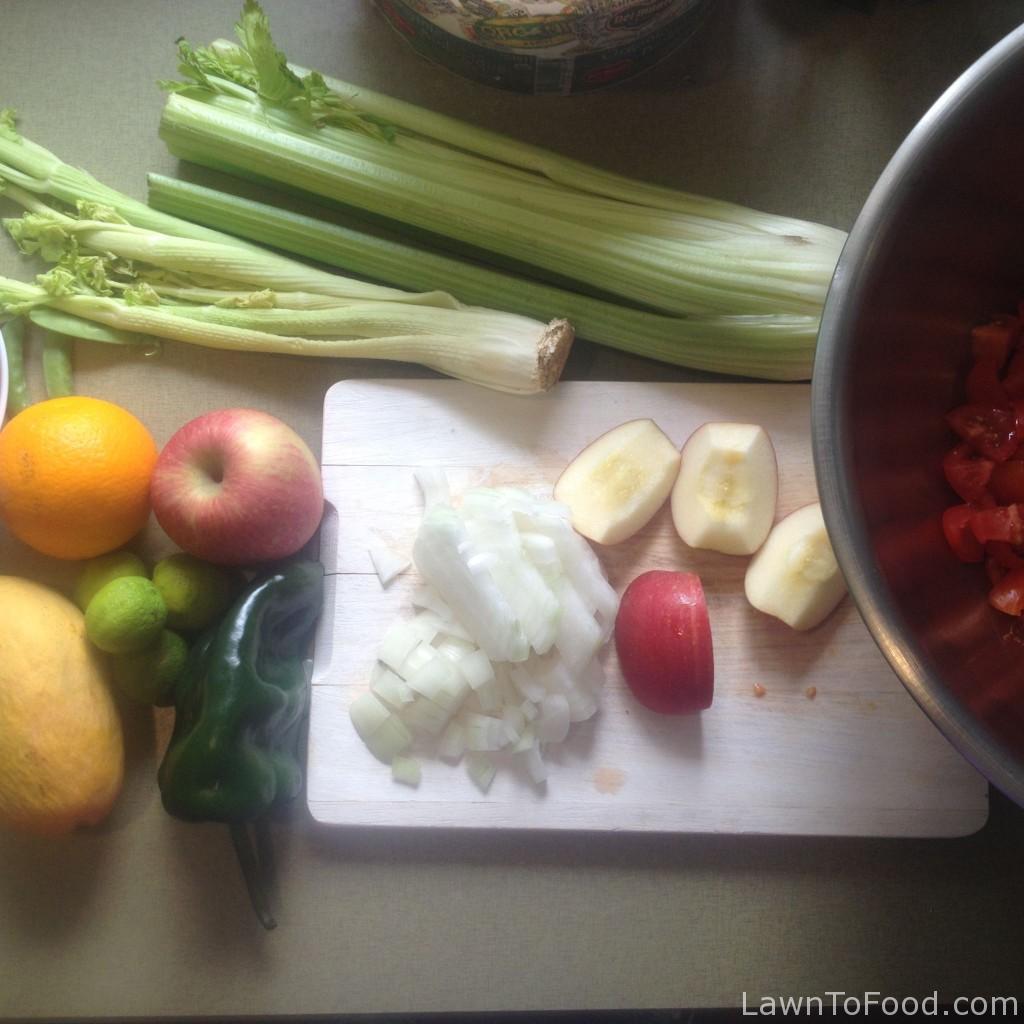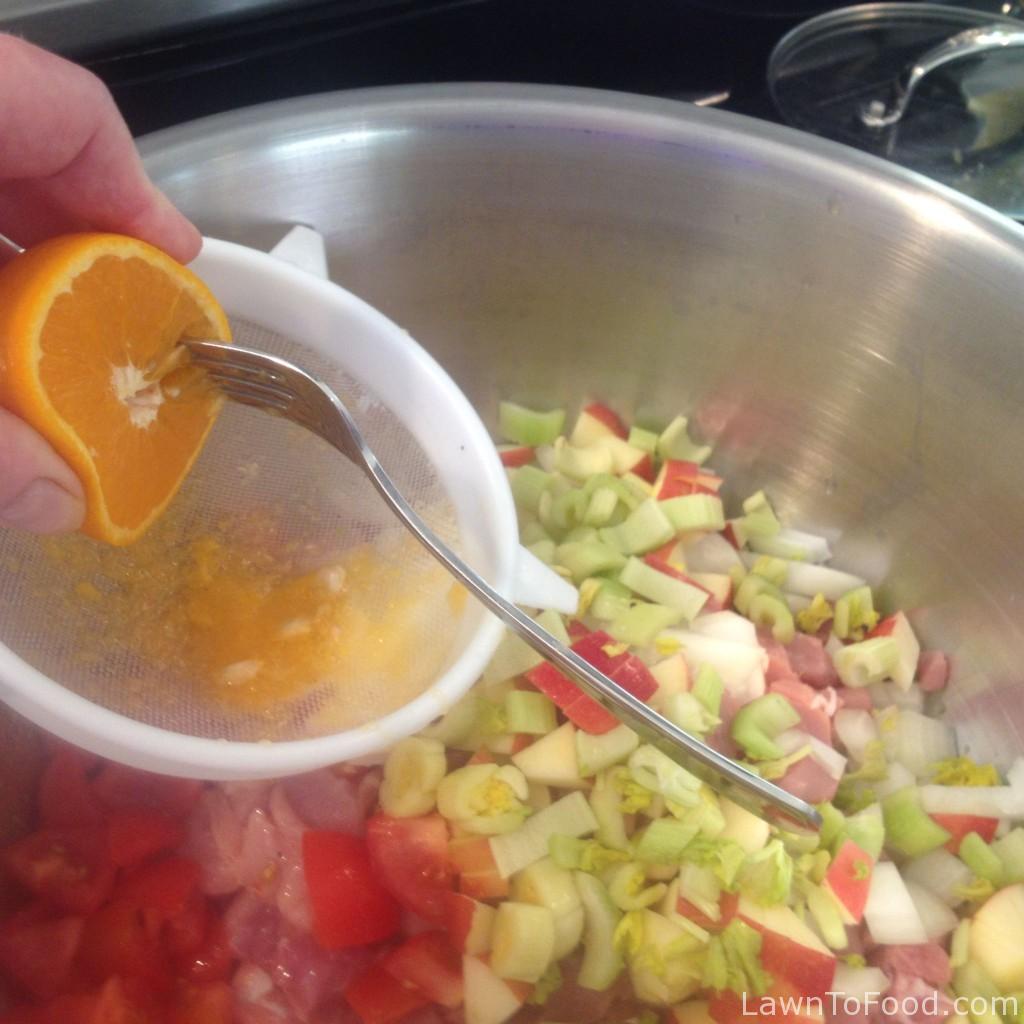 I find that using a fork in a twisting action, really does a fast and efficient job of juicing citrus fruit. I used the same method on the tiny key limes.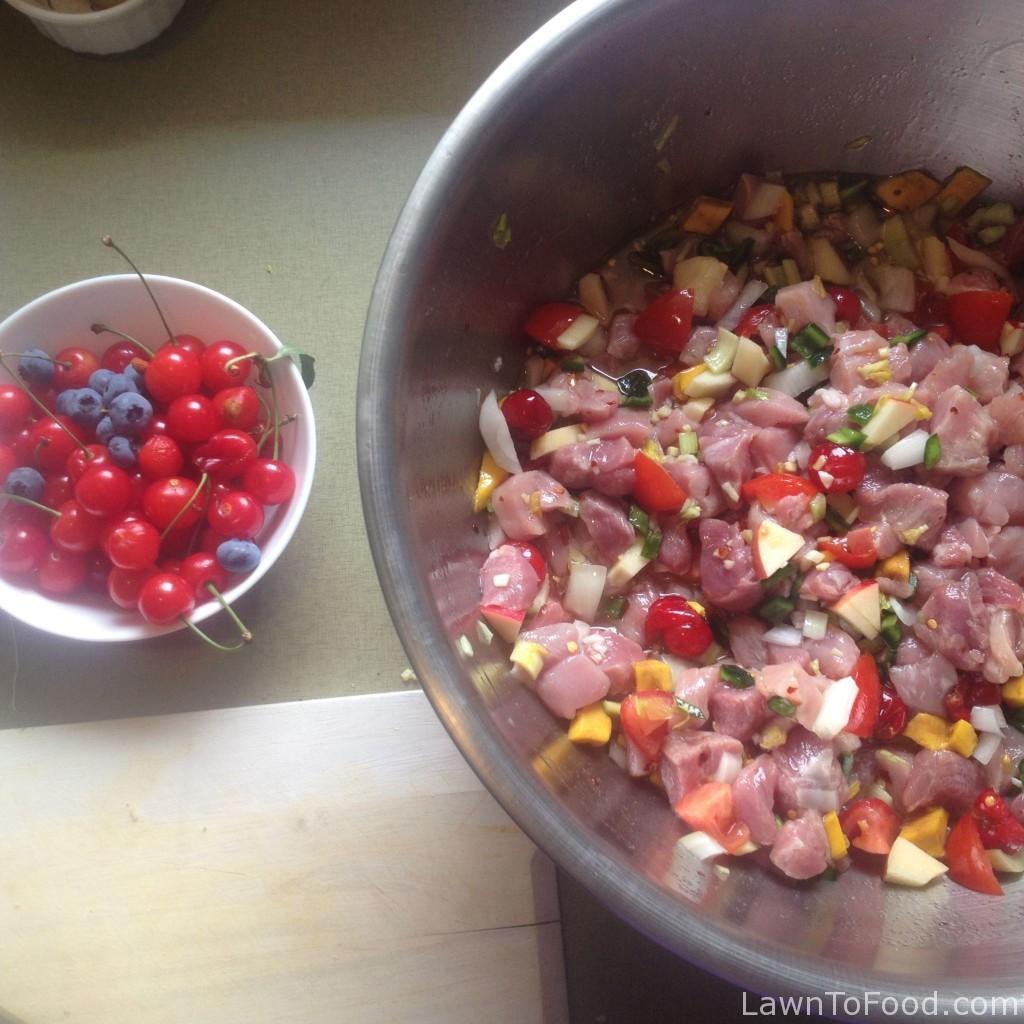 These sour cherries are going to add a great burst of tart flavour to the dish. I very carefully removed the pit from each one.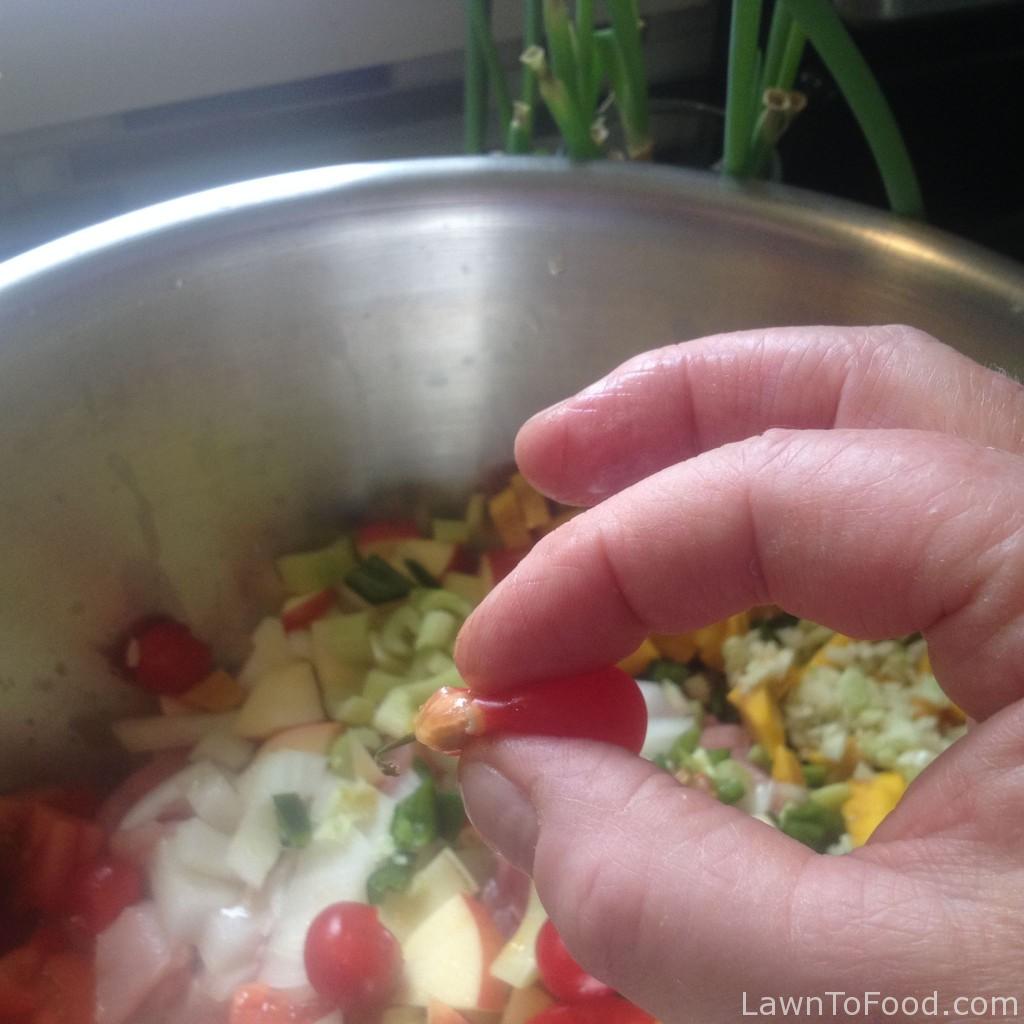 Sour cherries are fairly easy to pit because they are so juicy. Pull gently on the stem, and then squish the pit and stem out at the same time. Be sure to do this over a bowl as you wouldn't want to lose any of the juice!
Once all the meat, vegetables and fruit were diced up, I added 2c. of white vinegar and 1c. of coconut sugar plus 1 TB of sea salt and 1 tsp of chili flakes to this large batch. I let the concoction marinate in the fridge for 1 hour before portioning it into freezer bags.
As you can see I have labelled the freezer bags with name, but I also added a piece of tape with the date and cooking instructions (defrost, simmer for 45-60 minutes on the stove top, or 4 hours in a slow cooker, serve with rice). It is important to always label and date food items that you put in the freezer. A handy freezer trick, is to always freeze baggies flat. I use a square plate, or baking sheet, to transport prepared baggies from the counter to the freezer. You can stack and store a lot more portions when they are frozen flat, plus the thin packs will defrost much faster when needed.
This large batch of on-sale pork cubed, marinated with less than perfect fridge ingredients made 4 large baggies worth of food. That's enough for 4 family meals. The approximate cost of each meal is $4 plus rice. What are you going to make out of your free-the-fridge ingredients this week?