Cool season crops such as cabbage, kale, cauliflower, broccoli and root crops like carrots, beets and parsnips have taken over my refrigerator. Gone are the heat loving cucumbers, peppers and tomatoes that I used to whirl into feta sprinkled greek salads. The diverse coleslaw ("cole" refers to the brassicas crops used) season is upon us, and I relish in the daily options and different recipes.
I started this week by making a large bowl of coleslaw base. I shredded up a full head of green cabbage, about 1/2 a head of purple cabbage, grated 3 carrots, thinly sliced 10 kale leaves (minus their stalks) and julienne a 4″ piece of diakon radish. I covered and stored this bowl of vegetables in the fridge.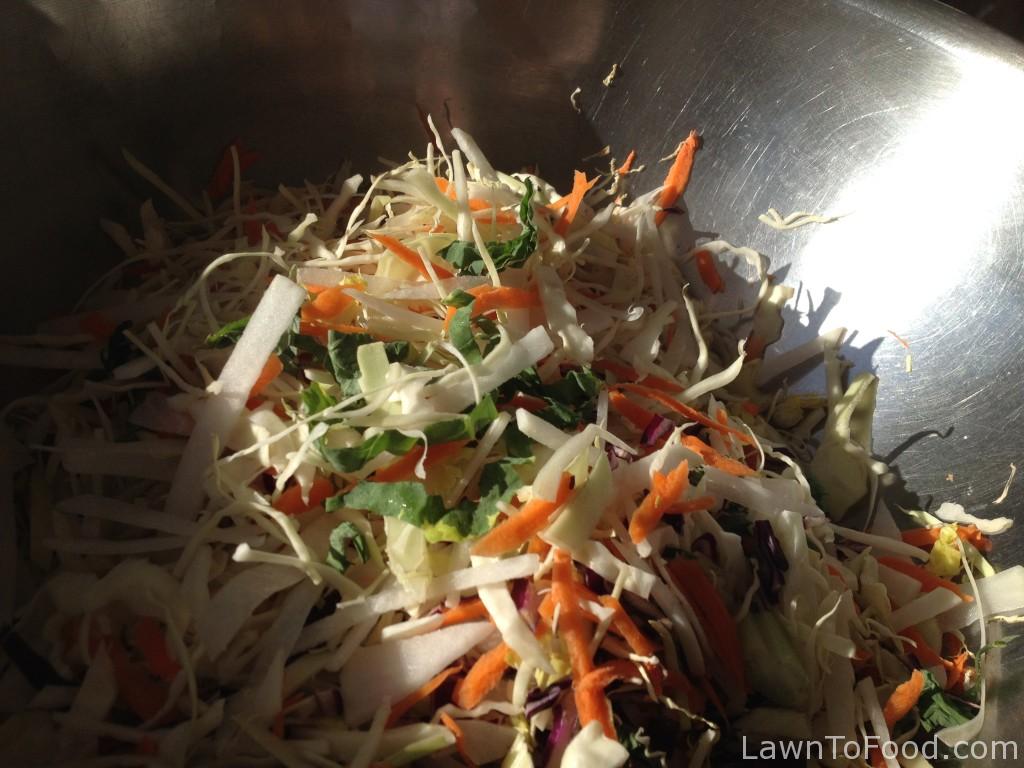 I used this shredded cabbage combination to make three main meals and provide lunch options for the two of us. For the first evening, I served fish tacos. I warmed basic organic corn tortillas, made mashed avocado spread and steamed local fish fillets with chipolte lime seasoning. I took a couple handfuls of my coleslaw base and tossed it with lime juice, Dijon mustard, sea salt and a touch of sour cream. Quick and tasty tacos 😉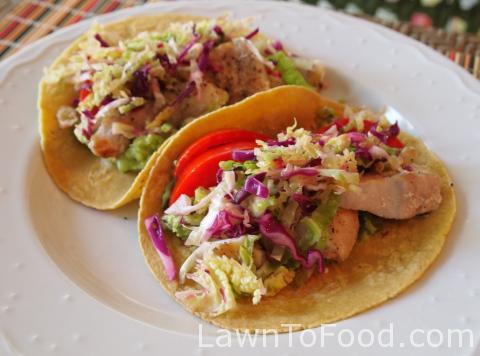 A night or two later, I made an Asian inspired coleslaw by whipping up a garlic-ginger dressing. For 3 handfuls of slaw base, I roughly use 3 TB of avocado oil (or canola), 1 TB of rice vinegar, 1TB of nut butter, 1 TB of soya sauce, 1 TB of Thai chili sauce, 1 clove of garlic, 1 TB of grated fresh ginger. I tossed the dressing with the slaw and let it sit for a bit to marinate. Nice additions to this meal are toasted sesame seeds, avocado slices, some cooked rice, leftover chicken or seared prawns. I used the little toasted nori sheets as the "taco shell", to move the coleslaw and toppings to our mouths. Really delicious !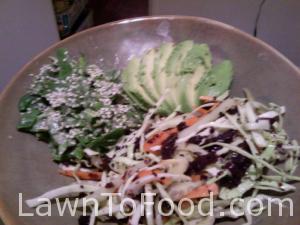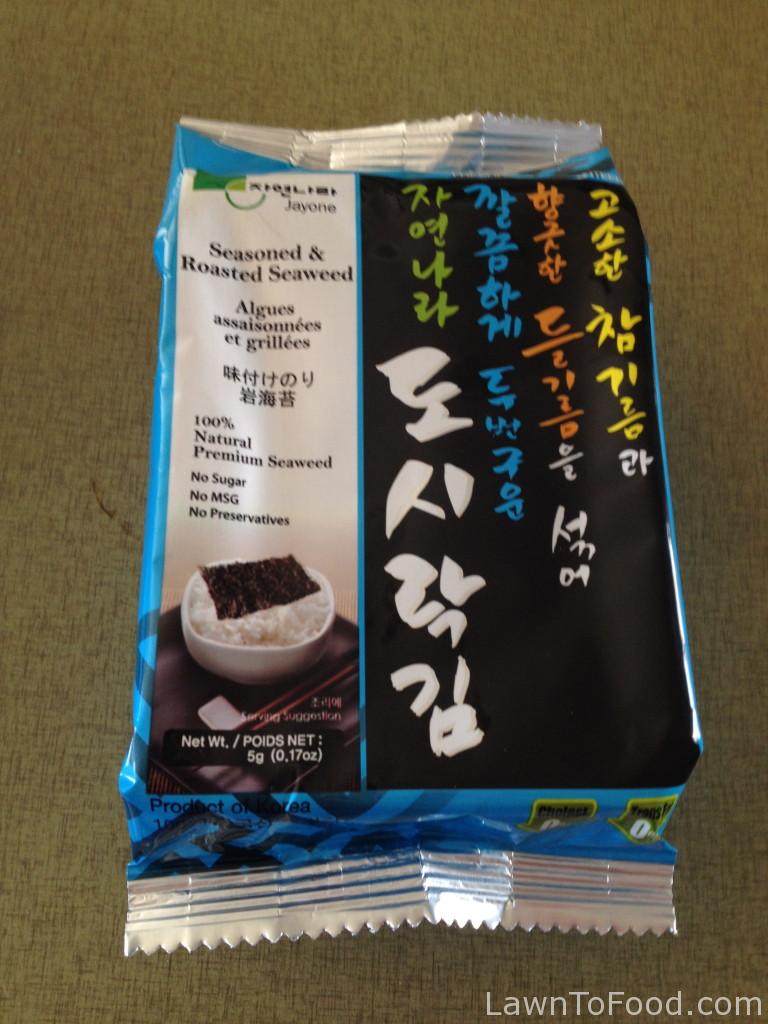 For the last bit of coleslaw base, and our third meal from the batch, I made beet borscht. My recipe for borscht is pretty quick simple because I use pantry items that I have canned during the summer months.
I started with a large pot and sautéed 1 sliced onion and 2 diced cloves of garlic. I added 1 quart of vegetable stock and 1 pint jar of pickled beets. I purposely make some of my pickled beet pints just for winter borscht soup by slicing the beets into little sticks before canning. This means the jar is ready to add into the soup, pickle juice and all, without having to make a mess chopping whole beets into smaller pieces. Lastly, I added the leftover coleslaw base of cabbage, carrots & kale and let it simmer for 10-15 minutes. I seasoned it with salt & pepper, then served it with a dollop of sour cream, or greek yogurt, and some fresh herbs.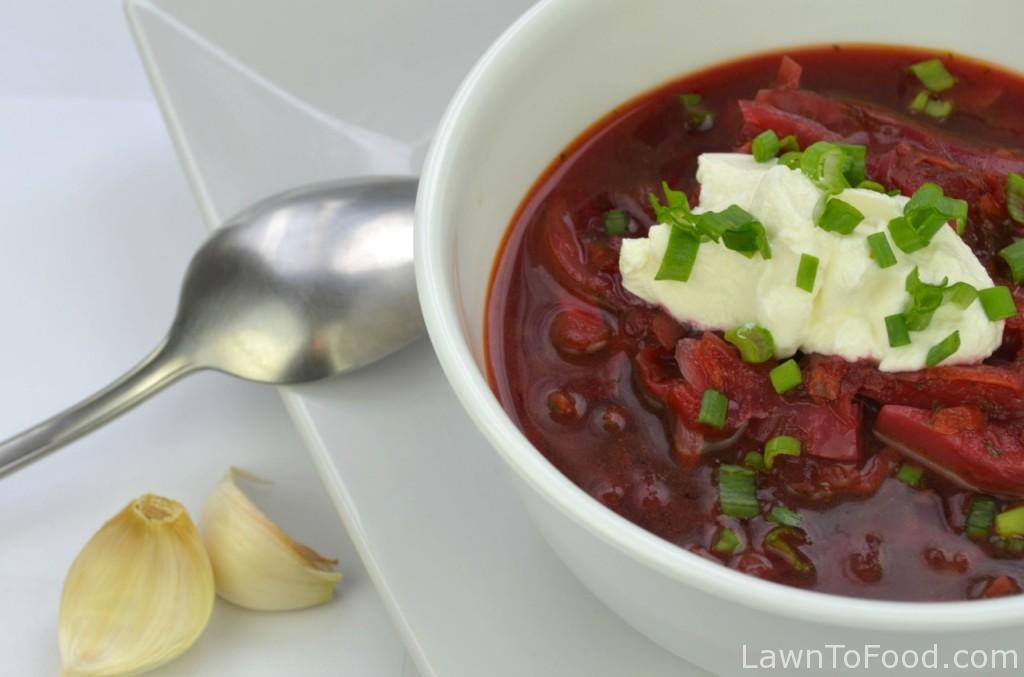 Cooking our meals with food available during the local seasons, is very affordable and flavorable. What are you cooking this week, with your local harvest?