Our year-round vegetable garden is rounding the kale corner. Last season's curly kale has bolted with the longer spring days of May. The plants have grown many new tender green leaves and along with flowering florets. My grandson, Brusslesprout, loves the taste of the kale florets. He says they are better than broccoli. I actually have to agree with him, as the tender shoots have a nutty flavour that are great raw, or lightly steamed like broccolini or broccolette.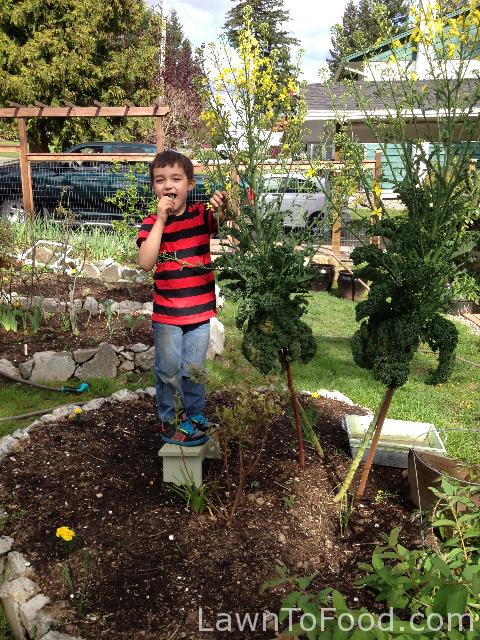 I keep kale plants growing in the garden right up until I am ready to plant new crops. Along with the valuable kale that our family is eating, the flowers also provide much need food for spring bee populations. I only let one plant go completely to seed for saving, and only do that about every other year. One kale plant produces 1000's of seeds which is fabulous for growing micro-greens and the needed spring starter plants.
I started kale seeds in February. The seedlings are already planted out into the garden in a new location. It is a good idea to rotate crops each year for nutrient and pest control reasons. The circle of kale has rounded its life loop at our house.
When plucking the old kale stalks from the earth, I harvest all of the tender leaves to use. I can steam them, bake into kale chips or eat them in salads. I've also dried kale for smoothie powder on previous occasions. Washed kale stays fresh for up to 10 days if refrigerated in a ziplock bag. I am about to chop some up and add it to a coleslaw which also contains some of our fermented purple cabbage.
Hail Kale!