My pantry used to become a tangle of canning jar rings. Especially during that time between November, when canning was completed for the year and June, when half of the put-up preserves were consumed. I was pretty good at cleaning and storing the jars in their specific-size boxes but the rings got tucked into random places in the kitchen. Eventually that canning ring chaos drove me crazy enough to figure out a solution for them.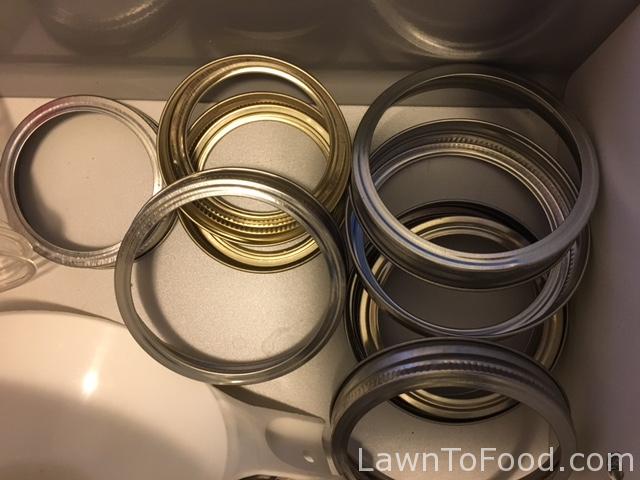 I decided that I wanted to hang them somehow. A container, or box, on a shelf would work but my shelf space was limited, especially for something so lightweight. My first attempt at hanging the rings was on a piece of heavy cord. No matter how careful I was, almost every time that I untied the cord to add a single ring, 27 canning rings would crash onto the kitchen floor.
Plan B was an altered coat hanger. The coat hanger made a solid loop to assemble the canning rings on. It was also very easy to hang on a hook, wire shelving or the back of the door in the pantry.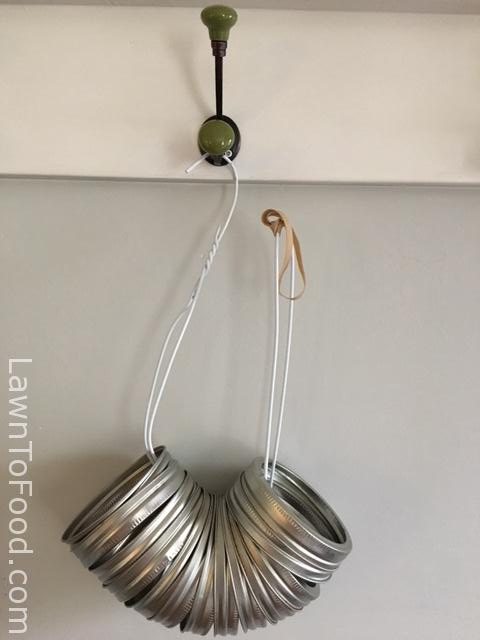 I added an elastic band to "close the loop" over the top off the hanger to futher prevent canning rings landing on my kitchen floor. It's simple to grab a loop and put away a canning ring after washing. Each coat hanger contains a certain size, and colour (if you have CDO like me) of ring, for easy access during canning season 😊