When the garden throws a bunch of bounty my way, I want to gratefully embrace it, not dread hours in the kitchen behind a hot stove. This point is extremely important to me, because how we spend our days becomes how we experience our lives. Enjoying all of our daily moments makes for a peaceful and joyous life. Maybe it's a quirky comment, but if you don't put some love into the food that you prepare, it won't nourish those that it feeds. Lettuce preserve our homegrown food with positive pride, in a short and effective amount of time.
After returning from a fabulous camping vacation with many family members, we came home to an exploding vegetable garden. Almost immediately, I wandered around the yard with several buckets, bins and bowls to harvest whatever was ripe. Firstly, I gave away several "care packages", then made a farewell family meal for 12, and finally planned how I was going to preserve the remaining bounty to fill our pantry.
To start my planning process, I laid out all of the vegetables on the kitchen counter to create a game plan. Seeing it all in one place helps me with my recipe selections, estimating the number of jars and freezer bags that I will need, and forces me "to do something immediately with that fresh food", so that I can get my counter space back.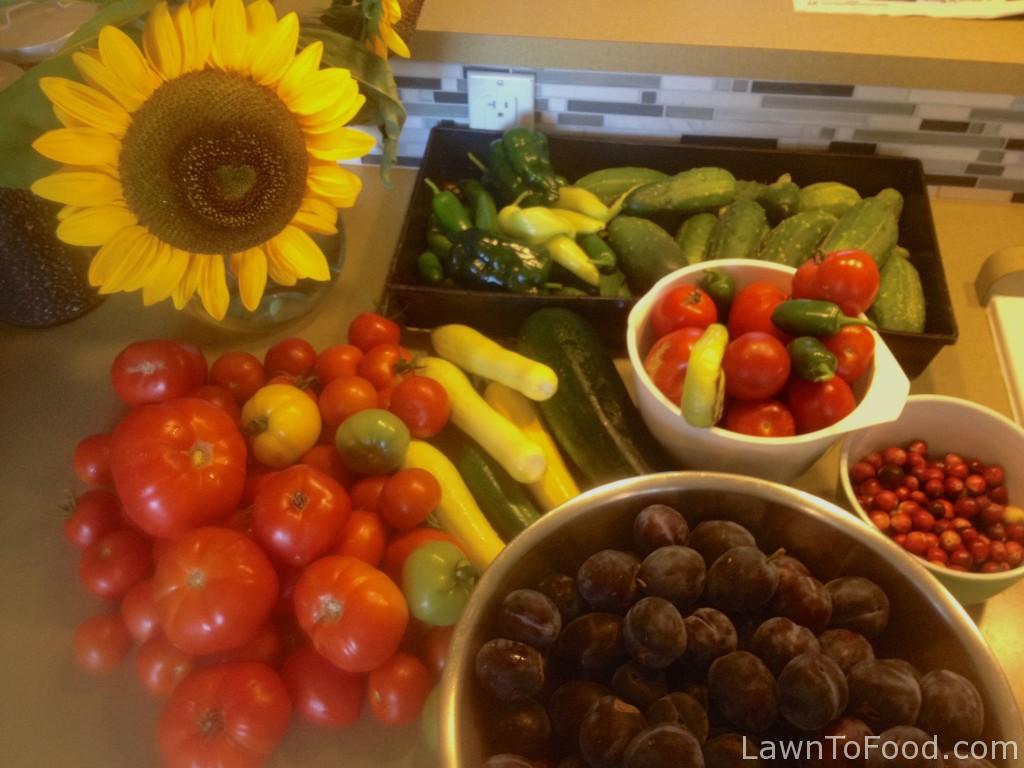 Multi-tasking is the key to fast preservation techniques. Get it done, get it all done, so we can move on to other things … like hanging out at the beach.
My recipe choices for this August batch of goodness was Plum Jam, Spicy Pepper & Tomato Salsa, Mustard Relish, Cranberry Sauce, to freeze baby zucchini slices and to grate the large green one up into 1 cup baggies for baking.
** Goal ~ spend only 4 hours in the kitchen to complete all of the recipes, freezing and processing. Also …
Enjoy the journey.
Spend time wisely.
Clean as I go so there is not a massive mess at the end.
Plan a meal out of the ingredients for tonight's dinner.
Start time 8:30am … Filled the dishwasher with empty jars that I will be needing for this round of canning. I set it to "Quick Wash" with high heat dry.
I diced up the over-grown extra-large pickling cucumbers to use for Sweet & Sour Mustard Relish. After the cukes were chopped, I put them in a large bowl with ice cubes, coarse pickling salt and left them on the counter top to brine.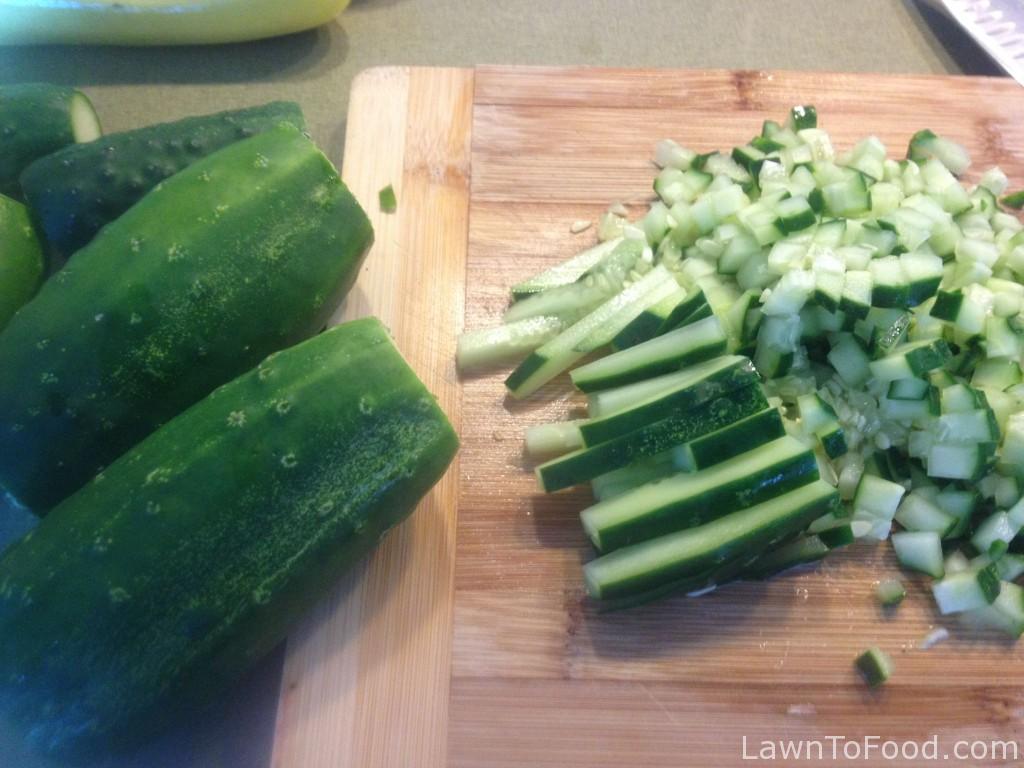 Plum Jam
I had purchased several packages of "No Name" Fruit Pectin at the beginning of the season, so that I would always have a lot on hand. My suggestion is to stock pile this stuff, at $1.29 per pkg. you can't go wrong. I also always have a large unopened bag of sugar (can be organic) in the pantry. When I open one bag, I always buy another.
I rinsed our organically grown plums for the jam. I sliced them open with a paring knife, removed the pit and then put the flesh into my blender. Some plums were super ripe, and some were still on the green side but I used them all. Once the blender was full, I pureeded the fruit on medium speed until it was smooth. I measured, then poured, the blended fruit into a large stainless steel stock pot. My blender can make 4 cups of puree at a time, so I kept track of that. I ended up with 13 cups of plum puree in the stock pot. Once it was all poured into the pot, I washed and dried the blender immediately, to prevent it from becoming a gluey mess.
According to the No-Name Fruit Pectin directions, 12 cups of prepared plums required 3 packages of fruit pectin. I added the pectin packages to the fruit mixture. I stirred it until it was all dissolved and then began to heat the pot on a medium-high flame. I measured off the required amount of sugar into a large bowl.
As I was waiting for the plum jam to come to a boil, I started making my cranberry sauce. I rinsed the freshly picked cranberries (about 2 cups) and put them into a small pot with 1/2 cup of sugar and 1 cup of water. I then placed the pot of cranberries on the back burner to simmer and reduce.
Once the plum jam had boiled, I added all of the pre-measured amount of sugar, a pinch of salt and 1 tsp. Garam Marsala. I love the flavourful hint of the mixed Indian spice. You could also try 1 tsp Chinese Five Spice or leave it plain. After the jam had boiled for 1 minute, I skimmed off the foam and proceeded to ladle it into those hot sterilized jars, that came directly out of my dishwasher.
Once filled, I carefully cleaned the rim of the filled jars with a clean cloth, which  ensured a solid seal. Then I screwed on new lids with rust-free ring bands. You should process all jams according to the manufacture's directions for the type of canner that you use. I bring my jam jars up to 11 pounds of pressure in my 2-tiered pressure canner, for 1 minute. That takes about 20 minutes to accomplish, from start to finish.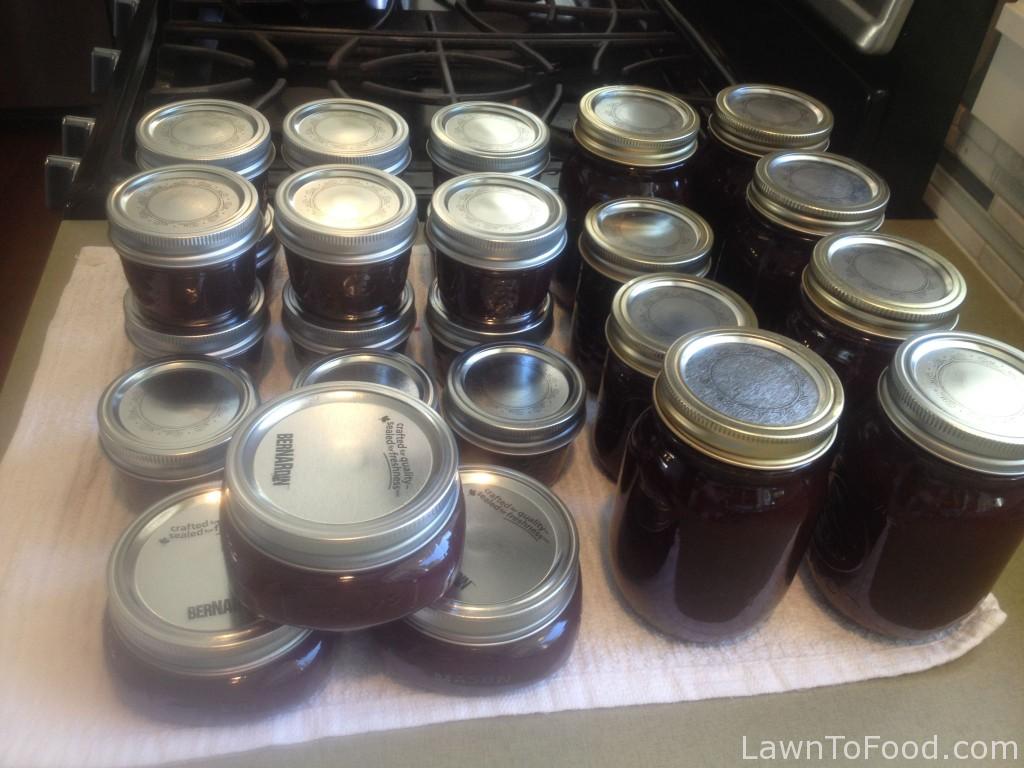 For this batch, I ended up with 15 1/4 pints, 5 1/2 pints, and 6 pints of organic plum jam, which would be worth at least $50 if purchased in the grocery store. But seriously, who uses $50 worth of plum jam? This is where I'd like you all to think a bit outside of the "toast & jam" box.
Those small 1/4 pint jars are a perfect size for … a hostess gift, for the paper boy, stocking stuffers, camping trips, greeting new neighbours & for various thank you's.
2 TB plum jam, 1 TB soy, 1 TB vinegar makes an excellent plum sauce.
3 TB plum jam, 2 tsp soy and 2 tsp of dried chili flakes with a bit of garlic and some water, makes a fabulous Sweet Thai Chili Sauce
1 TB plum jam, 1 TB ketchup, 1 TB mustard is a great chicken glaze.
Also use plum jam as a filling for Thumbprint Cookies
For  PB & J Cookies use a Peanut Butter Cookie recipe with a thumbprint of plum jam in the middle … delicious!!
Look at that!  All of those things, that we do not NOW need to spend money on to purchase, straight from our glorious kitchen garden, ready for us to use, whenever we feel the urge or the need. This is just one reason why having a personal pantry of preserves is so powerful.
Saucy Salsa
Next on my list for the day, was a salsa. I have grown all kinds of peppers this year … Banana, Sweet, Poblano, Chill, Jalapeno with a large variety of tomatoes … Big Beef, Lunch Box, Roma, I even added some green, unripe ones that fell off the vines … now is the time, to create some Spicy Saucy Salsa. In addition to today's harvest, I used our previously collected sweet onions, purple onions and elephant garlic that was pulled in late June. I started by roasting my glorious vegetables over stove-top flames until they had a bit of a charred, smokey flavour.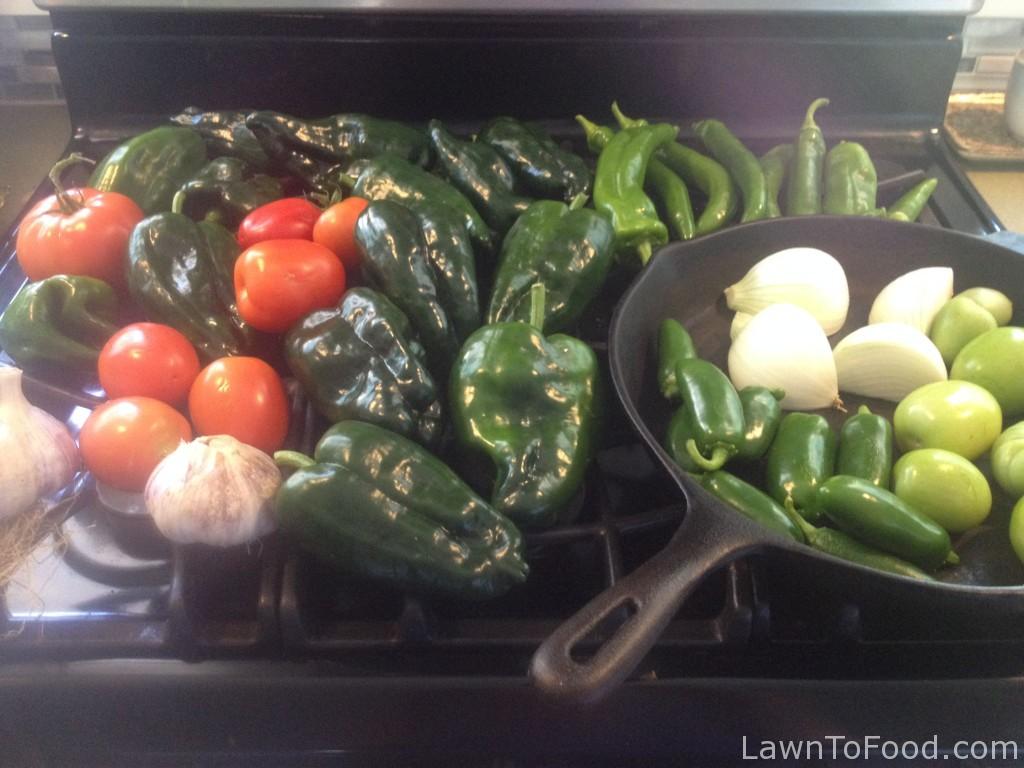 Minus most of the Poblanos (which were stuffed with a cheese mixture and frozen), I added 15 lbs of fresh tomatoes, then everything hit the blender and was pureed until smooth. I poured 3 blenderfuls into my large stock pot that was previously used for the plum jam. Additionally, I finely diced (with rubber gloves on to avoid the unpleasant feeling of "hot" hands ) 2 green banana peppers, 3 chili peppers, 3 jalapeno, 2 purple onions and 1 white onion to the stock pot for simmering.  I always take the short-cut by blending the entire tomato, with skin and seeds, because I dislike the idea of wasting any part of the tomato … not to mention all the time and mess de-skinning and de-seeding makes. Use it all! Do it now!
Instead of spending hours on the stove steaming and reducing, I thicken my Saucy Salsa with either a roux, or a slurry. A roux can be made with oil & flour and a slurry is made from corn starch, or rice flour, mixed with water. I slowly add either type of thickener to my simmer pot of salsa, until the desired consistency is reached. At that time, I add salt, sugar, cumin, coriander (and fresh cilantro if available), garlic powder, chipolte powder, 1/2 cup paprika (great for that red color and flavour), or smoked paprika.  Taste as you go, add more if needed … This year I had some dehydrated onion left from 2014, so I added that too! Each batch is a little bit different, so I give them different descriptive names when labelling.
How am I going to use up all of this Saucy Salsa in the coming year?
As Salsa … for chips and dips.
Add to ground meat for Taco night.
As an Enchilada casserole sauce.
In Pepper Steak or even Butter Chicken (add yogurt & curry)
As a condiment for Omelettes (Dave's favorite)
In famous Mexican 7-Layer dips.
By now, my little pot of Cranberry Sauce has been simmering for an hour and has reduced to the perfect "sauce" consistency. I tasted it, and it was very tart but bright! It'll be a perfect accompaniment for our Thanksgiving Turkey Feast. I added a pinch of salt to enhance the flavour and then poured it into a wide mouth mason. I will add it to my pressure canner full of salsa pints for processing.
While waiting for the Saucy Salsa and Cranberry Sauce to finish processing, I sliced, grated and packaged up the zucchini for freezing. I froze the grated zucchini in portioned 1 cup bags flat. The flat freezing makes for space-saving stackable storage in the freezer and they are easy to crack apart for fast thawing. I have been known to pull out a bag of grated zucchini, give it a couple of whacks on the counter top, mix it into a batch of zucchini muffin batter and pop it in the oven. Now, that's my kind of fast food!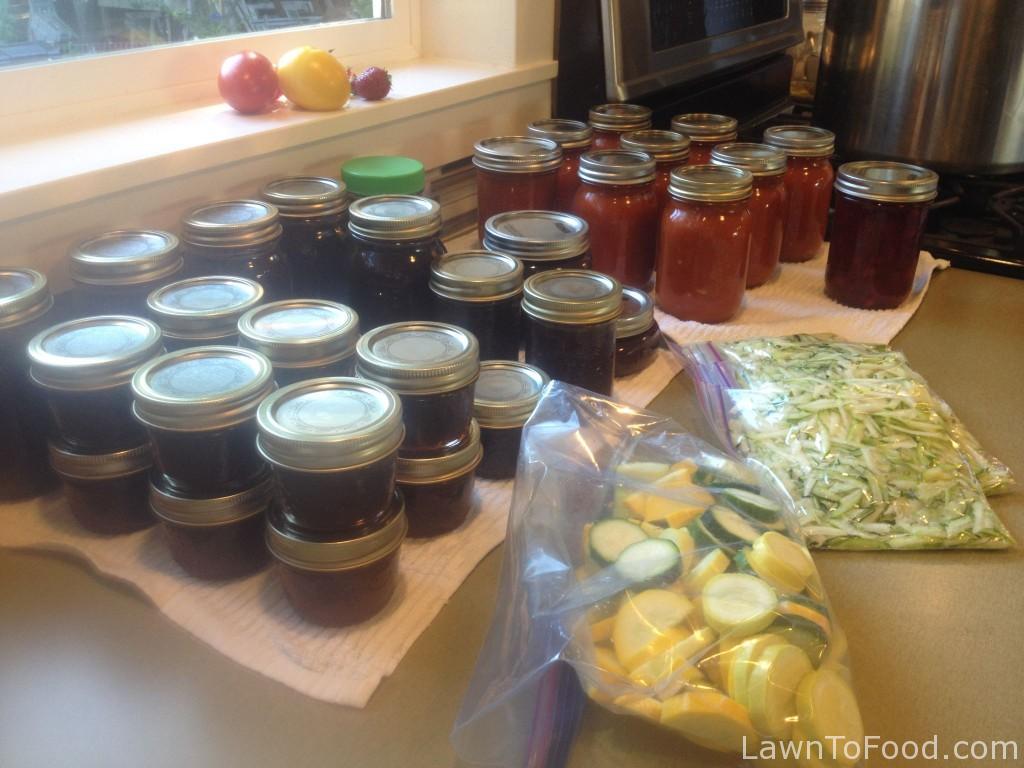 Last on my list preserves for the day, is Sweet & Sour Mustard Relish. That link is basically my recipe, but I do add 1 tsp of Pickling Spice that I grind in the coffee grinder, some red chili flakes and a diced red pepper to most of my batches.  So by now, the diced cucumbers have been sitting in their salt and ice bath for a few hours. I dumped them into a colander, rinsed them and then let them drain while I assembled the other ingredients. I used the same stock pot (cleaned) that has produced both my Plum Jam and Saucy Salsa, just to make sure that I do not end up with a massive pile of dishes at the end.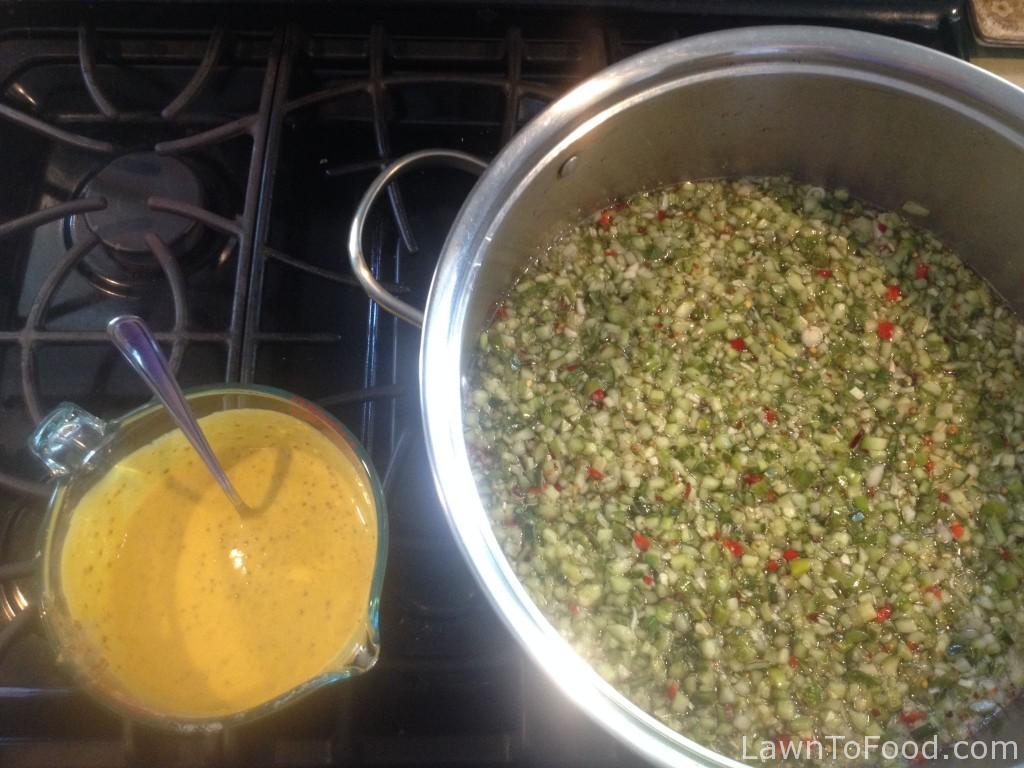 Once the diced cucumbers have boiled, I added the mustard slurry, stirred and simmered it all for a few minutes before ladling it into sterilized jars. For this batch, I ended up with 12 1/2 pints and several 1/4 pints of finished Sweet & Sour Mustard Relish.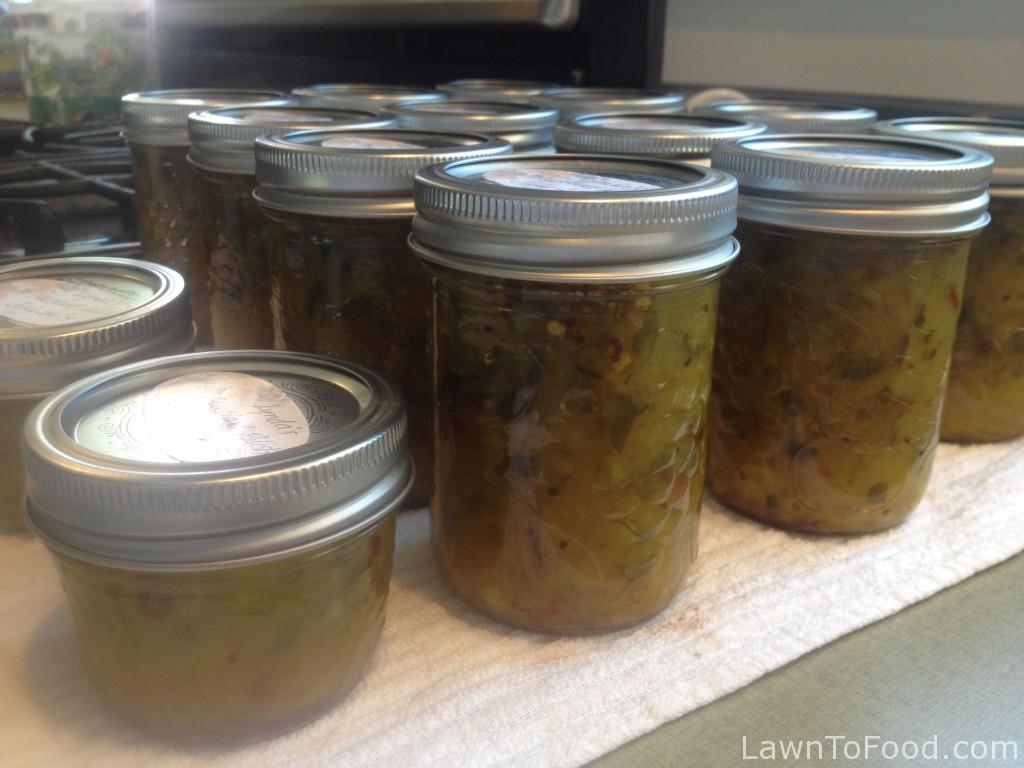 So Mustard Relish is probably best loaded on to a wiener, right? … but truth be told … I rarely, maybe twice per summer, eat a hot dog. So why do I make so much relish if we do not eat processed meats on a regular basis?
I regularly add 1-2 TB of Relish to Potato or Macaroni Salad.
2 TB Mayo, 1 TB Ketchup and 1 TB Relish = 1000 Island Dressing
2 TB Relish, 1 TB Mayo, 1 TB Sour Cream, Dill, Pepper = Tartar Sauce
Can Tuna, Mayo, Relish, Pepper = Sandwich Filling
Relish is great to have when company comes, if they like relish.
Store bought Relish is fluorescent green so why would I eat it?
So today, I did spend 4 1/2 hours in the kitchen processing my garden produce. Was it work … no, not at all. For me, going to work at an unfullfilling job, to earn money, so that I can drive around in traffic, to purchase store-bought pre-processed foods, would have been "work" and uninspiring. I love being at home, growing vegetables and providing nourishing food to feed my family throughout the year. That is not "work", that is putting in a bit of effort, which enables us to live life to its fullest potential … and that is powerful.