We have a large family gathering planned for Tofino, BC this summer. About 20 of us, including children, are going to an ocean side resort for 4 or 5 days. Some of us will pitch tents, others will be in RV's, but we will all be enjoying the camaraderie of a family gathering in the wilderness. Surfing, swimming, hiking, whale watching, scavenger hunting, crafting, book reading and of course BBQing, will be included in our getaway.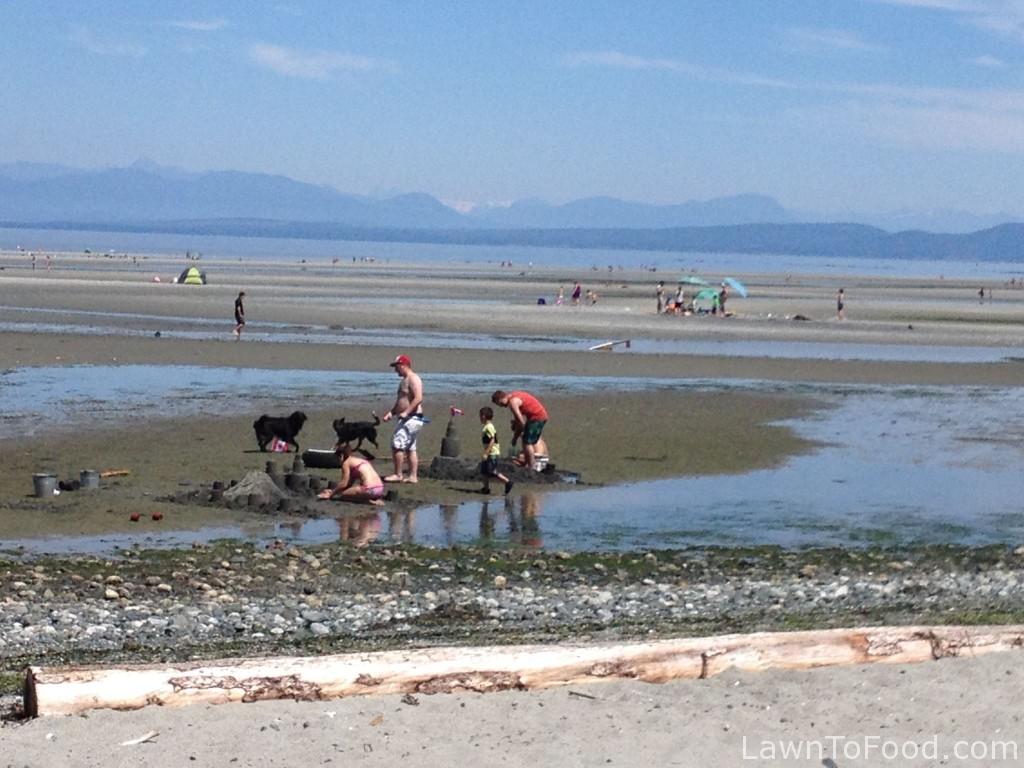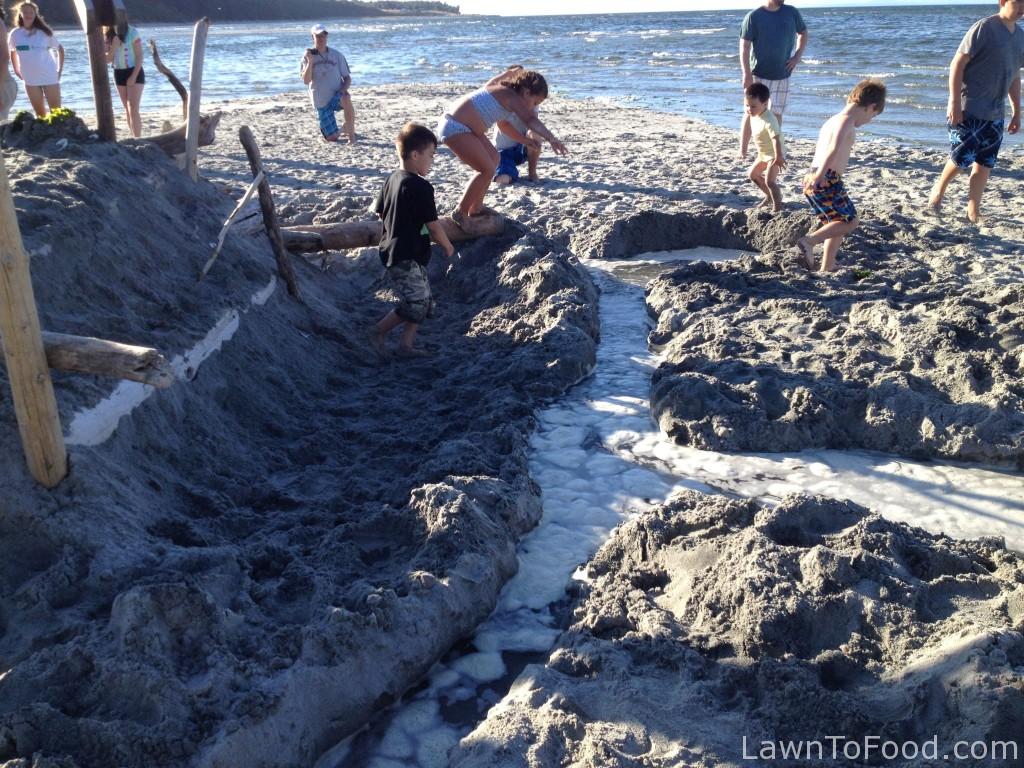 I don't know what your experience is, but mine is that packing up to go camping can be very time-consuming and expensive. Of course the adventure is worth it in the long run, however this year I want to keep my effort and expenses to a minimum. Less work and less cost, will make me very happy camper!
We have divvied up the cooking responsibilities, so that everyone can enjoy a few meals without doing any work. For my portions of the cooking duty, I picked menu items that I can prepare at home, from the garden and the pantry. I am determined to avoid the big "Costco" shop, which is always hard on my wallet. Here are few of my ideas. Maybe they can help you out on your next camping adventure!
If I start well before the camping departure date, I can get food organized, cooked and packaged in convenient sizes without last minute rushing. Along with that game plan, I also want to utilize a fair amount of last year's preserves from my pantry, before I start canning and dehydrating this year's garden produce.
My first camping-from-the-pantry project was to make up trail mix baggies. I used my dried apples, peaches and pears along with organic raisins, pecans, almonds, pumpkin seeds, sunflower seeds and yes, chocolate chips, to make about 12 pouches for snacking while hiking.
One of my next preparation projects was Chicken Wings. I discovered some on sale at the local grocery store, so scooped them up. I brought them home and marinated them in my Apple-BBQ-Sauce from the pantry with added soy, ginger, garlic and a splash of Franks Red Hot sauce. Once the wings marinated for a few hours, I baked them at 425F until they were done. We ate some for dinner that night and I cooled the rest overnight in the fridge.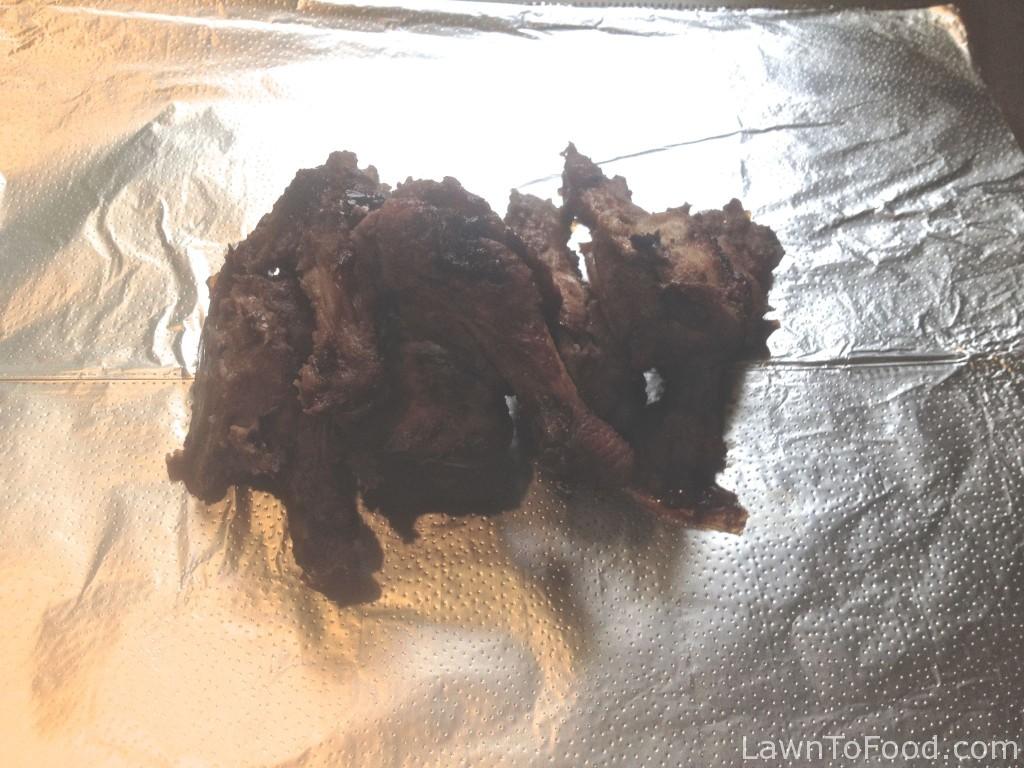 Once the wings were cold, I wrapped 6-8 in foil packs. I froze the 12 small packages which are now ready to take camping. They will be super convenient to pop on the BBQ or open flames of the campfire, whenever anyone needs a bite to eat. Doing them myself has saved many dollars, as purchasing pre-cooked wings is very expensive. I've also saved myself cleaning time at camp, by prepping at home.
I'm planning to make a large pot of Hungarian Goulash for the first night at camp. People will be arriving sporadically throughout the evening, so a pot of simmering goodness will be easy to serve, whenever the need arises. To prep for soup making, I made a rich broth and frozen it flat in 3 large ziplock baggies. Freezing items in plastic is not my normal routine, but it saves so much space, and weight, which is important for camping. Another perk of freezing thinly and flat, is that things thaw out quickly, compared to a thick block. The vis-versa with thick and large frozen packages could also be used to help keep coolers cold. Why add a block of ice, when you could add a useable block of soup? I'll add the cooked meat, root vegetables and dumplings to the soup pot at the campsite.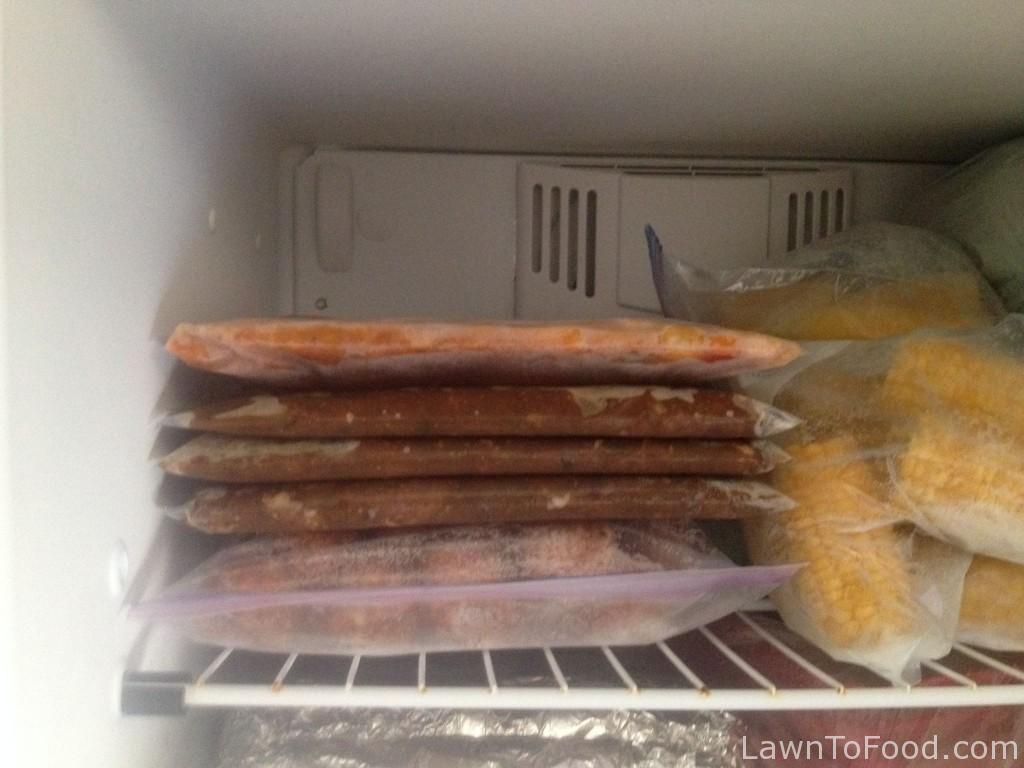 Instead of buying bags of potato chips, and boxes of crackers, I have been making batches of crustinis whenever there are leftover baguettes at the Urban Farmstand. I simply slice the baguette thinly,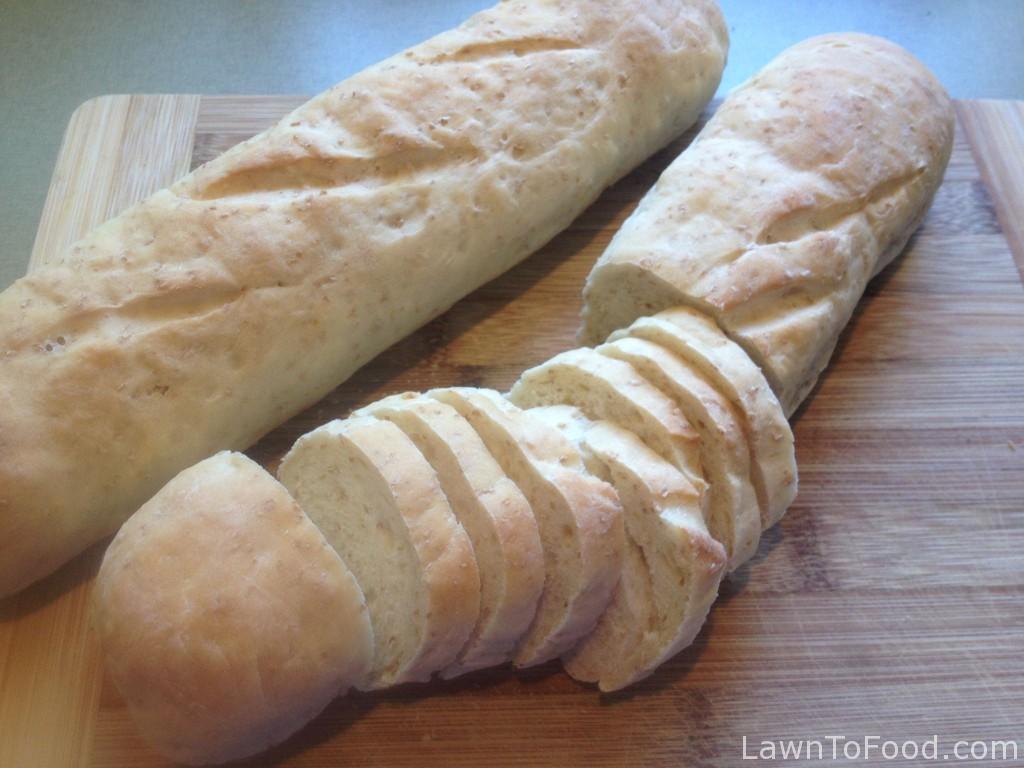 Then I toss the bread rounds with some vegetable oil, garlic powder, freshly ground pepper and a dash of sea salt. The crustinis are then baked for about 10 minutes at 350F, until they are crisp and dry. These go exceptionally well with my herbed cream cheese and smoked salmon dip.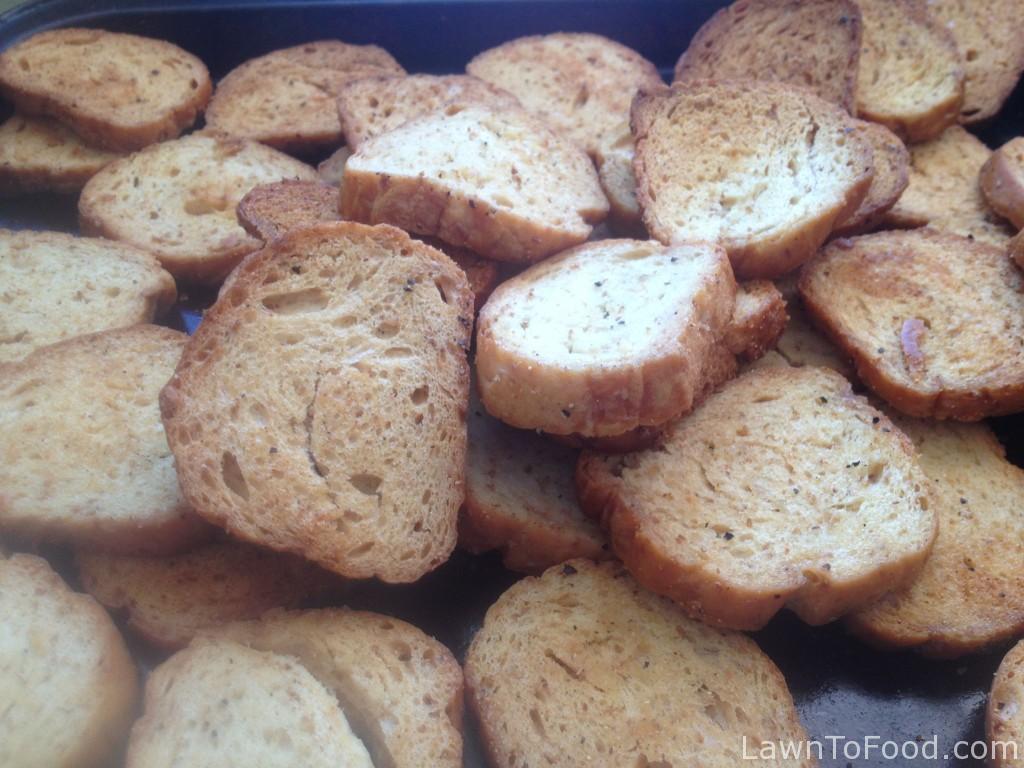 Another way that I plan on using the baguettes in my family camping meals, is for meatball sub sandwiches.  I have already made up many meatballs and baked them until they were cooked completely. I packaged the cooled meatballs in ziploc bags and froze them solid. Once we are at camp, I am going to re-heat the meatballs in Italian tomato sauce from my pantry. I'll serve the meatballs, on pre-buttered garlic baguettes that are presently frozen, but will be grilled until toasty. Family members can add grated cheese and other garnishes to personalize their own meal. I've gathered jars of dill pickles, spicy green beans, hamburger relish and strawberry jam to add the camp food supply bins as well.
I think we are all flooded with zuchinni at this time of year! I decided to use some of ours, to create zuchinni noodles and build a vegetarian lasagna. This is going to be delicious with its cheesy-spinach layers!! It's currently frozen and ready to transport to camp. I'll let you know how I manage to get it "baked" once we are there … could be interesting 🙂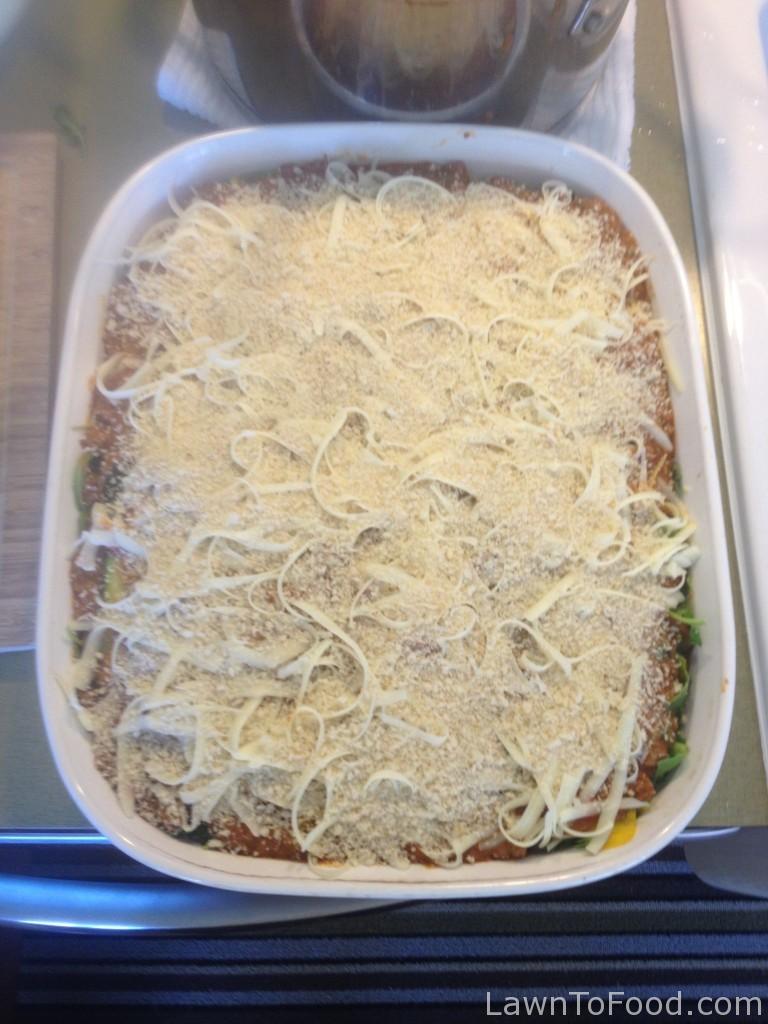 Whats easier than pre-cooked proteins and frozen bread? … why fresh garden produce of course! By far, eating raw, fruit & vegetables is the simplest form of food anytime, whether at home or at camp. I'll be stocking totes full of our carrots, cucumbers, tomatoes, yellow cherry tomatoes, green peppers, sweet onions, beans, kale (some is dehydrated for crunchy chips!), zucchini (some is baked into morning muffins!), Italian prune plums, herbs, and a bundle of new potatoes for a dilled salad with some farm fresh eggs.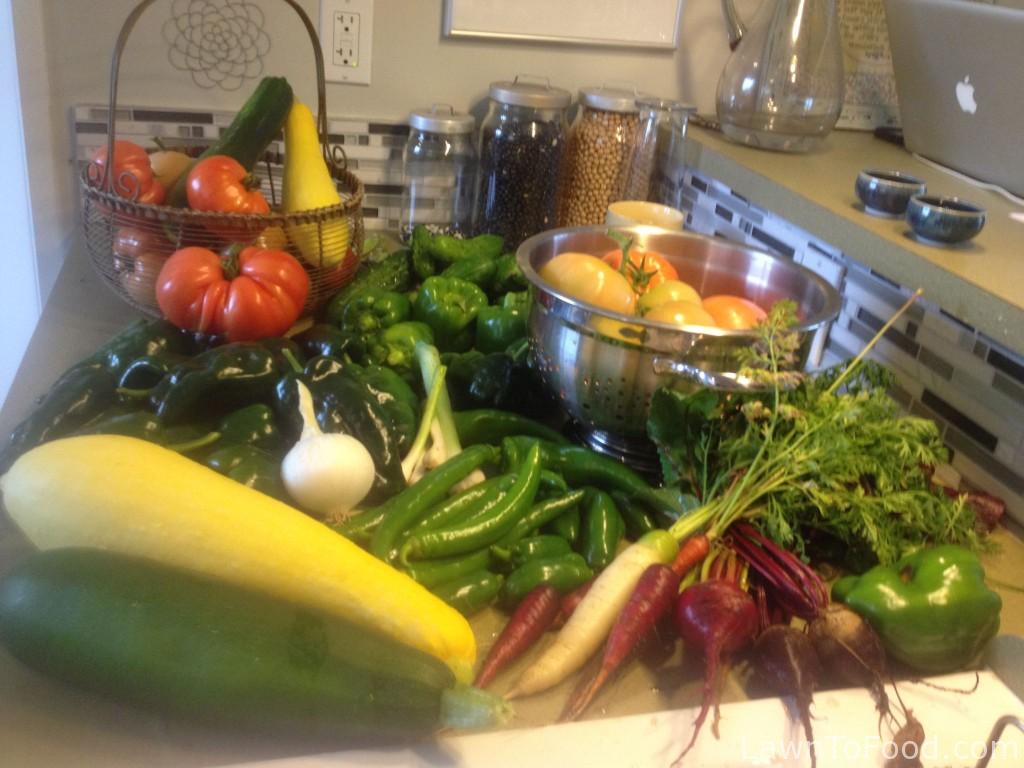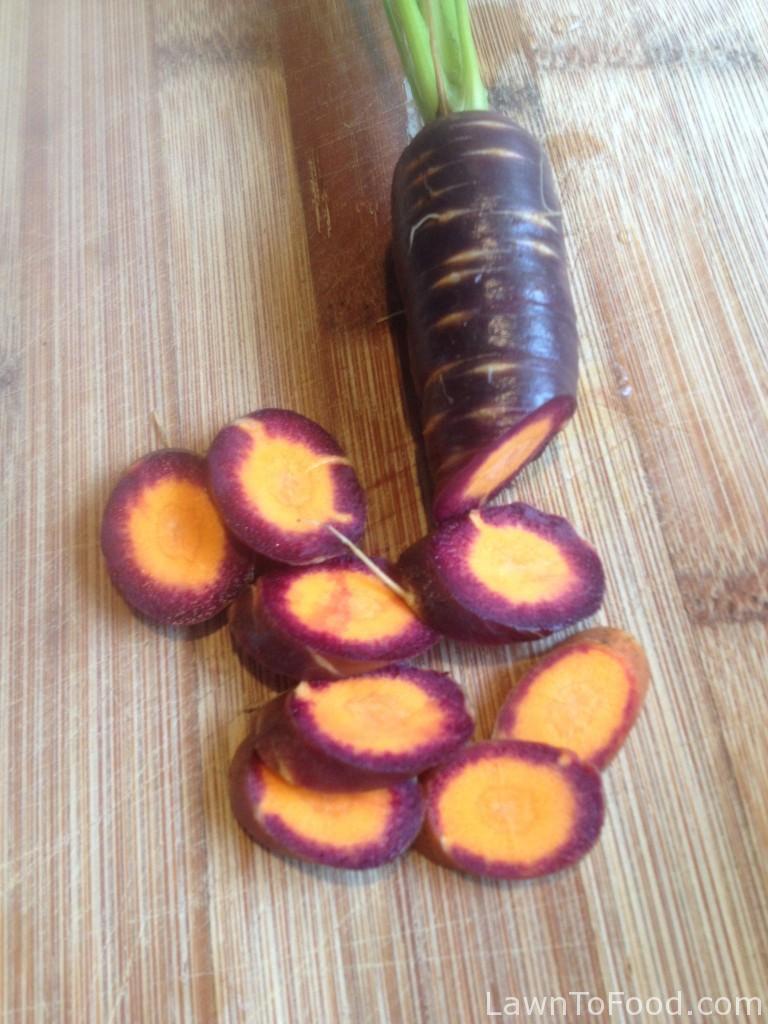 I hope that you are able to spend some quality time with your family and friends this summer without spending a fortune.
Lettuce get out there and enjoy the sunshine!